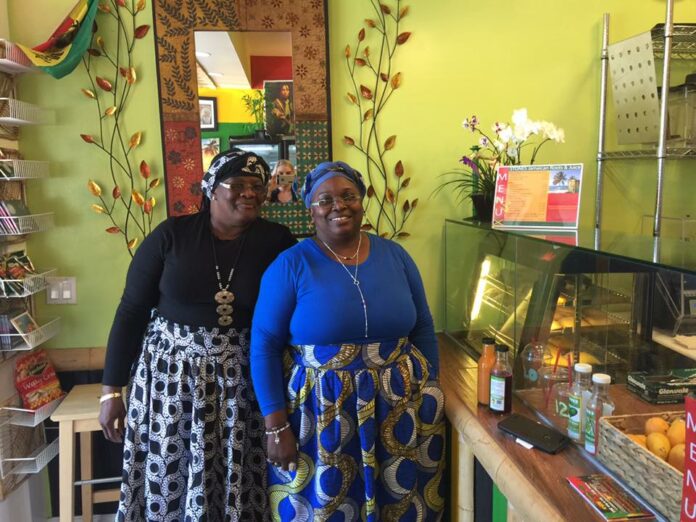 What does a reggae musician do when he's not touring? He opens a Jamaican juice bar. That's what Terra Linda resident Strickland Stone and his partner, Pamela Wald, did last May, opening Stones Jamaican Roots and Juice in the space previously home to Berry Bliss, a frozen yogurt store in San Rafael's West End Center.
"One Taste, One Love—Let's Get Together" reads a red, yellow and green painted sign in the window of the bright and welcoming 10-seat storefront. A Spotify channel keeps a steady stream of reggae tunes playing, and a handful of food offerings along with several inventive juice choices round out the menu.
Stone, who grew up in a small village in Jamaica, has always loved to cook. His mother was the town's healer and midwife, and taught him to identify healing herbs at a young age. So when he decided to start bottling juices, he wanted to utilize healthful ingredients like ginger and edible flowers and herbs. But before he landed on juices, he started preparing box lunches of jerk chicken and other Jamaican favorites.
When his customers wanted more than water with their midday meals, Stone began creating various juice combinations—and that was the beginning of his business that now includes four different concoctions with clever names like Jack It Up, made with jackfruit and tropical juices, Dub Tonic (named after his longtime band) and Sorigin Roots—a blend of beets, hibiscus and ginger.
Along with the bottled juices, there are also "blend-ups," smoothies made with fresh fruit. In addition, three daily specials are offered and a handful of side dishes. I tried the jerk chicken and callaloo vegetable stew specials that come with a side of cole slaw, a toothsome corn biscuit known as a "festival dumpling" and a slice of fried plantain. The chicken is nicely roasted and moist—a side of spicy sauce is provided for dipping. The callaloo features a mild medley of cooked greens, onions and tofu over a generous portion of slightly sweet jasmine rice that's enough for two meals.
For now, the couple are renting a commercial kitchen to prepare their savory meals and transporting them to the storefront. They also sell a few Jamaican foodstuffs and hope to eventually bring handmade clothing, hats and more from Jamaica.
The family-run business gets plenty of help from Stone's teenage children and a cousin, who along with Wald are currently running the store until Stone returns from his latest gig—tour dates in Europe with Damian Marley through the month of August.
Stones Jamaican Roots and Juice, 1815 Fourth St., San Rafael. 707.628.3902.