By Charles Brousse
Updated adaptations of plays by long-dead famous authors are risky. Here are a couple of current examples that illustrate the pitfalls.
'A Cajun Midsummer Night's Dream' (Novato Theater Company)
Shakespeare's tale of a pair of young couples who escape arranged marriages by running off to a nearby forest inhabited by mischievous fairies on a warm midsummer night has delighted audiences for centuries. It combines romance, sly observations about human nature, and fantasy in an irresistible package. Yet, delightful as they are, these contents are fragile. Except for the tradesmen's scenes, the humor is subtle—more whimsy than broad comedy. Actors should be cast who are comfortable with Shakespearean speech and who have a reasonable resemblance to the characters they inhabit. The visual staging should capture the magic of nature under the soft light of a full moon. And, above all, it must have a light directorial touch.   
Unfortunately, NTC's new version doesn't meet any of these requirements. With the script cut to a mere skeleton to accommodate time devoted to music, dance and general horsing around, there aren't many clues about what is happening, let alone its subtleties. To make matters worse, with the exception of Laine Flores (Helena), Arden Kilzer (Hermia), Mark Ian Schwartz (Lysander) and a few others, many of the performers have problems with diction, and/or getting the rhythms (and their characters) right. This applies, for example, to scenes that feature Shakespeare's clownish country folk—the so-called "rude mechanicals"—in which the inclusion of females undermines the enjoyment of watching a bunch of bumbling, uncultured guys trying to rehearse a wedding performance of Pyramus and Thisbe.
Director Clay David, whose adaptation this is, apparently thought a viney Louisiana bayou setting, some pseudo-Cajun accents, a couple of unrelated country western songs, a few dance steps, some raucous physicality, a dash of Zydeco, a pinch of voodoo and a closing shout of "Laissez les bon temps rouler!" would provide a refreshing change from the original. It might work for some. Not for me.
'Little Erik' (Aurora Theatre Company)
Mark Jackson, known in Bay Area theater circles for imaginative directing and adaptations, focuses on Henrik Ibsen's Little Eyolf  for the world premiere of his updated version. First produced in 1895, this late career work of the celebrated playwright caused something of a stir because of its graphic depiction of female sexuality and the introduction of a deus ex machina in the form of a mysterious character called the Rat Woman, who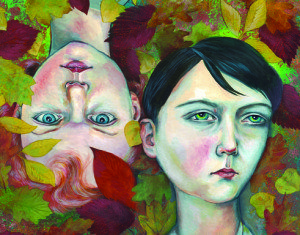 had the power to lure those cute furry mammals (and unspecified others) to their deaths. Not everyone back then was impressed. William Heinemann, the London Times theater critic, reflected the consensus when he wrote that he couldn't make out what Ibsen was trying to say because it was hidden in "a dreary desert of childish and pointless dialogue." Given such a cool reception and the play's brief running time (more like a long one-act than a full-length), it should not surprise anyone that Little Eyolf remains among the least produced works in its Norwegian author's extensive canon.
In a program note and in recent media interviews, Jackson reveals that he was drawn to the project because Ibsen raises important issues, especially shifting gender roles, that still resonate today. Instead of a getaway on a Norwegian fjord in the 1890s, his setting is a contemporary Northern California coastal vacation house inhabited by Joie, a rich female CEO from the tech world (Marilee Talkington), her failed novelist husband Freddie (Joe Estlack), their crippled son Erik (Jack Wittmayer) and Freddie's half-sister Andi (Mariah Castle). Bernie (Greg Ayers), the house's architect who is romantically drawn to Andi, comes for a visit and—oh, yes—there are three brief but telling appearances by the ominous Rat Wife (Wilma Bonet).
Although adjusted for the 21st century, Jackson's adaptation more or less tracks Ibsen's original scenario and dialogue. The problem is that while the main issues remain unresolved, much of the melodramatic hyperbole now seem laughable. And that ending scene? Oh, my!
NOW PLAYING: A Cajun Midsummer Night's Dream runs through February 21 at the Novato Theater Company, 5420 Nave Dr., Novato; 415/883-4498; novatotheatercompany.org. Little Erik runs through February 28 at the Aurora Theatre, 2081 Addison, St., Berkeley; 510/843-4822; auroratheatre.org.