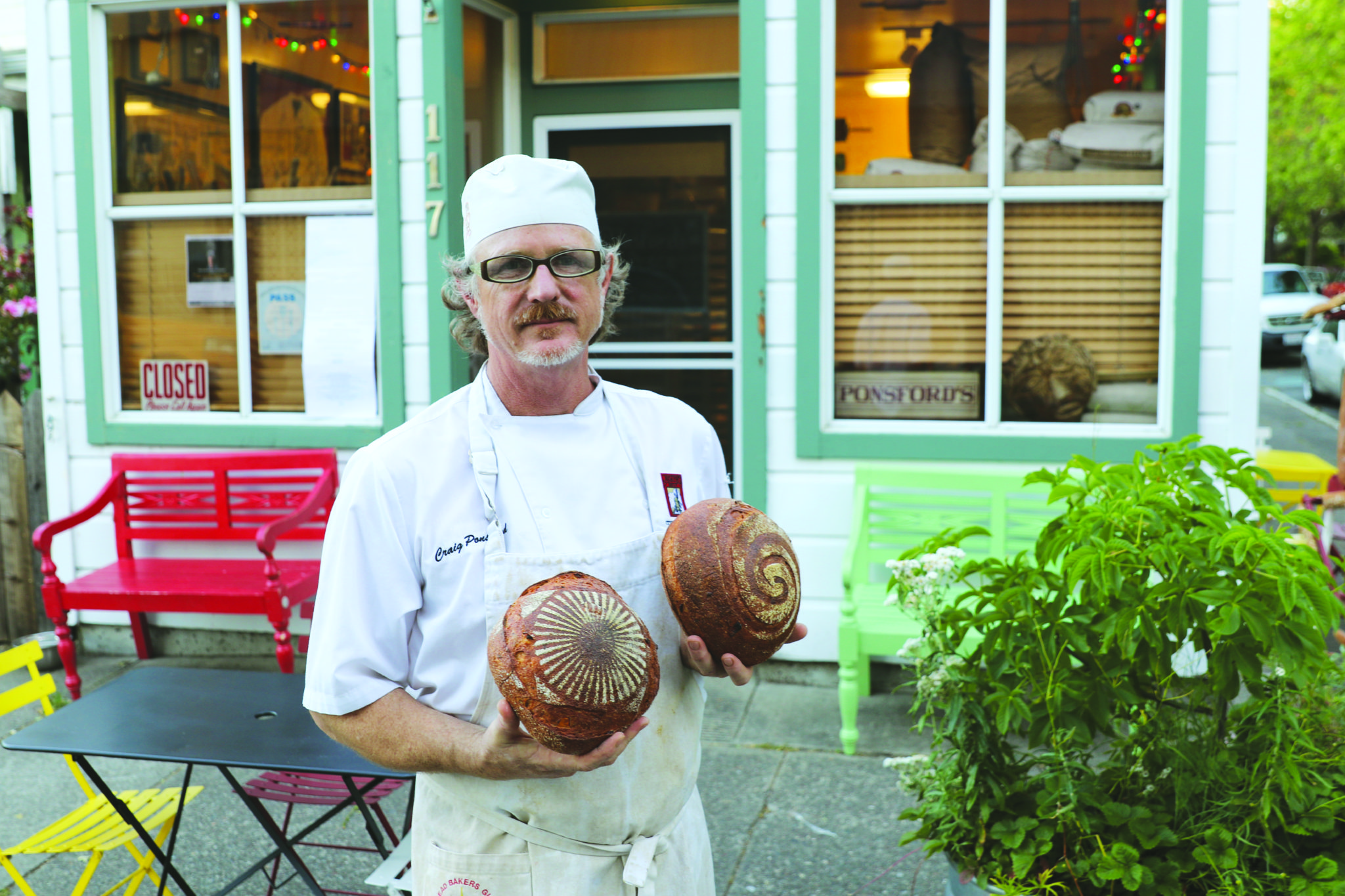 By Flora Tsapovsky
Craig Ponsford has been in San Rafael since 2010, which means that he's way ahead of trends. He may be a graduate of the California Culinary Academy in San Francisco, the ex-owner of acclaimed Artisan Bakers in Sonoma and an instructor at the Culinary Institute of America in St. Helena, but first and foremost Ponsford is a pioneer of gluten-free baking and innovative approaches to pastry. Experimenting with unique baking techniques and gluten-free flour way before it became a hot topic, Ponsford calls his San Rafael venture, Ponsford's Place, an 'innovation center,' among other things.
"When I opened it, the idea was not only to have a kind of experimental retail kind of place but also a development laboratory, which can be used for a very focused project getting an item from the bench to the factory," Ponsford says.
In the bakery, Ponsford constantly tries new products made of quinoa, spelt, durum, cornmeal and amaranth flour, as well as grapeseed and even grapeskin flours, a byproduct of the area's rich winemaking industry. He's eager to pass the knowledge on; educational classes in the bakery are coming soon, but for now, along with baking, Ponsford often consults with big brands and small businesses on system optimization, gluten-free and high-fiber baking and more. On his resume, one will find truRoots, a brand which made it into Costco and was later purchased by The J.M. Smucker Company, as well as work with the California Raisin Marketing Board, advising Enray, a company out of Livermore, on incorporating sprouted, organic grains from around the world and much more. His take on the huge surge of gluten-free products as a fad? Let's just say that Ponsford, who has taken the long and patient route to the phenomenon, is not thrilled: "It has been hard to watch and see all the misinformation," he says. "Ultimately, it has been a big win for Wall Street. Do I need to say more?"
In a welcome contrast to his impressive resume and in full concordance with his modest approach, Ponsford's bakery is a humble and simple place, filled, nevertheless, with tempting treats. "Everything is made with wholegrain flour; we do not use any white flour," he stresses, adding that most of the flours come from small California farms. Favorites include a very popular and unique vegetable croissant, seasonal breads like an artichoke, olive and feta levain or a sauerkraut rye, plus "European-style baked goods with a healthy twist."  
The creativity doesn't stop at the dough, either—the menu includes turnovers filled with anything from crème of nettle mushroom with or without speck, Rancho Gordo Domingo Rojo and vaquero beans with cumin, shishito peppers and potatoes, biscotti adorned with candied blood orange, and there's a lime mousse tart with tequila-flavored whipped cream. Announcements about seasonal offerings are posted on the bakery's website, and often lead to a mini-frenzy.
Despite the fact that Ponsford's Place is now seamlessly embedded in the local community, opening the business wasn't an easy decision for Ponsford. "I had made a bad business decision with my previous business of 17 years and was going through a terrible 'divorce' with my new business partners," he recalls. "I realized my real passion was feeding people, with my own two hands." So he found a location close to his home, "small enough to be pretty much a one-man show," and went for it.
Ponsford has been living in San Rafael for more than 10 years, appreciating every moment. Now, with his small business employing a couple more grain enthusiasts, he feels more at home than ever.
"We have an incredibly supportive local San Rafael crowd, and then we have people who come from all over the Bay Area to visit us," he says. "The community is the best part."
Ponsford's Place, 117 Shaver St., San Rafael; ponsfordsplace.com.