By Rosemary Olson
This is the sixth and last of a series of sponsored posts documenting Bohemian and Pacific Sun publisher Rosemary Olson's wine and food cruise around Italy and Croatia withDuckhorn Vineyards and Food & Wine Trails.
This is Your Captain Speaking
When I heard on the deck intercom at 6am that we were approaching the Venice skyline, I jumped out of bed, threw on a robe and could hardly believe the beautiful scenery. I quickly glanced down the deck side of the ship to see who else was up to see this spectacular sight and I saw a sea of white terry robes flapping through the deck bars. Not wanting to miss a moment of it, I called room service for coffee.
I was excited to board a water vessel to the island Murano, known for its handblown glass. I love handblown glass and collected pieces in Sweden, Quebec, France and Mallorca. I don't have any more spaces for glassware at home so perhaps I'd find small glass gifts. I guess I could hang a chandelier from the ceiling.
Glass is the second largest industry in Venice after tourism. The masters shared their Venetian chandelier glassmaking with us in a very hot workshop, heating, rolling, shaping and blowing. Trying to stick to my light weight purchase concept, I bought four pairs of unique glass cufflinks to thank my new Duckhorn friends and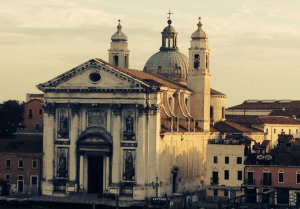 a red glass cross pendant for myself. I'm spending the rest of my day searching for special gifts for my children.
Off to San Giorgio Island. St. George was the military protector of Venice. I wanted to view the painting at the cathedral of "The Last Supper," as it is said to depict the Holy Spirit. It is indeed most beautiful.
The gondolas in Venice are black because there was fierce competition to make the most ornate vessel. It got out of hand so the authorities mandated standard black. The gondolas hold only six people. There are currently 443 gondoliers who all had to pass an exam to qualify. There was once a female gondolier, but she was the only one.
We toured Venice in a circle of boats noticing that no one occupies the first floor of many water worn buildings. It looked eerie through the worn doors and planks of the dark, vacant structures. I had strong notions of ancient water creatures living another life under the city combined with masked spies wearing oversized scuba gear in search of hidden Venetian treasures. Then you look up and see the beautiful Venetian architecture and street life.
There were thousands of Venetian masks to choose from and my issue was "which do I wear with glasses?" I go to many events so I just had to bring a few home. I found a gold mesh mask and four others, linens, a selfie stick for my son (which I should have bought on day one) and a cool boy's Venetian landmark T-shirt with funky video action figures.
OK, I can head back to port. I run along the dock, swiftly navigating through the mass of people. The boat was pulling out and I could not miss it. I was meeting the captain for tea in an hour! Thankfully they came back for me. I apologized to the guests; they were all sweating and some smiled and asked me what treasures I found in a matter of 10 minutes. I, of course, proudly pulled each one out and shared whom they were chosen for. They were most focused on my new ring and where I found it. I said, "Oh yes, let's see, this is the one I found in Kotor, Montenegro!"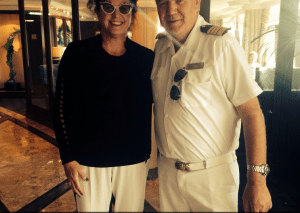 What do you ask the captain of a ship? When I was in my early 20s I worked for a successful temp company in D.C.; half the staff wanted me to work outside because I enjoy building face-to-face relationships. The other half wanted me on their inside phone team, so they paid a few grand on a personality test that took a few hours. The result? I should be captain of a ship. So I called to speak with Captain Gunnar Romtveit with no reply. I then found a Mediterranean gondola-style notecard in my bag. I sent a hand-written letter to him sharing my story. That was the ticket.
We met for tea on the top deck. He was in uniform, of course. He was busy preparing to hand the ship over to another captain to continue the ship's journey. I told him that this is my first cruise. The cruise ship reminds me of a 5-star hotel where I don't have to drive country-to-country.
His career started when he was 15 in Norway. He and his older brother went to sea together, a shipmate was a drunk and they got in a fight. Gunnar was sent to another ship when tragedy struck. The ship he left with his brother onboard capsized and only one person survived. Sadly, it wasn't his brother. He went home to be with his family and they tried to talk him out of sailing. He assured his family that trouble would not come back. He loved this work. I asked him if he thinks of his brother when he's on the sea and he said he's carried him in his mind and heart for 20 years and has found peace.
To earn the title of captain is similar to a master's degree education. Gunnar has dedicated his life to a 41-year maritime career, sailing with Oceania since 2010. His favorite ports are Shanghai, Singapore and Hong Kong. Dallas is on his bucket list. He'd like to see where J.F.K. was shot. It made a significant impact on his family listening to it on the radio in Norway.
His worst experience on his ship was an explosion outside of Cape Canaveral on New Year's Eve. He could not sail and there were no hotels or airlines available. Guests took their mattresses outside to sleep until they could go home.
Life is good, he says, working 10 weeks onboard and 10 weeks off. His son followed his footsteps and is a ship captain as well. Every day has it's new set of surprises, he says.
So, looking back, should I have been a captain of a ship? Mastering a ship is very technical, demanding and takes a very specific maritime-engineer mind. I am satisfied that I chose to be the captain of the media properties I cherish. And I do believe we are all captains of our personal lives, our vessels.
I'm off for a farewell party hosted by the amazing Duckhorn team, to share more stories and laughs and sip more of their incredible wines. I'm the lucky one. I can just zip over to Napa for a visit.
This was an exceptional experience. I heard about this cruise through wine club members. To see what other experiences are available, check out Food and Wine Trails.
Special thanks to Larry Martin and Heidi Hall, Food and Wine Trails, Gunnar Romtveit and Oceania Cruises, Alex Ryan, Neil Bernardi, David Crum and Jim Fallon, Duckhorn Portfolio Group and Stett Holbrook, Bohemian Editor.
And cheers to the Duckhorn wine friends and other travelers aboard–you were all wonderful to be with on this special journey and I hope to see you again soon to share more stories.
Ciao for now.