Story and photos by Molly Oleson
It's a few minutes after noon on Friday, March 4, and a large group of people, clutching colorful umbrellas, has gathered around the train tracks in San Rafael.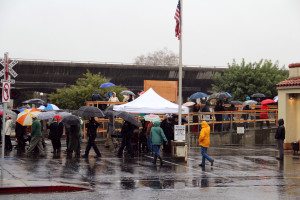 "Wasn't it supposed to be here at noon?" asks a woman who is huddled under cover from the pouring rain.
"It's already late!" a man next to her jokes.
They, along with San Rafael Mayor Gary Phillips and Sonoma-Marin Area Rail Transit (SMART) officials, have flocked here for a historic event: The first time in more than 50 years that a passenger train has graced the
tracks of the downtown station.
"It's coming," says another man hopefully, as those gathered crane their necks and stand on tiptoe to catch the first glimpse of a piece of SMART's 43-mile Santa Rosa to San Rafael project, scheduled to begin service by the end of this year.
In the distance, faint whistles can be heard. Before long, the sounds get louder, and the red lights on the "Railroad Crossing" sign begin to flash. The crowd cheers.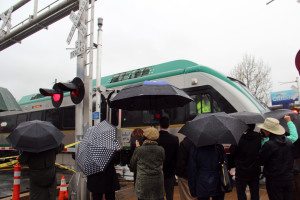 "Whoo hoo!"
"Isn't this exciting!?"
"Nice job, SMART! It's gorgeous!"
As the train comes to a stop and the doors open—"Arriving at San Rafael" scrolling on the inside marquee—people board to look around, try out the brand-new seats and imagine what it will be like to have what many say is a long overdue regional transportation network.
"It's a new era," says Geri Cook, who grew up in San Rafael and remembers the old train rolling into town past her home. She came today with her husband to welcome SMART's train into the station. "I have high hopes for it."
Siri Dargeou, who lives in Terra Linda, relaxes in one of the seats, staring out the window. "Oh, this is fun," she says, noting that she spent many years living in France and riding the trains around Europe. "I've been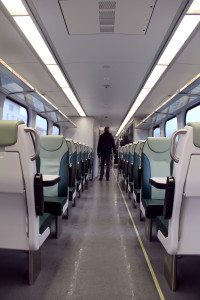 waiting a long time."
Dargeou says that she can't wait to be a passenger and visit her daughter in Cotati. "I love trains," she says. "I'm so excited."
As she exits, she thanks one of the SMART engineers. "Take care … I'll see you soon!"