By Flora Tsapovsky
Women's History Month could be a debatable concept, depending on how you approach it. Some say that its existence only highlights the gender gap, while others advocate for its importance in balancing the scale. But regardless of the angle, risk-taking women who support each other is always great news.
Female entrepreneurship—in fields ranging from the arts to tech—has seen steady growth in recent years, in big cities and rural areas alike. It's not always smooth sailing, and success can be especially challenging when the business is based away from central hubs. Being a female business owner in Sonoma and Marin counties often means finding community support, creating crafty collaborations and nourishing collective efforts to keep businesses thriving and growing. A number of such female-powered ventures are sprouting up across Northern California, and deserve every bit of celebration—Women's History Month or not. From a chic co-working space to a knitting haven, here are the businesses that make sure local woman power is alive and kicking all year long.
The Hivery, Mill Valley
Breathtakingly beautiful and welcoming, this brand-new coworking space and "inspiration lab" is owned by Grace Kraaijvanger, a woman of many talents. A former ballet dancer, Kraaijvanger has worked in marketing and consulting, and now pours her heart into The Hivery. Catering to an all-women clientele, The Hivery offers a peaceful, Instagram-worthy creative environment in the best traditions of coworking spaces; hosts personal and professional development events; and focuses on empowering women—whether they're going back to work after a long break or starting a fresh business.
"I started The Hivery because of a deep conviction that every woman has unique gifts that are meant to be brought forth in this world," Kraaijvanger says. "I believe that women have an instinctual desire to support each other, and that creativity flourishes when women feel connected."
The Hivery encourages women to use their skills, expertise, wisdom and passions in different ways while exploring new phases in their lives. "Navigating these new chapters alone can feel isolating and depleting," Kraaijvanger says. "Acting on them together is invigorating and inspiring."
The Hivery, 38 Miller Avenue, Suite #20, Mill Valley; 415/569-7760; thehivery.com.
Rikshaw Design, Greenbrae
Looking at this brand's impressive, globally inspired website, it's hard to believe that the business is right here in our own Greenbrae backyard. Rikshaw Design founder Catherine Hedrick was motivated by her love for Indian textiles when she launched the brand's first collection in 2008. Since then, the business has grown and has started manufacturing children's clothing and women's collections, adorned in colorful Indian prints and made out of 100 percent cotton. Although Rikshaw Design is based in Marin, the brand's activity takes place mainly in its online store, and through a series of trunk shows that anyone can apply to host—so be on the lookout.
Rikshaw Design, 243 Sir Francis Drake Blvd., Greenbrae; 877/474-5742; rikshawdesign.com.
Flourish and Thrive Academy, Sausalito
"Support" and "nourishment" are clichéd-but-accurate attributes of many female-owned businesses, and Tracy Matthews and Robin Kramer turned them into a business. Matthews, a jewelry designer, and Kramer, a marketing expert based in Sausalito, joined forces over their love of jewelry and launched a virtual "Academy" of tools and materials for budding designers and entrepreneurs in the accessories industry. Together, the women craft online courses with promising names like "Multiply Your Profits" and "Dream Client Intensive," and help women and men across the country realize their dream venture. The Flourish and Thrive website offers a variety of complimentary materials—podcasts, short lectures and 101 videos led by the witty, fast-paced duo.
Flourish and Thrive Academy, flourishthriveacademy.com
Edition Local, West Marin
Although not exclusively female, this collective of artists and makers includes quite a few talented ladies—jewelry maker Marion McKee, soapmaker Olivia Johnson of Fat + Fallow, (whose products are made of tallow), felter extraordinaire Patricia Briseno of Raw Felt, indigo artisan Carrie Crawford of Mineral Workshop and
woodworker Gwen Gunheim of Hendley Hard Goods. The collective gathers its members on one beautiful website, where goods by each maker can be purchased, and it "strives to build resilient local economies and champion neighborliness." While you can find each artisan in his or her own studio, the "power of many" makes Edition Local a real local gem.
Edition Local Shop & Outpost, 9940A Hwy 1, Olema; 844/326.3260; editionlocal.com
Jam Jar, Santa Rosa
The best collaborations are often multidisciplinary. Jam Jar, located in Santa Rosa's SOFA district, is a great example. Artist Molly Perez and jewelry designer Jamie Jean Wilson decided to join forces and opened the colorful, chic Jam Jar. "We've known each other for 15 years, and often talked about going into business together," Perez says. "I couldn't handle it all by myself." Inside, you can find quirky collages and paintings by Perez, earrings and necklaces by Wilson and guests designers, vintage finds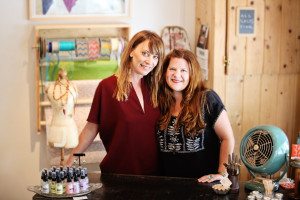 and décor items begging to be gifted to a meaningful lady in your life. Jam Jar is a decidedly "neighborhood" shop—one of the two owners will usually greet you with a big smile, and the store is an active participant in all of SOFA's happenings and events.
Jam Jar, 320 South A St., Santa Rosa; 707/480-8506; mollyperezstudio.com
428 Collective, Healdsburg
An all-women arts collective, 428 organizes art events and presentations and serves as a collaborative marketplace for some of the area's most cutting-edge artists. Among them are multimedia artists Alice Sutro and Jessica Martin, photographer Caitlin McCaffrey, filmmaker Flora Skivington, painter Christina Hobbs and six other female creatives. In addition to art-themed parties and lectures in the Healdsburg headquarters, the collective keeps an online art store and supports its individual members by promoting their work and major happenings on social media.
"We all bring something different to the table in terms of our experiences, vision, circumstance and general outlook, having a deep respect for one another and an unwavering belief in art's ability to educate, enhance and unite us in the human condition," says collective member Victoria Wagner. "There was no presumption or foresight regarding gender; it had much more to do with a sense of community that we naturally formed around having really high regard for one another."
428 Collective, 428 Moore Ln., Healdsburg; 707/433-6842; 428collective.com
The Soap Cauldron and Three Sisters Apothecary, Sebastopol
Soap, family and female friendship: Sounds like a recipe for a Hallmark mini-series—or the story behind The Soap Cauldron. Emma Mann began her small soap venture with her daughter, now a student at UC Berkeley, who manages the company's social media accounts. Located in The Barlow since 2013, The Soap Cauldron is a family business that happens to employ all women, and the theme thrives in Three Sisters Apothecary, a line of care and soap products that the Cauldron produces. "I named it for my sisters and I who are all two years apart," Mann says. "My sister Marlo was killed in her home back in 2010, which mobilized me on many fronts. My sister Pandora is a payroll and [human resources] specialist and weighs in on our business structure. Her daughter Roxanne and my daughter all work actively in the business with me."
Together, the group of women makes herbal bar soaps, body butters, shampoo and salves, all packaged in simple, retro-inspired tins.
The Soap Cauldron and Three Sisters Apothecary, 6780 McKinley Ave., Ste. 120, Sebastopol; 707/888-5659; soapcauldron.com
Cast Away & Folk, Santa Rosa
For lovers of all things yarn and knit, Cast Away & Folk must feel like heaven on earth. Leslie Fiorella, a textile designer, Isla Corbett, a wool artist extraordinaire and Justine Malone, an entrepreneur with a passion for knitting, came together in this adorable Railroad Square space to establish a crafty empire. Along with an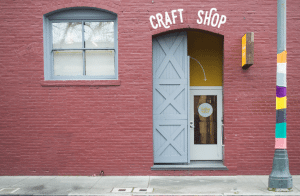 elaborate shop that sells fabrics, yarn, crafting and weaving supplies, the bright, cozy spot offers knitting, weaving, crochet and tapestry workshops—for absolute beginners to ambitious knitters—led by the three ladies. "We strive to support each other in running a successful retail store," says Corbett, who rightfully calls the store's merchandise "inspiring goods."
Cast Away & Folk, 100 4th St., Santa Rosa; 707/546-9276; castawayandfolk.com
Farmers Jane Wine Company, Napa
The collaborative effort of two female winemakers, Farmers Jane is a refreshing voice in the local wine industry. Angela Osborne, the woman behind A Tribute to Grace Wine Co., a Southern California label, and Faith Armstrong Foster, who's based in Napa and makes Onward Wines, have known each other since working a Healdsburg harvest together in 2002. Their joint label produces Rosé, Field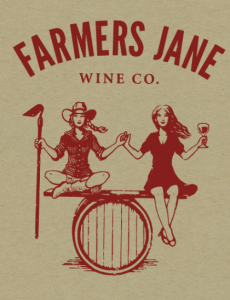 White and Field Red wines, craftily constructed from a variety of California grapes. The logo alone—two free-spirited ladies balancing on a wine barrel—is worth some kind of an award; the wine is an instant favorite.
Farmers Jane Wine Company, 707/812.1456; farmersjanewine.com