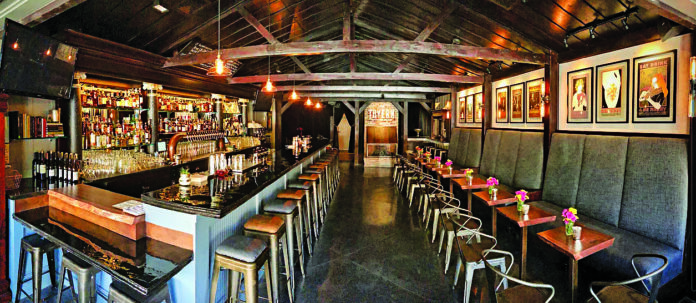 A handsome new bar quietly opened its doors on St. Patrick's Day in San Rafael. The Tavern on Fourth, previously the Fourth Street Tavern, has had several incarnations over the years—some will even remember when it was Positively 4th Street back in the '70s. Shedding its longtime dive bar reputation, the refurbished watering hole-cum-speakeasy now serves specialty cocktails and locally made brews.
For more than four years, the compact Victorian building—with its dark paint and charming exterior—has been shuttered while the owner breathed new life into the freshly refurbished space. A heavy grey curtain drapes the entrance and adds drama and glamour to what could be an ordinary rectangular bar. An understated color palette and attractive grey-fabric-covered banquette give an upscale touch of class to this welcoming tavern. Fresh flowers adorning the tables lining one wall, slate floors and hooks beneath the bar all add up to a well-designed hangout conducive to lingering and enjoying a cocktail or two.
"We have a lot of obscure spirits—we really try to push the envelope with our cocktails," explains the friendly general manager, Chris Baker, who describes a gin fizz-like drink that he makes with rosemary. Seven specialty cocktails are offered, including an inventive Sea Legs made with blended scotch, rum blend, lime, pineapple, gomme (a syrup similar to simple syrup) and orgeat.
Complementing the craft beer selection and mixology options is a small stage and dance floor in the back of the bar where live acts perform on Friday and Saturday nights.
It won't be long before the word gets out about The Tavern on Fourth, sure to become a local favorite.
The Tavern on Fourth, 711 Fourth St., San Rafael; 415/454-4044; thetavernonfourth.com.