"I have been a fan of Abba for years, but for a long time I wasn't sure how to tell people that," confesses Jon Gallo, Bay Area pianist and musical director of Mountain Play's colossal new production of Mamma Mia!, hitting Mt. Tamalpais with a five-weekend run beginning this weekend. "I didn't tell many people how I felt about Abba until I saw an interview with Danny Elfman, the composer. He was asked what his greatest 'guilty pleasure' was, and he said it was listening to the entire Abba collection. I felt a little more validated after that. If a composer as smart and inventive as Danny Elfman can be open about liking Abba, then maybe I should step up and admit I like Abba, too."
With a laugh, Gallo says that it's a good thing, too, since Mamma Mia! showcases 23 of Abba's greatest hits, including "Waterloo," "Take a Chance on Me," "Money Money Money," "The Winner Takes It All," "Dancing Queen" and, of course, "Mamma Mia!" The play's story is admittedly a bit thin, following a free-spirited woman named Donna, who runs a tavern on a Greek island, when she's suddenly faced with her bohemian past after her daughter, Sophie, invites all three of her possible fathers to give her away at her upcoming wedding.
"OK, this show may not be Shakespeare," Gallo says, "but you can't say it's not a whole bunch of fun. It's a feel-good story, and that's a good thing."
One certainly can't deny that Mamma Mia! the musical, is a certified world-wide phenomenon.
"Ever since it first appeared," Gallo says, "Mamma Mia! has developed this huge following of people who gather together to see every production they can. That's because the songs are so fantastic. I guarantee you, even if you've seen Mamma Mia! a dozen times, you will never have seen a production like this one."
Gallo is a founding member and resident music director of San Francisco's Bay Area Musicals, a three-year-old company that focuses on presenting lavish musical theater productions with a sense of panache, grandeur and professional expertise. He graduated from Cal Poly, where he studied piano performance. For six years, he's served as musical director at the Performing Arts Academy in Marin, and is a music teacher at Mount Tamalpais School.
This is his first show as musical director of the Mountain Play, a Marin County institution for more than 100 years. Staged in the massive 4,000-seat Cushing Memorial Amphitheatre, the annual Mountain Play show is famous for its enormous casts, its ambitious production values and its lavish costumes, choreography and orchestral support. This summer's production of Mamma Mia!—written by British playwright Catherine Johnson, and premiered in London in 1999—is directed by Jay Manley, choreographed by Zoe Swenson-Graham, and features performances by Dyan McBride (Donna), Carrie Lyn Brandon (Sophie), Susan Zelinsky and Jennifer McGeorge (Tanya and Rosie, Donna's best friends), and Tyler McKenna, Sean O'Brien, and David Schiller (Sam, Harry and Bill, Donna's three former lovers), plus many more.
According to Gallo, if the 30-person cast was not initially all fans of the music of Abba, they are now.
"I honestly think most people have come to have a relationship with Abba's music. Regardless of how they feel about 'Dancing Queen,' there's no getting around the fact that this is fun, fun music to sing."
For that reason, the Mountain Play has included a special "sing-along" show for Saturday, June 9. The audience will be provided with lyric sheets, and will be invited to sing out loud at certain portions of the show, mostly joining the cast on choruses.
"We're not encouraging people to sing every single word, even if a lot of people probably could," Gallo says. "But we will prompt them when to sing, and when not to. It's going to be pretty great, having thousands of voices joining in. I can't wait to hear that."
Asked what it is about Abba's songs that make them so irresistible, and so hard to get out of your head once you hear them, Gallo has a theory born of his years of experience as a musician and a fan of Abba.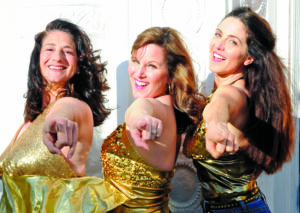 "I think it's the way the melodies are composed," he says. "Let's take 'Dancing Queen' for example. The entire chorus is made up of 'leading tones.' Those are notes that, when you hear them played, seem to want to be resolved in a certain direction. They make you anticipate the notes you'll hear next. In 'Dancing Queen,' it just leads you along, making you want to hear more, and more and more. Then it ends in a way that's very satisfying, in part because you've just been waiting and waiting for that conclusion."
Perhaps earworms—the slang term for such impossible-to-forget songs—are so effective because they all use leading tones to create a sense of auditory dependence. Once your subconscious has become so engaged with a tune, on such a deep level, it's so rooted in one's mind that it can't be easily forgotten or replaced.
"Abba uses that kind of composition throughout their songs," Gallo says. "They were masters at creating tunes you couldn't stop thinking about. That's a huge part of their success."
As musical director, Gallo has assembled a nine-piece orchestra that is a bit different from the ensembles that have backed up recent Mountain Play productions like last year's Beauty and Beast, and previous shows such as Guys and Dolls, The Music Man and Peter Pan.
"A lot of those shows used fairly traditional instrumentation," Gallo explains. "But for this one, we have mostly all electronic instruments. We've got two guitars, an electric bass and four keyboards, to create those magical Abba sounds, replicating the electronic horns and flutes that exist in their music. There are also drums and percussion, of course. It's going to be a fairly unique sound, compared to past Mountain Plays. It will be unmistakably Abba."
In addition, he says, the music will employ a large chorus of voices, acting as a 10th member of the orchestra.
"Our acting ensemble is basically providing background singing for the entire show," Gallo points out. "That's a pretty ambitious and daunting task, to take these people who are singing and dancing out on stage, and also use them to sing background vocals the entire show. They are on stage sometimes, and singing backstage in the orchestra pit the rest of the time. It's loud, and it's big and it over-the-top, in a way that only an Abba musical would be."
Gallo says that, though he's worked on numerous traditional musicals and loves the genre, there's something about rock musicals like Mamma Mia! that hold a special place in his heart.
"I've done Hair, and Jesus Christ Superstar, and The Wedding Singer and a lot more," he says. "I think that rock musicals have a dramatic power that is very special."
That said, he also admits that he loves a good, juicy musical with a huge score filled with strings, horns and classical beauty. This July, he'll be the musical director of Bay Area Musicals' production of The Hunchback of Notre Dame, the lavish musical inspired by Disney's moody animated adaptation of Victor Hugo's classic.
"It's going to be spectacular," he says of the show that will run in San Francisco's historic Victoria Theatre. "It's got this huge, orchestral Disney soundscape with gorgeous arrangements."
But first things first. Gallo still has his stint on Donna's Greek island, as recreated in detail high atop Mt.Tam.
"I'm really looking forward to getting the audiences up there to see what we've got in store for them," Gallo says. "I've had such a good time working on this show. Every rehearsal has been a pleasure. As hard as it is to get these songs out of my head, it's even harder to stop smiling on my way home every night."
The Mountain Play production of 'Mama Mia' runs on Sundays, May 20 through June 17. The "sing-along" show takes place on June 9. All shows begin at 2pm at the Cushing Memorial Amphitheatre, 801 Panoramic Hwy., Mill Valley; mountainplay.org.