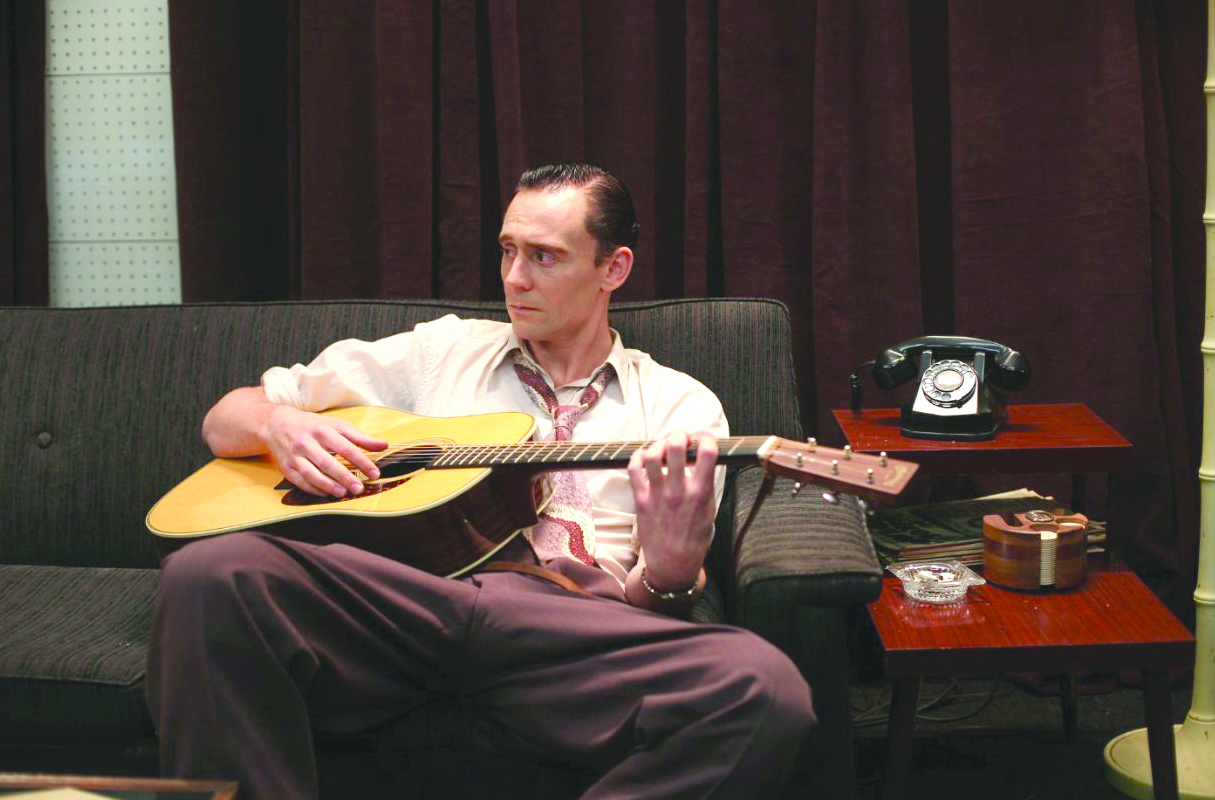 By Richard von Busack
It's just like its subject on New Year's Day 1953: The film I Saw the Light is dead on arrival.  Director Marc Abraham charts the short, busy life of Hank Williams (Tom Hiddleston), gone at 29 from ill health, overwork and alcohol. A calamitous marriage to Audrey (Elizabeth Olsen), who complicated both his off-stage and on-stage life, didn't give him any peace.
This film may have been soured at its source. Trying to cut through the Nashville romanticizing about Williams' talent and potential, Colin Escott dug up all of the facts—the birthdays of sidemen and a definitive discography. But Escott is unmoved by a lot of Williams' material, as well as the singer/songwriter's lack of complexity amidst all that post-war pop musical evolution. It's not that we needed hero worship—just some sympathy or some dark humor about Williams' careening, pain-wracked life.
Like the book, the movie doesn't take huge pleasure in the top-of-the-world moments, in which Williams had the crowd where he wanted them, or when things were sweet between him and Audrey. Abraham modernizes the early 1950s sets with an unmounted camera and self-conscious zooms. The visuals match current attitudes toward an early 1950s subject—it's made for today's impatience, with no sense of a slower time.
Hiddleston looks right at times, in profile—he shows the death's-head face of the singer in one of his many moments of pain or alcoholic obliteration. The British actor's drawl is light and high, but Hiddleston polishes up the pine-board rawness of Williams' voice.
One of the big issues between the couple was Audrey's case of Linda McCartney syndrome—a conviction that she could sing. Olsen's Audrey looks pert and intimidating in a khaki-colored cowgirl outfit, moist-eyed with her longing to get up on stage and stink. Even an actress this charismatic can't jump the banks of this narrow characterization.
Escott notes that talking about Hank Williams without talking about booze is like talking about the Titanic without talking about the iceberg. The book and the movie based on it are similar. They're both about an iceberg.