Here's a fact that some Good Earth Natural Foods-goers might find surprising: Right in Fairfax resides a shoe designer who has worked at big-deal brands like Esprit, Sam Edelman and more. That might become less of a secret soon, however; Naomi Reed, who has lived in the town for more than three years, is launching her own brand, Bird of Flight, and aiming high. Speaking of Good Earth, Reed recently saw a customer strutting across the store in high heels. "I thought, who is this and what is she doing here?" Reed says with a laugh. "That's not what the local aesthetic is about." Her own brand will be much more in line with the local vibe.
Reed, a graduate of Parsons design school and a New York native, has been a shoe designer for more than 30 years, most recently working for Latigo Shoes, and has seen her designs on the shelves of Sundance, Anthropology and beyond.
"I spent my whole life working for other people, primarily men, and I decided, now or never," she says of the shift. Reed decided to launch a shoe brand that will combine comfort and stylish looks; Bird of Flight's first collection, to arrive to selected stores later this year, is all about soft moccasins, comfy yet chic flats and slip-and-go clogs.
"I hate the looks of comfort shoes," Reed says. So she designed hers with an ageless, universal appeal. Made of leather exclusively, the shoes are manufactured in Brazil. "Customers are tired of the same shoes, made in China," she explains. And yet, she adds, "My goal is to keep the price-point affordable, as not all people want to spend $300 or $400 on a pair of shoes. It also meant a lot to work with people that have a history of shoemaking."
Previous to Fairfax, Reed lived in San Anselmo, after trying for a while to split her time between New York and Vermont with her family. "It sounds good on paper, but it was too crazy," she says. Here, she designs with the artistic, effortless client in mind, both locally and globally.
"Whenever I'm in Paris there's something about the style that rings true to me; nothing is fussy, tricked-out, over-designed, and there's a natural feel and elegance."
Describing her own shoes as "earthy without being too crafty, a little boho, a little casual, inspired by vintage," Reed chose an untraditional route to promote them. Instead of selling directly to consumers online, as many emerging brands do, she capitalizes on her existing relationships with retailers in a variety of places, and feels out the field.
"I know they're important despite the fact it's not the trend," she says. Fairfax, however, is a huge influence on the operation. "In Fairfax, there's a Berkeley-ish boho thing going on, people are cultured and aware, so I'm affected by that."
Another inspiration is the local lifestyle. "Going to yoga, going to the playground, running errands … everything is seamless and the wardrobe follows you from day to night. My shoes tie into that, being so soft."
While Reed's favorite pair are leopard clogs, she hardly has time for the leisurely activities that they're meant to accommodate. Being her own boss, she says, comes with a hefty price tag. "There's so much else to do!" Reed exclaims, "I just keep joking saying that my assistant didn't show up to work today, just because I don't have one. I literally work 24/7, while designing for someone else you're just focused on the process. But it's exciting!"
Bird of Flight; birdofflightshoes.com.
There's been talk around Marin County that all sorts of cool things are happening in San Anselmo. Usually this means an arrival of a buzz-worthy restaurant (like Madcap) and a beautiful, photogenic boutique. The latter would be Muse, the 1-year-old abode of decor and accessories, which joined Neve and Hawk on the town's style frontier last February. Owner Sophia Wood subscribes to the role; she's lived in the area for two years and always, across jobs, has enjoyed minimal and modern design.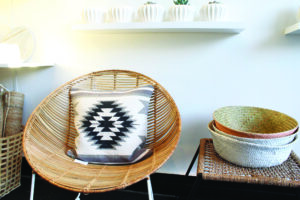 "The boutique is a good mix of Scandinavian and modern influences and a West Coast aesthetic," she says. Among other brands, Muse carries a variety of local standouts, from Corda by Kelli Ronci, to intricate modern macramé accessories based in Marin, to West Perro, Oakland's standout jewelry and home accessories brand, to Nipomo blankets and Happy French Gang textiles, both out of San Francisco. In the past, she also carried Sefte, a brand dedicated to luxurious blankets and bedding by two sisters based in San Anselmo and New York City.
"A few things led to this current career," Wood says. "I have a background in painting, photography and design, and I have worked at the curatorial department of the Folk Art Museum in NYC, where I saw a lot of self-taught artists. I thought of opening a gallery first, but I got inspired by looking at other boutiques and thought it'd be so much more dynamic and fun."
San Anselmo didn't have a lot to offer in the cute boutique niche, so Wood decided to fill the void. Aside from growing the business at Muse, the boutique's opening led to a number of interior-design opportunities, with customers tapping Wood for her style and commissioning her to decorate their homes. She's also working on developing fabric samples to offer custom designs for pillows. "I'd like to offer more unique designs," she says.
How does Wood feel about San Anselmo's shifting style scene? "Indeed, some new businesses have opened here recently, but I don't want to take all the credit," she says. "It's a transitional period, as some of the traditional businesses are closing. I feel sad for them, but times are changing, and boutiques are succeeding."
To extend the boutique beyond the brick-and-mortar, Wood is maintaining an attractive Instagram account, as minimal and inviting as the store itself. "I like minimalism because it's calming, and it ties into my love of yoga, and on the boutique level, I want to create an experience that's simple, without too many distractions." Yoga has been a career choice in the past for Wood, but "it felt like I [was] performing," she says with a laugh. "I'm much better behind the scenes, I guess."
Spring is an exciting time for any boutique, and Wood is looking forward to it. "This season, I am obsessed with mustard yellow, washed-out pastels, deep velvets, caramel leather," she says. "I am adding a line of ultra-delicate fine jewelry, round pillows, round bags and Corriente cowhide rugs, and looking forward to getting our custom pillow program started with a selection of curated fabric samples that speak to our aesthetic."
Stay tuned.
Muse, 566 San Anselmo Ave., San Anselmo; musecalifornia.com.