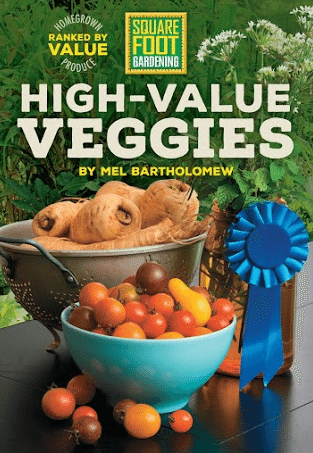 By Annie Spiegelman, the Dirt Diva
Before bestselling garden author Mel Bartholomew began writing books on growing food, he had built his own consulting engineering firm specializing in site and utility design. At age 42 he retired as a successful innovator and took up gardening as a hobby. From his "hobby," he developed a more manageable and efficient way to garden called the Square Foot Gardening system. His first book, titled Square Foot Gardening and published in 1981, became America's largest selling gardening book ever.
Bartholomew is also the founder of the nonprofit Square Foot Gardening Foundation, which has an innovative school garden program named "Square Yard in the School Yard." In addition to that, he has started projects to eliminate world hunger in Africa, South and Central America, Haiti, the Philippines and other third-world countries, by teaching local communities how to grow their own food more efficiently.
This spring, Cool Springs Press published Bartholomew's latest book called High-Value Veggies: Homegrown Produce Ranked by Value. His latest passion is helping gardeners save money by growing crops with high value. Most gardeners want to grow what's easiest to grow in their yard, but Bartholomew encourages readers to take a closer look and keep in mind that what's the easiest to grow is likely to be the most widely produced and the lowest priced at the local supermarket.  
"Let's face it, anything you grow and eat is something you don't have to buy," says the author. "Even though you'll put a good deal of work into a garden, along with tangible investments including plants or seeds, soil amendments and gallon upon gallon of water—you'll usually get a decent return on your investment." But this isn't always the case. "It depends on what you grow," he adds. "The time to figure out the real value of what you grow in your garden is before you ever drop a seed into a hole you've made in your sun-warmed soil."
Being a trained engineer, Bartholomew says to trust the numbers. His "garden investment" theory is a thoughtful approach to edible plant selection with an eye to which plants represent the best use of your time, money and effort. Amen! His formula uses an average price-per-pound to determine what a season's worth of produce from any plant is worth. That value is measured against the cost of inputs to grow the plants over a season to calculate an overall ROI (return on investment). In simple terms, the calculations take into account what you put into each individual plant subtracted from what the harvest from that plant is worth.
Here is what he found: The homegrown veggie with the highest ROI is … herbs! The runner-up is parsnip. Parsnip? What?! You'll like third place more. Coming in third is the Cherry Tomato.
Bartholomew's team looked at 59 edible plants in the competition. The top 10 high-value garden winners were:
Herbs

Parsnip

Cherry Tomato

Garlic

Heirloom Tomato

Turnip

Leek

Winter Squash

Spinach

Hybrid Tomato
His research team found that the veggies that make the least sense to grow were:
Potato

Brussel Sprouts
      3.Bell Pepper
      4.Swiss Chard
Asparagus

Okra

Bean

Pole and Bush Bean

Celery

Green Cabbage
Let's talk about our winner: Herbs. I always recommend novice gardeners to begin gardening by finding a sunny spot and growing an herb garden. Most herbs are fairly easy to grow here in California, so this allows new gardeners to feel like winners and fall madly in love with gardening! Then we have them for life; fellow plant junkies, or as I like to call myself, a hortiholic.
Bartholomew recommends growing a variety of kitchen herbs and to keep any unused portions by freezing them. Both thyme and rosemary are edible but can also be used as exceptional filler plants for rock gardens. And then there's mint. Most gardeners hate it because it grows like a weed, but if grown in containers, mint will not take over your yard. You'll just grow enough to put in your summer Mojito.
As for basil, Bartholomew believes that there is no such thing as too much basil. In Marin, basil will keep producing until the first frost. Parsley is an herb rarely bothered by pests and will reseed itself in your garden. Flat-leaved varieties are more tolerant of our dry summer weather. Cut off a small handful of outer leaves to use or shear the entire plant if you need a larger amount. It will quickly regrow.
As for parsnips … Well, maybe it's time we learned to love them.
Check out some parsnip recipes (parsnip chips, fries, soup, cookies, cake!) from the Bay Area's Mariquita Farm here: Mariquita.com/recipes/parsnips.html.