The North Bay is full of creative people living green lives—whether they are growing their own flowers or food, or making their own furniture from objects found in nature—and inspiring those around them to follow suit. Here are a few of their stories.
Art by nature
When did succulents become so fashionable? Perhaps since the California drought turned the spotlight on their water-saving qualities, or since boutiques, restaurants and Apartment Therapy masterminds decided to treat them as the sophisticated decor items they were always meant to be. One way or another, every big city runs succulents swaps these days, and the Instagram hashtag #succulents yields more than a million images. Flourish, a creative floral design studio based in Marin County, is all about the sturdy plants. "Every succulent is a piece of art made by nature," says owner Jodi Shaw on the studio's website. Shaw and her team specialize in artistic, intrinsic arrangements, featuring succulents, ceramic dishes, metal structures and natural additions like logs and segments of tree barks. Air plants, an impossibly trendy item of late, are also featured—floating on sticks, resting in palm leaves and hanging in vintage cages.
Shaw started the business two-and-a-half years ago. "I've been personally growing succulents for over 14 years, and was encouraged by a real estate agent to turn it into business," she says. "I thought about it, and decided to go for it." Coming to the field with a design background, Shaw was drawn to the succulents' sculptural abilities. "To me, they just lend themselves to a different form of art," she says. On top of their natural beauty, Shaw is well aware of the succulents' "drought tolerance" and of-the-moment appeal. "I just think people are discovering them and their ways of growing, and that they're also self-sustainable," she says. "You can grow them and they propagate profusely, so it's nice to share them with your friends and family."
While the arrangements Flourish sells online are first and foremost impressive and decorative, they are also efficient. "I like the idea of offering arrangements that last beyond the traditional cut flowers," Shaw says. "Even if they're not planted, the succulents will last at least four-to-six weeks, and once you're done with the arrangement, you can take the succulent off and plant it—and it will [bear] fruit and keep going." Reusable, value-for-money plants that happen to be right on trend? You got it.
The Flourish Pop-Up Shop is now open at 290 Bon Air Center in Greenbrae, through June 30th, offering succulent arrangements, gifts and home decor items.—Flora Tsapovsky
Flourishsucculents.com.
The curly-burly man
Chuck Oakander dreams of waves intermingling with wood. The dreams will be so vivid that they'll wake the arborist-sculptor from his slumber and send him to his notebook, where he'll scrawl out the vision—and then he'll create it.
The Bolinas arborist makes functional, fun sculpture from tree trunks, and one of his signature creations is the long, carved-out wave benches, rendered mostly from Monterey cypress. These designs are as sculptural as they are functional, and sync well with Oakander's passion for surfing—where he's strictly of the longboard persuasion. Oakander is all about the curls and the burls.
He has carved about a half-dozen of the benches in his 25 years working as an arborist-sculptor. Oakander doesn't get up in the trees much anymore, he says, leaving that work to a younger, more nimble crew—and sometimes he'll leave the crew at a worksite and head home for a few hours of sanding and grinding his latest work. No matter how tired he is, Oakander marvels at how working on one of his sculptures is a kind of instant rejuvenator. He also sport-climbs redwood trees up on the Bolinas ridge, for kicks.
The 56-year-old is a friendly and ruddy-faced icon in Bolinas, known as much for his surfing skills as for the functional sculptures that populate his property—and at some homes around town—and which take many months to complete, from initial rough-out to the final, smooth and sculpted product.
Oakander looks for trunks and trees that speak to his swirls-and-curls aesthetic, adding that he's not interested in standard woodworking conventions when he's designing or dreaming up a piece. He's also not interested in milling wood, and hard-angled table corners seem to bore him—or at least he doesn't dream of them.
"I am drawn to things with interesting curves," Oakander says.
Asked to name an artistic inspiration, he immediately identifies his across-the-street neighbor, fisherman and clay sculptor Josh Churchman. Also his mom, Oakander adds, who was a night-owl, an art teacher and a maker herself, mostly of clothing.
The pieces he renders take many months to be fully realized, and there's often a long waiting period before he even gets to work on a piece after he's secured the tree. Depending on the wood and where it was growing (in the shade or in the sun—it makes a big difference in how the wood ages and decomposes), he
will age the wood for between six months and six years before bringing the tools of his trade to bear on it.
But don't call Oakander a chainsaw artist. The chainsaw comes out only at the very beginning of the process, when Oakander is roughing out his latest vision—for example, a massive and gored-out trunk that presents a tempting place to rest one's head, and whole body, after a vigorous Bolinas ramble. After the rough-out and after the wood is aged, it's on to various adzes and power grinders and Oakander's favorite tool of all, the gutter adze (it was once used to make wooden gutters, he explains), which he deploys and demonstrates with obvious glee.
Oakander is committed to using sections of wood that might otherwise wind up in the dump. When he started out as an arborist some 25 years ago, there were lots of people in West Marin who burned firewood for heat; that business has dropped off considerably in recent years because of county regulations and other factors.
"We used to burn a lot of this wood up," Oakander says. "I feel some responsibility here, too, that the wood is not wasted."
In addition to Monterey cypress, Oakander also uses bluegum and redgum eucalyptus, black acacia, California bay laurel and coast live oak. "Each has sculptural qualities of its own," Oakander says during a tour of his workshop and grounds. He's still working with Monterey cypress trees that were downed in a storm about 10 years ago, and which he hauled to the shop from nearby Dogtown.
Oakander may have one of the more popular front-yard gawk-sites in the county. People pull up all the time, he says, out of curiosity and occasionally to make a purchase. He says that for every 50 or 60 who take an interest in his sculptures, one will follow through all the way to the end.
There's a really cool carved-out chair in the garage that he's been working on and that reminds me of Game of Thrones by way of an Ent-approved furniture store. The cutaway inside the flagellated trunk looks like it was burned out by a sculptor, a popular technique. But that's all-natural damage to the wood, done by a fungus, Oakander explains. He fashioned a separate lift-off seat for the chair, which he says could sell for around $15,000. Oakander has also sold simpler hand-hewn pieces in the $1,000 range. He did carve a neat wooden spoon from a lemon-tree branch on the property for his wife, Cass Hicks—a labor of a different kind of love, and one that he's not going to do for you.
Oakander has also carved out some pieces on commission, but prospective clients should not expect him to sit down and draw out the specifications. This is an all-natural process, in an all-natural town, and Oakander has a dream for how this should go.—Tom Gogola
Oakander.com.
Simple solutions
"A non-disposable life" is Ambatalia's slogan, opposing all things temporary, casual, unintentionally thrown-together and plastic—both in material and the attitude that they are produced with. The focus here is modern ecological textiles, designed and manufactured in San Francisco—and, worth noticing, endorsed by lifestyle maven and cookbook extraordinaire Heidi Swanson herself (she features Ambatalia products at her San Francisco-based online shop, Quitokeeto).
Multi-functional and minimalistic, Ambatalia's are the kind of creations that Kinfolk Magazine editors and design bloggers salivate over. Molly de Vries, the creative force behind the brand, started the business in
2004 in Mill Valley, and hasn't stopped creating ever since. These days, the brand is active online and locally based in a chic brick-and-mortar location at the Mill Valley Lumber Yard. The store is offering, along with clever textiles, local pottery, kitchenwares, beeswax candles, market baskets, laundry essentials and other seemingly mundane objects that get an elevated, eco-friendly touch.
"Our mission at Ambatalia is to bring awareness and simple solutions to the harmful and wasteful single-use disposables that go along with buying food and other daily necessities," de Vries states on the business's website. "It's not just about plastics but moving towards less waste and more caring about how our daily choices not just affect ourselves but the whole world."
Along with the environmentally friendly message, Ambatalia's products happen to be comfy and handsome. Consider, for example, the Furoshiki Bed, a unique Japanese bedding system which replaces the fitted sheet with a flat sheet with knots on the corners. Or the Bento Bag, a simple piece of cloth, at first sight, that turns into a bucket-shaped container ready to be filled with grains, beads or anything you might dream up. Never too loud or colorful, the textiles are durable and sustainable, and the small, carefully curated shop is a natural extension of de Vries' winning aesthetic. Visit here, and dare leave empty-handed. De Vries, who was born in Mill Valley, can often be found at the store, too—and will gladly help you pick out the perfect gift, which in most cases you'd want to keep.—Flora Tsapovsky
Local support
According to Modern Farmer magazine, we're in the midst of a flower-industry boom, the biggest since the 1990s. As delightful as flowers are to smell and admire, in Sonoma County they are part of a timely conversation about local farming, commerce and community.
"A lot of people don't realize around 80 percent of flowers sold in the U.S. are imported from other countries," says Nichole Skalski, a floral designer and member of the five-year-old North Bay Flower Collective. More often than not, she says, "the imports come from farms that treat workers poorly, and use pesticides and chemicals not regulated by the U.S."
The collective of 15 local farmers, florists and floral designers living and working in Sonoma County calls its approach "slow flowers," borrowed from the international Slow Food movement. Just as Slow Food underlines the importance of seasonality and locality, the flower collective strives for a deeper understanding of the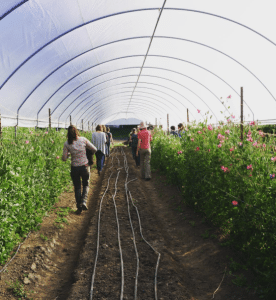 flower market, its place in the community and its environmental impact. This focus flourishes when growers and designers are brought together.
"I think it's important for the designer to hear how the farmer tended those seeds until they were passed on to be included in an artistic design for a wedding ceremony or gift to a loved one, carefully selected and arranged," Skalski says.
The collective also supports its members in what Skalski calls "an essentially tough industry" by providing resources, and educational, marketing and business opportunities. The value of "local," too often a marketing buzzword, is front and center with collective members.
"Locally grown flowers aren't grown strictly for shelf life and sturdiness for air travel," Skalski  says, "so we see lots of heirloom, fragrant and more delicate varieties than imports will ever provide."
Fresh bunches of those delicate varieties, and many more local blooms, can soon be smelled and purchased at Skalski and partner Kathy Green's new flower shop, California Sister. Named after the butterfly Adelpha californica, the shop will open in Sebastopol's The Barlow shopping center later this month.
"Our mission is to grow and support our local flower farms, our local economy, and make locally grown flowers more accessible," Skalski says.—Flora Tsapovsky
Nbflowercollective.com.