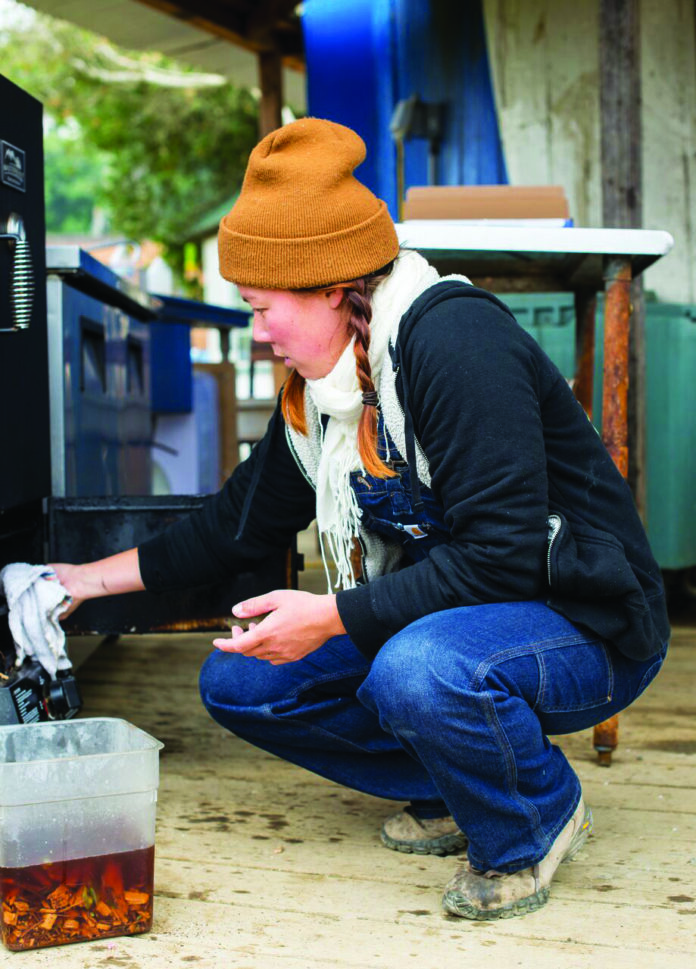 Growing up in Forest Knolls with a father who was an avid hunter and fisherman, Mariko "Ko" Wilkinson and her identical twin sister recall eating meals of wild boar sausage and pheasant while chewing carefully to avoid any buckshot residue.
"I think [home] is where the food thing all started happening for me," says Wilkinson, who has been a chef at Hog Island Oyster Co. in Marshall for the last three years. Though she went to cooking school in Oregon and spent some time in San Diego, Wilkinson has returned to her hometown and now relishes her morning commute to Marshall. "Every morning is like a music video—it's so beautiful; Mt. Vision and the fog are like nowhere else on Earth."
The 31-year-old Marin native earned her culinary degree from the Western Culinary Institute in Portland, Oregon, and went on to compete in an American Culinary Federation (ACF) competition where her team won the state championship. In addition, she appeared on the television show Chopped. But it was under the tutelage of restaurateur Heidi Krahling, at Insalata's, where Wilkinson really learned her craft. "Heidi was my true mentor," she says.
With Hog Island's focus on picnic fare, Wilkinson began pickling, smoking and curing meats to augment the oyster, charcuterie and cheese offerings. She now creates seasonal specials that have included a quinoa and sushi rice salad with pickled shiitakes, grilled pink scallops, smoked egg yolks over crudo, and d'Anjou pears with house-made pomegranate molasses and aged gouda.
Wilkinson's inventive creations offer added incentive for making the trek out to Marshall. And don't forget that oysters, with their reputation for being aphrodisiacs, make for perfect Valentine's Day fare.
Hog Island Oyster Co., 20215 Shoreline Highway, Marshall; hogislandoysters.com.