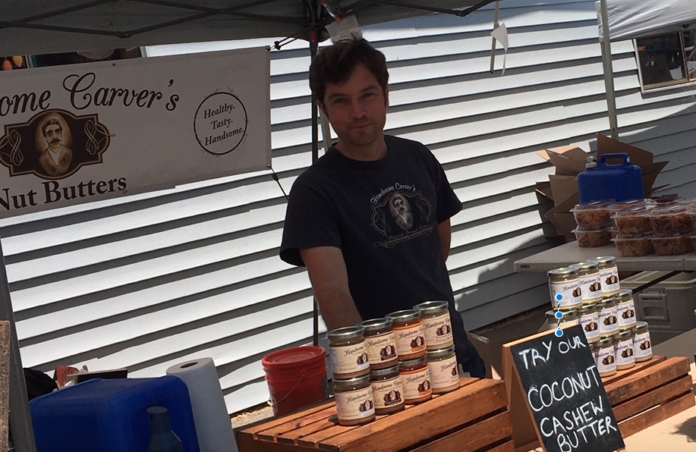 One of my favorite foods is peanut butter. I have been chided over the years for continuing to eat the crunchy, salty spread long into my adult life—some (foolishly) think that peanut butter & jelly sandwiches are a childhood indulgence better left to the preschool and kindergarten set.
Fortunately, Alan Turner likes the nutty goodness as much as I do—maybe more. While he was an Environmental Studies major at the University of California, Santa Barbara, he was eating a lot of peanut butter. In 2013 he started making his own and launched his business, Handsome Carver's, with a tagline of Healthy. Tasty. Handsome. For those unfamiliar with peanut butter's evolution, George Washington Carver is the name that's most frequently associated with the beloved spread, despite the fact that he did not invent it.
Turner sells his line of nut butters at the Marin Farmers' Market at the Civic Center in San Rafael and the Point Reyes Farmers' Market in 9-ounce jars that sport labels of a mustachioed gentleman. He's up to 10 different flavors that include versions of cashew, almond, hazelnut and six different peanut creations. Turner sources almonds from the Central Valley, but his peanuts come from the peanut capital, Georgia.
"If I were just making these for myself, I'd probably have a lot more crazy flavors," says Turner, who prefers savory notes over sweet. Turner, who lives in Sonoma County, rents a commercial kitchen in San Rafael and produces the butters, labels them, packs them and makes all of the deliveries. Driver's Market in Sausalito and Toby's Feed Barn in Point Reyes Station also carry Turner's products, but online is where many of his customers find the inventive spreads. Turner plans to offer an online model much like wineries offer wine club memberships; for members, he'll create special flavors that will only be available to them.
Handsome Carver's; handsomecarver.com.