What comes to mind when you picture West Marin?
If it evokes imagery of charming towns, breathtaking coastlines and a culture deeply rooted in its compelling history and the arts, then you're on the right track.
West Marin is the largest rural region of Marin County, originally belonging to the Miwok Native Americans, and encompasses the picturesque towns of Point Reyes Station, Olema, Stinson Beach, Bolinas, Tomales, Dillon Beach and Inverness (though there is some flexibility when it comes to defining the borders of West Marin).
These towns and the bucolic nature surrounding them combine to comprise what is considered to be one of the most beautiful places to live or visit in California. Its focus on the preservation of the natural landscape makes West Marin ideal to hike, camp and simply get away from the daily grind of day-to-day life in the city and instead focus on reconnecting with the land around you.
And, when you inevitably get hungry during your West Marin adventures, there are delicious restaurants to explore as well, many of which use locally-sourced ingredients in their farm/ocean-to-table plates. Plus, when in West Marin, you simply cannot forget the oysters, available all across this oceanic outcropping!
To sum it up, West Marin boasts a strong connection to nature, history, culture, arts, historical landmarks and restaurants galore.
Nature
The natural landscape of West Marin may be parallel to none, with its rolling hills and wistful, scenic seashores surrounded by humbling cliff faces. Combine this stunning backdrop with the native animals, such as elk, whales and an array of birds, and you have an idyllic environment to explore.
West Marin's most notable nature spots include the Point Reyes National Seashore Park, Tomales Bay State Park and Tomales Point. These places offer a multitude of trails to hike, beaches to leisure in and natural wildlife reserves to admire. Hiking trails include Tomales Point Trail, Laguna Trail, Sky Trail, Drakes Estero Trail, Abbotts Lagoon Trail, Kehoe Beach Trail and many more.
And if that isn't enough to stimulate the senses, Tomales Bay offers an otherworldly window into the beauty of bioluminescence, with kayak tours on the darkest nights of July, August, September and October. Watch the displaced waters alight with a bioluminescent glow from every fish that swims, paddle that rows or hand that touches these emissions of light by undersea microorganisms called marine dinoflagellate or plankton.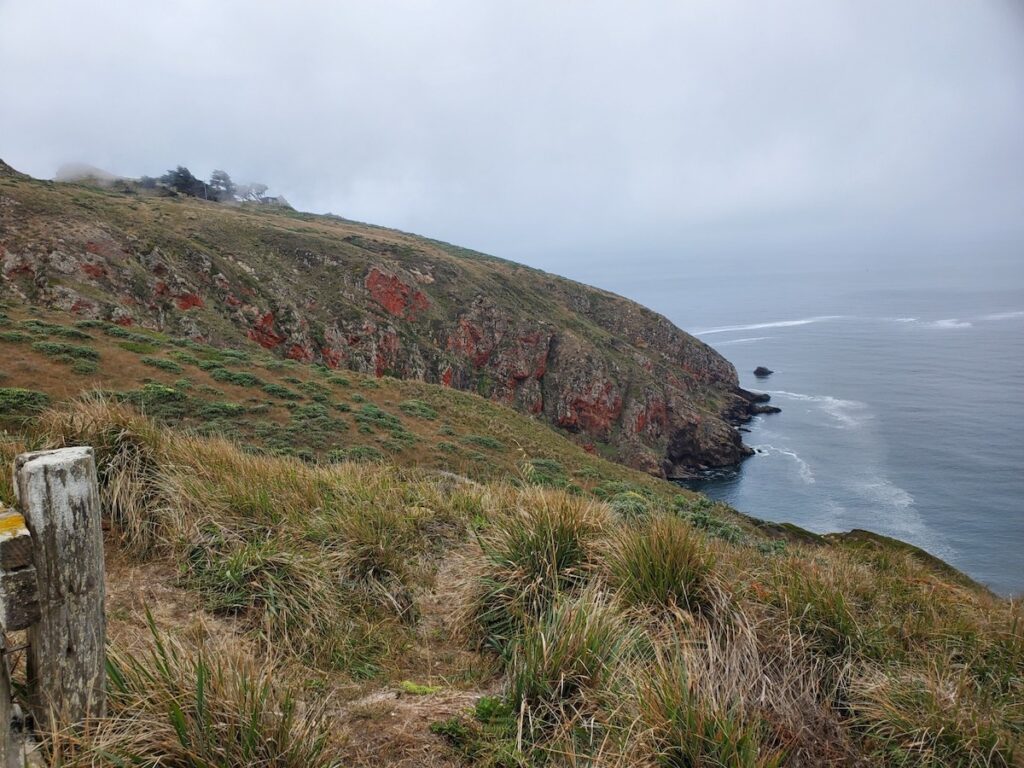 Landmarks
Sandwiched between the remarkable views visible across West Marin are key historical landmarks which give us an opportunity to connect to the long and significant history of the area. First, and perhaps the most well-known, is the Point Reyes Lighthouse. The lighthouse was opened for operation in 1870 and is situated in the Gulf of the Farallones on Point Reyes in Point Reyes National Seashore. Perhaps the most important detail to know before planning a casual visit to view this landmark is that the lighthouse is built at the base of 308 steps, comparable to a 30-story building.
The Historic KPH Maritime Radio Receiving Station is another must-see West Marin landmark. This radio station was built when Guglielmo Marconi sited and commissioned the building of a wireless telegraphy transmitting and receiving station in Marshall on Tomales Bay between 1913 and 1914. Some of the radio equipment dates back to the World War II era and remains intact, having been restored to use for broadcasting on numerous frequencies, including KPH. The Cypress Tree Tunnel that encompasses the entrance to the station is, in and of itself, a landmark worth seeing.
For a deeper look into coastal California's earthquake history, the 1906 Earthquake Fence is an ideal landmark destination. The two sections of the fence were split 16 feet apart during the 1906 earthquake, the effects of which can be viewed to this day. Those who visit the Earthquake Trail inside Point Reyes National Seashore can stop and see how far the two fences moved from each other on the San Andreas fault line.
Last, but certainly not least, on the West Marin landmark tour is the S.S Point Reyes shipwreck of Tomales Bay. The boat in question was built in 1944 as a World War II launch boat and, upon its retirement, was dragged ashore to be fixed—the project promptly abandoned. Now the shipwreck acts as a hiking destination, where visitors may view an unobstructed connection to West Marin's history.
Eats
All that hiking, and possibly a 308-step flight of stairs, can certainly work up a person's appetite. Luckily, West Marin offers a veritable cornucopia of delicious bites to eat. Scattered all across the culturally diverse towns of West Marin are eateries, farmsteads and companies just waiting to tantalize customers with edible offerings.
The Point Reyes Farmstead Cheese Co. is an excellent place to stop for a deeper look into the local culture of farming and agriculture. It began when the Giacomini family moved to Point Reyes in 1938.
In 1959, the next generation of the family purchased dairy to sell milk to the local creamery, and in 2000 the family began producing the first wheels of Original Blue, California's only classic style blue cheese.
One simply cannot separate the intrinsic connection between West Marin and oysters. Whether you want them served plain on the half shell over ice or doused in flavorful sauces and perfectly grilled, the entirety of the shorelines surrounding Tomales Bay is peppered with pit stops to get your seafood fix. Hog Island Oyster Company, The Marshall Store, Saltwater Oyster Depot, Tomales Bay Oyster Company, Tony's Seafood Restaurant and Nick's Cove are all excellent places to stop for some of the freshest oysters available on the market.
And if a plethora of seafood and cheese isn't enough to satisfy your appetite, you can visit one of many tempting eateries located across the West Marin landscape. Due West, a cool venue with seafood and other offerings, is the perfect place to taste the diverse offerings of the region. For a more laid-back approach to West Marin dining, Station House Cafe is a longtime cafe with local, organic meals, and the Side Street Kitchen, another cafe, offers what they describe as slow-cooked comfort fare.
Arts
West Marin boasts a long and close history with the arts. Both its proximity to the well-known artistic hub that is San Francisco and its beauteous natural landscapes lend towards stoking artists' inspiration, acting as a natural muse. A number of notable artists, including the late abstract expressionist Sam Francis, called West Marin their home.
A Native West Marin musician, Laura Alderdice, describes her experience with art in her home county as, "very colorful—the landscape brings a sense of serenity. And, with the abstract art scene, my brother, Alexander Carl Bratenahl, a visual artist and painter, was able to express himself in a way that was loud, rhythmic, fun, politically involved and socially critical, sometimes cut with the calm and serenity of the landscapes."
Another artist local to West Marin, Tom Biagini, was self-taught and grew up in Inverness. He began drawing as a child, but only picked up a paintbrush for the first time in his early 20s. Biagini created his first West Marin landscape of Chicken Ranch Beach and has since drawn inspiration from his hometown. In his late 20s, he opened West Marin Fitness in Point Reyes, in which he also showcased his early work. Though his time spent in Southern California influenced his artistic style, Biagini has returned to West Marin to open his own gallery in Inverness.
For another West Marin art experience, visit Gallery Route One, a nonprofit art organization with a focus on presenting changing exhibitions year-round and offering community support programs. Gallery Route One was founded in 1983 by 25 artists and currently maintains a membership of between 20 to 25 local artists.
Wherever you go in West Marin, you're bound to find a slice of Marinite life that appeals. Whether it's the sprawling landscapes, the hiking trails, the historical landmarks, the appetizing local food fare or any combination thereof, there is no lack of things to do in this small, unincorporated corner of Marin County.