By David Templeton
"You have to climb over the seat to get in … watch out for the steering wheel!"
So suggests a smiling Laine Ayre, who watches carefully as a visitor non-gracefully clambers aboard the cozy, culinary interior of The Bodega. Painted a vivid aquamarine on the outside, every square inch crammed with cooking supplies and fresh food on the inside, this roving restaurant on wheels would seem like just another food truck—except for the unusually large crowd of hungry people out front, waiting to order some crisp and crunchy California street food.
With San Anselmo resident Ayre handling the business/hospitality side of things, and Sebastopol-based chef Matthew Elias—formerly of Saltwater Oyster Depot in Inverness—skillfully working the grills and ovens, The Bodega, in just a few short months, has become one of the hottest new food trucks in the North Bay.
Elias acquired the 22-year-old truck several months ago from a San Francisco chef who'd used it to serve up a menu of Peruvian-Chinese Cuisine. With Ayre on board as a business partner, Elias dubbed the food truck The Bodega, and paid for its initial renovations with a GoFundMe campaign.
"Restaurants are just so expensive to open these days," Elias says. "That's why so many really good chefs are getting into the food truck business. I want to feed people good food. The easiest way to do that, without a ton of capital on my end, is a food truck."
The mobility of a truck allows Elias to offer different kinds of experiences, depending on where he parks it and what type of event he parks it at.
"With a food truck, I can go anywhere," he says.
Asked what expansion looks like to a food truck owner, Elias admits that the two obvious pathways, should business keep going as well as it has, are to either add more trucks, eventually, or trade them in for a brick-and-mortar operation. Eventually.
"Another truck would be interesting," he says. "Maybe someday, down the road, with a brick-and-mortar place at the end of the journey, in a couple of years. That would be great, but I think I'd like to just rock this food truck for a while, and not even think about those other possibilities."
One of Elias' driving inspirations is the growing demand that restaurants—or food trucks—serve extremely fresh food, preferably acquired directly from the people who grew or raised it, mandatorily sourced right here in the North Bay.
"We go to the farmers' market, we see what our friends are growing, and then we figure out what the tastiest things are we can do with it," he explains. "The guy we get our pork and beef from owns his own farm, I've known him forever, and even worked on the farm. So I know firsthand the quality of the food I'm serving my customers."
Asked to define California street food, Elias laughs.
"California street food is fun food," he says. "Like tonight, we're doing wings, a barroom staple, but made with fresh Petaluma chicken, with an interesting sauce made with garlic grown by a friend in Marin. It's basically bar food, truck stop food, but made with better products than you'd probably find in most bars and truck stops."
"The menu changes every day, which is important," Ayre adds. "The way I explain it to people is to tell them that we originally met at Saltwater, in Marin, where we were both working. He was the chef, I was front-of-house manager, and we knew we worked well together. Our goal with The Bodega is to serve food of that quality, on compostable, eco-friendly plates, for a fraction of the price. Out of a truck."
Today's menu, for example, in addition to the wings, includes griddled delta asparagus, oysters on the half-shell, a beet hummus tartine on rye toast with a pickled farm egg and a fried chicken sandwich on a fresh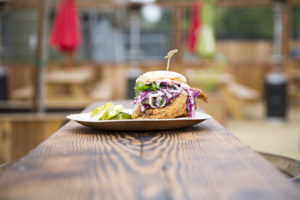 English muffin. Those aforementioned daily changes aside, Elias says that he can't not offer the fried organic chicken sandwich—already locked in as The Bodega's signature dish—served with a green goddess coleslaw and a "house pickle."
"Gotta have a pickle," Elias says, "or it's not a fried chicken sandwich."
In response to a question about the craziest culinary concoction to have been served by Elias and Ayre so far, they say, simultaneously, "Last night!"
"The truck was in the shop for a couple of repairs," Elias explains. "But we were scheduled to do a drive-by at HenHouse Brewery. So we scrambled together, and set up an outdoor kitchen, and we ended up serving 200 people. We weren't able to fry anything, so no chicken sandwiches, but we came up with some interesting ways to serve smoked Italian sausages."
The duo's improvisational approach applies to their business model as much as to Elias' ever-changing menu. Having started in Marin, Elias and Ayre hope to build a large fan-base there, eventually. They do a number of catering events, without the truck, but for strategic reasons, chose to launch the truck in Sonoma County, and points north.
"I'm working on the permits to operate in Marin," Elias says, "and if our dream comes true, we'll be serving chicken sandwiches out of The Bodega in Marin sometime in the fall."
Until then, anyone eager to taste Elias's inventive cooking can keep tabs on the truck's day-to-day location by visiting The Bodega's Facebook page.
"Hey, we're a food truck," Elias says. "We change locations as often as we change our menu. Because we can. And because it's more fun that way."
The Bodega, 707/344-3466; thebodegaca.com; facebook.com/thebodegaca.