By Flora Tsapovsky
Nowadays, the global is local and the universal can be deeply personal. If this sounds like an empty statement, take a look at the story of Cristina Rose-Guizar, 39, an accessories designer with an international reach and a unique coming-to-America story, working and creating right here in San Rafael. For her brand, Centinelle, Guizar illustrates colorful silk scarves, pocket squares and silk-cotton blend bandanas, decorating them with whimsical, fantastical worlds made up of hypnotizing cats, koalas in tiny pedal boats, dancing donkeys, colorful guitars, corn husks and 'Mexican pinup' ladies. The latter two are a nod to her home country of Mexico, which Rose-Guizar left two years ago, after meeting her future husband in San Francisco, while visiting a friend.
As a girl back in Mexico, growing up in Morelia, a four-hour drive from Mexico City, Rose-Guizar always loved sewing. "I started sewing when I was 5 years old with a little toy machine that my mom bought me for my birthday" she recalls, "making clothes for all my dolls."
The artist also expressed, from a young age, a special interest in drawing. "All kids draw, but I continued, always forming projects that would need some illustration, and I drew for the high school newspaper."
Rose-Guizar went to Jannette Klein Fashion University in Mexico City and launched her first collection in 2010. The scarves were there from the beginning, as a simple and straightforward product.
"I wanted to create something easy to sell, so Centinelle started with handmade/homemade accessories, focusing on local fabrics and between friends at first," she says. "When traveling, I started to look for the fabric store wherever I was and get fabrics. Once on a visit to L.A., I found a huge store in the fashion district and I got crazy. I thought, this could be a dress, too—and just like that, that same year, Centinelle accessories became Centinelle clothing, with pieces focused on craftsmanship, natural fabrics and prints designed by me."
The name of the brand is a story among friends, too. "My friends in Mexico City gave me the nickname of Chispa, which means 'sparkle,' 20 years ago," Rose-Guizar says. "So I wanted to give the brand a name related to that. Centella is a Spanish synonym for 'sparkle,' so playing with that I ended up with Centinelle."
After a couple of years of designing both accessories and garments, Rose-Guizar understood the challenges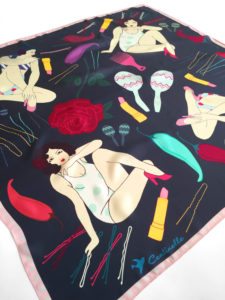 involved in creating clothes, especially when it comes to providing sizes and the right fit. "One day in 2014, I sat down and made my business plan," she says. "That's when I went back to the original accessories plan, specializing in silk accessories, and applying all I learnt in the past years."
Besides their practical appeal and the ease of their production, Rose-Guizar loves the versatility of scarves.
"As a child growing up in the '70s, I remember my mom having these gorgeous scarves in her walk-in closet, lots of them, from different places; beautiful, colorful, elegant but fun, with bold prints that some people probably will never dare to wear, but would accept in a scarf. It's like a well-kept secret," she says.
The artist's lifelong passion for illustration, too, contributed to the expansion of scarves. "I started to realize that I enjoy the textile design process the most," Rose-Guizar says.
After Rose-Guizar draws and adds details digitally, the prints are placed on the scarves at a manufacturing facility in China; they then make the trip around the world back to Rose-Guizar's home studio in San Rafael.
Before moving to the U.S., Rose-Guizar lived in Mexico City.
"I was lucky to live a very nice life in Mexico city, in the Napoles neighborhood, surrounded by jacaranda trees that bloom beautiful purple flowers every spring," she says. "I lived 15 minutes away from the Condesa neighborhood, and it had a lot of cool restaurants and a farmers' market at walking distance."
Rose-Guizar and her then-future-husband lived in San Francisco upon her arrival to the country, and later moved to San Rafael. While living in San Francisco she came pretty close to her favorite Mexico City vibe; the move to Marin was an adjustment. The reason for the move? Partially, two cats, Evo and Naoko, whom Rose-Guizar and her husband adopted soon after meeting. "We lived in a studio in Pacific Heights and the cats had to sleep in the bathroom—naturally, a studio for two humans and two kittens was too small," she says.
The couple started looking for a house that would suit them. "We all know San Francisco real estate is just ridiculous right now," Rose-Guizar says. Enter the city of San Rafael. "You can't walk to run errands here; everything is done by car and cars are not my favorite thing. But I love to be surrounded by nature, and almost every day I get to see deer; this makes me feel so lucky."
Other welcome additions include riding to China Camp by bicycle, and the views. "From my living room, I have an amazing view of the bay, the Marin Islands and the Richmond Bridge."
Currently, in addition to her online store, Rose-Guizar's accessories are sold in more than 15 stores across the U.S. and Mexico, including the San Francisco Museum of Modern Art gift shop and Mexico City's Tamayo Museum, to name a few. She's taken part in numerous trade shows in New York City and L.A., and has displayed her creations at Tictail Market, the brick-and-mortar Manhattan store of the online platform Tictail. She's highly devoted to her business—it's a full-time commitment.
How would she describe the designs, which turn the basic idea of a neck scarf into a humorous, stand-out affair? "In a few words, fiction, fantasy, memory and myth are what I would use to describe my scarves," Rose-Guizar says. "These four concepts mix together to inspire each scarf design, all with a common thread: A chic sense of humor. Humor is a part of my daily life, and I would like it to be a part of the lives of many others."
The inspiration for the out-there illustrations, according to the artist, is very everyday. "I get inspired by my daily life as a city girl who loves animals, nature and life's simple pleasures, as well as my fascination with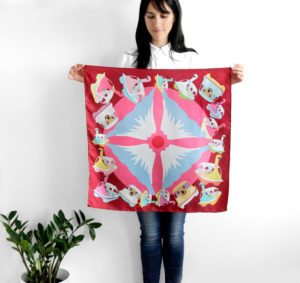 foreign culture and traveling in general." Japan, specifically, is a big influence. "Japan is just a beautiful, photogenic surreal place. The mix with the old and new amazes me, so much energy, the incredible food," she says.
Sometimes, however, the motivation is to fix a pop-culture injustice: See the playful donkey scarf as evidence. "I just thought that the donkeys are so underestimated and deserve the same focus as magical unicorns," she says.
But our nation's obsession with all things unicorn isn't the only bias on Rose-Guizar's mind. The elections, and their surprising result, shook her and led her to reconsider her position as a U.S resident.
"These aren't great times to be a Mexican in the U.S.," she says, "when fear and ignorance are driving people to see other cultures through stereotypes and not give the chance to meeting individuals. It's weird not to feel welcome in your own home. Regardless of the fact that I have great people around, from the U.S. as from other countries, times are tense."
And so escapism is echoed in her newest illustrations, featuring peaceful bunnies, pink flamingoes and always, Rose-Guizar's greatest muse, cats. But despite the somewhat intensified attitude towards immigrants these days, much of it inspired by our current president, she still feels quite at home in San Rafael, or rather comfortable in her own skin.
"I don't think the move changed me much," Rose-Guizar concludes. "I still travel to Japan and other places, I am still Mexican, still love nature and cute things, my friends are still my friends. And I think that is why the transition of Centinelle from Mexico to the U.S. has been well received—because the brand gets inspired by simple, daily things that could happen to any gal in the world. And besides, who doesn't love cats?"
Learn more at centinelle.com.