Biking is a dream come true in the North Bay. With an abundance of trails in countless open spaces that boast breathtaking views, it's no wonder that more and more people are opting for two wheels.
Jim Edgar, communications manager at the Marin County Bicycle Coalition, says that these days, a lot more businesses are bike-friendly, and more people are hopping on bikes—not just for trail-riding, but for errands, too. The annual Bike to Work Day in May was a rainy one, but Edgar says that large numbers of riders proved that the weather didn't dampen spirits.
The coalition offers an array of programs to get people on bikes, but an upcoming "Let's Ride" series will offer nutrition advice, on top of biking skills. "We try to look to relieve any excuses for people not to be on the bike," he says.
So read on, and then jump on. Roads and trails await.—Molly Oleson
Jensie Gran Fondo of Marin
Jens Voigt may have retired from pro cycling, but he's still riding hard on the heels behind Levi Leipheimer. This year, the German cyclist lends his nickname to the inaugural Jensie Gran Fondo of Marin on Oct. 10, trailing Sonoma County's popular Levi's Gran Fondo by just one week.
"It's going to be a great event," says Jim Elias, executive director of the Marin County Bicycle Coalition (MCBC). "It brings in one of the most iconic cycling personalities of our era."
Voigt, a resident of Germany who announced his retirement in 2014, loves to ride in Marin, according to Elias. "He's also quite a personality and a lot of fun," Elias adds.
Voigt will ride the entire route with participants, and not just at the head of the pack.
"He's not here to race; he's here to be an ambassador, to share his wisdom and experience with all the riders," says Scott Penzarella, a cofounder of the event and owner of Studio Velo in Mill Valley.
A portion of funds raised by entry fees will benefit the MCBC for its bicycle education and advocacy programs, such as Safe Routes to Schools.
Part of the appeal for cycling fans is the opportunity to ride with the famously gregarious Voigt who's been called "the most fun guy in pro cycling." Also known for his "attack" style of riding, Voigt placed second after Leipheimer in the 2007 Amgen Tour of California and triumphed in several stages of the Tour de France. Retiring in his "young 40s," he stuck with it longer than most, says Elias.
Entry fees for the Jensie Gran Fondo, priced from $95 to $749, correspond to routes of increasing length, elevation, service and swag. The 100-mile "Shut Up Legs" route ($195) gets its name from a signature Jensism, and takes riders up to Alpine Dam and around Mount Tamalpais.
The first such event for Marin County, the Jensie Gran Fondo kicks off at Stafford Lake Park in Novato and threads through the hills of West Marin. It's not a race and it's not only for hardcore competitors, although riders who finish before 5pm will be timed by electronic chip.
"Some people ride ambitiously," Elias says, "but for most people, it's a big cycling celebration."
While CHP will offer support at major intersections, the mainly rural ride will not close down roads, and participants are encouraged to ride in single file.
All routes lead to a gourmet service stop in Point Reyes Station with local food purveyors, and end at Stafford Lake Park for a festival with music and, of course, a local microbrew to shut up that thirst. thejensiegranfondo.com.—James Knight
Fat tire temple
Curating mountain biking's roots in the place where it all began
Bicycles predate paved roads, so in a way, mountain biking has always existed.
Yet Marin County is considered the birthplace of the sport, because in the 1970s local riders organized the first mountain bike race on Mt. Tamalpais, the Repack, and designed bikes that would set the path for modern bike design. The four-week-old Marin Museum of Bicycling and Mountain Bike Hall of Fame offers tribute to that history, and to bicycles in general.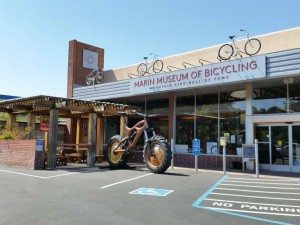 "There was only one place where that activity reached a critical mass," says Connie Breeze, curator of the museum along with her husband, Joe, a Hall of Fame inductee and mountain biking pioneer. Joe Breeze also serves on the museum's board.
Joe Breeze and fellow pillar of the sport Charlie Kelly helped organize the first Repack race in 1976, a downhill trail on Pine Mountain that Breeze went on to win 10 times. He also welded the first ever mountain bike from new parts, dubbed it the "Breezer," and won Repack on it the next year.
"This was our off-season fun, exploring the territory we grew up hiking around," says Joe Breeze, at the time a road racer.
Breezer No. 1, the first bike he made, is in the Smithsonian museum; Breezer No. 2 is on display at the Marin museum. The museum plans on more exhibits, but if Joe Breeze is around, be sure to listen to his stories and check out the Mountain Bike Hall of Fame to read about his achievements in the sport, because he will humbly downplay them on his walk around the museum.
From retrofitted 1940s Schwinn clunkers to sleek, $10,000 carbon fiber bikes with finely tuned suspension, the history of cycling is told through the bikes themselves. To complete the story, a separate exhibit features a rare collection of 19th-century bikes, including the Victorian classic with the giant front tire and another model, with a chainless, shaft-drive design.
All of the bikes in this exhibit are on long-term loan from David Igler, son of prolific bike collector Ralph Igler, whom Joe Breeze met in 1975.
"We were able to cherry-pick to show the stepping stones in the evolution," says Joe Breeze. "These are really hard to come by."
The first bike in the exhibit is a French model from 1868 made of forged iron. It's also the first bicycle with pedals and the first to be commercially produced. The tires look like wagon wheels, yet the design is modern compared to some of the comical and creative designs that followed in the next 10 years.
In 1890, the addition of rubber tires and a chain made riding safer and more efficient, ushering in a decade known as cycling's golden age. In the 1890s, there were two patent offices in the United States–one for bicycle inventions, one for all other inventions.
Many companies that made bikes in the late 1800s went on to make cars and car parts. "Cycling paved the way for the automobile— literally paved the way," says Joe Breeze, explaining how roads were initially paved for cyclists, not cars. (The museum recently hosted a lecture by Carlton Reid, author of Roads Were Not Built for Cars.)
The Marin Museum of Bicycling has been in the works for years. Though organizers are still seeking a major donor, the museum opened thanks to volunteer and community support. There are no paid employees. Joe Breeze estimates that he's put in around 2,000 hours of unpaid work on the museum.
To raise money, the museum sells bricks that range from $250 for a 4-by-8-inch brick to $1,000 for a 1-foot-square brick. The bricks form part of a wall in the shape of Mount Tamalpais in front of the museum—the mountain where it all began.–Nate J. Voge
The Marin Museum of Bicycling and Mountain Bike Hall of Fame is open 11am–5pm, Thursday–Sunday, at 1966 Sir Francis Drake Blvd., Fairfax. $10, adults; $5, students and youth ages 12–17; $3, children ages 6–11; for children under five, free.
Trips for Kids
Nurturing the next generation of cyclists
Marilyn Price admits that, at one time, she was seen as "really odd." It was the '70s. She rode her bike everywhere. People were confused, and shot her weird looks.
"But it changed gradually as the years went on," says Price, who has biked her whole life, but began biking more regularly during her college years, when she became "really concerned" about the environment. Today, she says, the biking infrastructure (especially in Marin) is amazing, and cyclists are now often regarded as "heroes" for saving the planet. "[Cycling] just got more and more accepted."
Price, 74, a Mill Valley resident and founder of Trips for Kids–an organization that began in the late '80s out of her home and has served more than 140,000 at-risk youth through biking—turned her passion for biking, a deep care for the environment and her wish to become a social worker into what is now an international organization with more than 90 chapters in the U.S., Canada, Israel and Sierra Leone.
Price's path was inspired by volunteering at St. Anthony's and by a bike ride on Mt. Tam.
"One day I was just on the mountain, riding up the railroad grade, and I got to a point where I could see the city, and I thought, 'Wouldn't it be neat to bring these kids [from St. Anthony's] up here?'" Price says, surrounded at her San Rafael headquarters (which also houses the Re-Cyclery, her successful bike thrift store that sprang out of, and partially funds, Trips for Kids) by sun-faded photos of smiley boys and girls on bikes.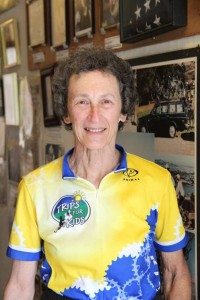 "You know, so that they could have the same experience."
Words of encouragement from a psychologist in Southern California who was working with kids inspired her to begin bike trips—once a week, and then twice a week, for kids ages 10 to 17. "Lots of good memories," Price says, noting that she used to transport bikes in the back of her old Volvo.
Last year, Trips for Kids partnered with Marin agencies that included Aim High at Marin Academy, Canal Welcome Center and Alcohol Justice, and took more than 1,300 kids on bike rides to places like China Camp, Golden Gate Park and the Marin Headlands.
Price says that her dream is to expand the bike trips for kids even more. "I would like us someday to be as big as the Boys and Girls Club," she says with a beaming smile. "You know, that you've got bicycling everywhere—or that every Boys and Girls Club chapter has bikes, and is doing biking with kids."
Kids are often hesitant at first to get on the bike, Price says—"Who are you? What are you about? Why am I here?" is a common reaction. But she says that the bicycle ends up serving as a tool to reach each and every kid.
"And then you get them on the bike, and all of that melts away," she says. "You get them on the trailhead, and now you're their friend. The kid, out in nature, the bike—it's something universal."—Molly Oleson
Learn more about Trips for Kids at tripsforkids.org.