Can a foodie also be a fashionista? Can a romantic soul also be an adventure-seeker? The answer is yes, of course. However, when gift-shopping for the holiday season, our friends and family are often reduced to one trait—a subconscious trick to help us buy better (and faster). A cookbook for the gal who once hosted us for a fancy dinner. A scarf for the person dominating our Instagram feed with their stylish wardrobe choices. A yoga workshop for the aunt who discovered wellness. And why not? This gifting method is a fun and coherent way to get everyone covered. So go ahead, typecast your holiday shopping. As for what to buy, here's some help.  
For the Foodie
Tired of the word 'foodie?' So are we. Let's just say, from now on, 'for that person who can name seven types of cheese and always understands all of the items on restaurant menus.' Have a foodie friend you mostly text dinner pictures with? Invite them for dinner at Madcap (madcapmarin.com), the San Anselmo gem everyone's raving about, and catch up before 2018 starts. For the cheese lover, you could go the traditional route: Cowgirl Creamery curated a seasonal collection—highlighting next-generation cheesemakers—that includes a Humboldt Fog Mini from Cypress Grove, a Point Reyes Toma from Point Reyes Farmstead Cheese Company and a Mt. Tam from the creamery itself (cowgirlcreamery.com). On the newer side of things, Fisher's Cheese + Wine, which opened earlier this year in Larkspur, (fisherscheese.com), offers not only delectable gift baskets of cheese and wine, but also a fun bubbles and cheese pairing class on December 4—perfect for pre-holiday mingling and learning.
For the Fashionista
This is for the friend who's always on top of trends, and the sister-in-law who never misses a beat when it comes to hip boutiques. Marin's newest style offerings will make the best gift. First, check out the new Michele Holmes Studio in Corte Madera, and purchase a gift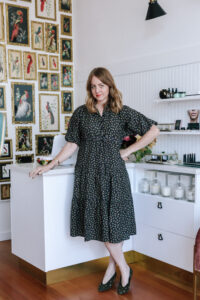 card for your fashionista or fashionisto (micheleholmesstudio.com). He or she won't be able to resist the beautifully decorated spot, with its vintage-looking chairs and floral arrangements. And don't we all need a brow fix this holiday season? The studio offers brow shaping, eyelash tinting and makeup services, as well as a curated selection of cosmetics and skincare goods. For a classy gift of quality clothing, look to the new Sausalito-based, by-appointment-only Très Nomad (tresnomad.com), which offers jumpsuits, dresses and separates from natural silk. With more than 15 hues of silk to choose from, the perfect garment is easy to pick. Not very original, but nevertheless satisfying, would be a gift card to the newly minted Novato branch of Nordstrom Rack. The highly anticipated opening at the Vintage Oaks shopping center brought the joy of discounted designer clothes to Marin, and no fashion devotee can resist that (shop.nordstrom.com). Finally, a trip to Napa's newest fashion emporium, COOP, will put the style accent in an upcoming wine-tasting trip with premium labels like Lem Lem, Mother, Cult Gaia and more (carnerosresort.com).
For the Gentle Soul
Maybe it's a friend who's been through some stuff this year, or a relative in need of solace and support. Either way, the gift of comfort and nature can go a long way. Anyone would be happy to receive a box of fresh blooms from the new San Francisco-based company Matilda's Magnolias, which services Marin County as well. Choose a single 'bloom box' or a subscription of multiple deliveries to make a flowery gift last longer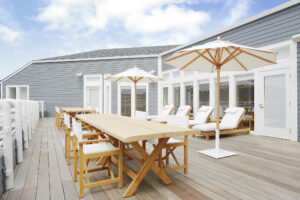 (matildasmagnolias.com). For the gentle soul's body, International Orange, the new-ish spa at the Marin Country Mart, is gearing up for the holiday season with special gift certificates (like a 90-minute massage for $175) and packages that include acupuncture, facials and Thai massage (internationalorange.com/locations/marin).
For the Adventurer
You know the type. The one whose garage is full of fishing gear, motorcycle parts and camping gadgets. The one who loves impressing people over dinner with travel stories and happy adventures. There's the gift of quality soap, for cleaning up when the dust settles. San Rafael-based Tonic Naturals is a new soap brand in town, offering travel-size samplers and fragrant, sturdy bars in Avocado, Bay Laurel and more (tonicnaturals.com). A gift from San Anselmo's Marin Archery Shop may get someone in your life started on a new hobby—the store stocks bows and arrows, as well as archery equipment (marinarcheryshop.com). For chic and adventurous accessories, head to San Anselmo's Utility Goods, a manly haven of creative bottle openers, grooming kits, lanterns and other items an adventurer may need (utility-goods.com). For those who prefer to adventure from the sofa, the Marin-based Kikoko offers cannabis-infused teas for a variety of needs, from pain relief to boosting libido (kikoko.com). If you're really into splurging, The New Wheel, Larkspur's fairly new electric bike company, has you covered with some very fast, very innovative bicycles—perfect for hilly regions and adventurous-but-laid-back types (newwheel.net).
For the Modern Child
With smart phones in hand and lots of opinions in tow, modern-day kids will not be satisfied with the customary toy anymore. The key word is 'experiences;' at Studio Birdsong, a new creativity haven in Mill Valley, little girls are invited to 'relax and unwind while developing tools for navigating a strong and creative life' (studiobirdsong.com). Workshops range from chocolate-making to lettering, and from making essential oils to 'the art of doodling.' If a child is 9-13 years old, the youth yoga class at Metta Yoga, the six-month-old studio in Corte Madera, is just the ticket (mettayogastudio.com), promising a relaxing and invigorating time for young minds. For the young art lover, a class with Studio 4 Art is a must; offerings include wheel-throwing, acrylic painting, sensory art experiences, printmaking, mosaics and more, and locations in Mill Valley and Novato make the gift appropriate for a variety of locales (studio4art.net). And if you're throwing a holiday party for the child in your life, the new partywear delivery service Geese & Ganders has plenty of funny, cool unisex options to impress even the toughest toddler (geeseandganders.com). Mix-and-match a box of goodies and have them delivered to your doorstep, to the protege's delight.
For the Creative
The freelancing millennial friend? The artistic grandma? The soul-searching uncle? Everyone's a creative these days, and shopping for creative gifts is particularly easy. Anything goes, as long as it helps channel those individualistic vibes. You can't go wrong with a one-month subscription to Mill Valley's The Hivery, Marin's prettiest co-working studio—if the gift recipient is an entrepreneurial female in need of a beautiful spot to call office (thehivery.com). For decor-inspirational trinkets and jewelry, head to Mill Valley's Poet and the Bench, (poetandthebench.com), where a variety of local and international artists display their unique crafts. If the lovely creative is into sunglasses (who isn't?), consider renewing his or her look with the help of local brand GRO Eyewear; (groeyewear.com). The Tiburon-based brand makes delicate, stylish sunnies in timeless shapes, with collection names like Posey and LaScale, giving the choices an intellectual aroma. And lastly, a creative gift couldn't be complete without a sensory immersion or two; Corte Madera's brand-new Resonance Spa and Wellness offers a selection of curious-sounding relaxation gifts, from sound baths to cupping (resonancemarin.com). Purchase a gift card or go ahead and book the most interesting-sounding session.