By Flora Tsapovsky
When it comes to cutting-edge workout studios, Novato probably isn't the first destination on Marin County's list. Glitzier Mill Valley and Sausalito often take the cake (or, rather, the vegan energy bar) in this area, but Novato got on the map this October with the opening of a brand new branch of CycleBar, a nationwide cycling empire conquering the country through privately owned franchises.
In Marin County, the team to pedal the studio forward is a trio of lifelong friends—Stacey Agoustari, Julie Kertzman and Cindi King. Having known each other for more than 20 years, the friends—Marin residents and local schools fundraiser veterans—bring a variety of skills and backgrounds to their new adventure. Agoustari has worked in the fitness industry for more than a decade as a personal trainer and indoor cycling instructor certified with the National Academy of Sports Medicine. Kertzman joins CycleBar Novato after spending 18 years in sales and marketing management for IBM and Hewlett-Packard, on top of serving as a PTA president and Tam High Foundation Chair and sitting on a number of local nonprofit boards. King is an attorney specializing in startups and small businesses and an avid fitness enthusiast.
The women, Kind says, raised their kids together. "Once the kids 'launched' to college, we kind of thought, what to do next?" A friend told her about CycleBar, a relatively new and prominent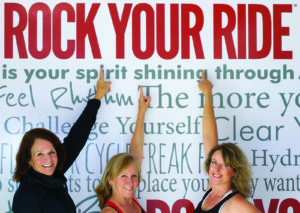 competitor to SoulCycle, which by 2015 ran in more than 10 U.S. cities. (In 2016, it came close to having 100 studios all over the country). King brought up the idea to her friends, and caught everyone's attention. The search for a venue was on.
"Once we found the location in Novato, that was it," King says. "There's a big enough community there and it's a big enough city. Finding the actual real estate was the most challenging part, and then the space had to be built exactly to the specifications of CycleBar, so getting all of it took a year."
She's well aware, of course, of Novato's humble image. "It's too bad," she says. "We did look everywhere, including Mill Valley, and [the Novato] location is perfect. There's a juice bar next to us, it's right off the freeway. It's not the first place you think of, but we realized there's a real opportunity in Novato, and the community really embraced us. They're really open to doing fun, interesting things, and the coolness factor isn't such a big deal like in Southern Marin."
Not to say that CycleBar isn't cool—with its slick red and silver interiors and branded water bottles and towels. With classes named 'Connect,' 'Mash Up Monday' (cycling to the tunes of Aerosmith and INXS), for example, the Novato branch is a modern hub of wellness and health, minus the attitude that some cycling studios cherish and use as a promotional tool. When CycleBar's competitor and cycle-craze pioneer SoulCycle first broke onto the scene, its cultish, member-club appeal divided the nation. Some got hooked on the mood music, uber-charismatic instructors and ultra-hardcore workouts, while others shied away and even mocked the model (an early episode of Unbreakable Kimmy Schmidt, written by Tina Fey, is a must-watch).
"I have to be honest," King says. "I did go to several classes at SoulCycle and it wasn't my cup of tea because I really felt like I don't fit it. I'm in my 60s, and the vibe is very young. Nobody helped me to settle in. And it did seem very personality-oriented; the instructors talked about themselves a lot. We have a lot of customers who've been going to SoulCycle and say they feel more welcome here."
Like SoulCycle, the workout at CycleBar is a multi-sensory experience, in a theater-like setting with LED lighting, wide-screen graphics and an audio system with a DJ booth. Playlists are available to download and no track is played twice. CycleBar's innovative additions are the high-end Schwinn bicycles, and at the end of a session, not only the playlist, but also the statistics of the ride, are emailed to the customer.
"Some people are very interested in those; some just come to have fun," King says.
Another relaxed feature is the payment model, with no membership necessary, on a pay-per-class basis. Shoes, water and lockers are free, too.
"We have clients from every age and type, from a school mountain biking team to families and even riders in their 70s," King says.
Working together turned out great for the trio, two of whom live in Novato. "I think it's great working with friends and with women," King says. "We have a common perspective because we have a lot of experience behind us. We've really been enjoying the community aspect, too, since we've been a part of our communities for so long anyway."
CycleBar Novato, 5800 Nave Dr Suite J, Novato; 415/851-2162; novato.cyclebar.com.