The Mill Valley Film Festival (MVFF) just turned 40. Want to know how long that is? If you were born the night of the first festival, you could conceivably be a grandparent today.
So how did this thing get started? Well, in 1976 ceramic artist and potter Mark Fishkin moved from Ouray, Colorado to Mill Valley and bought the Saturday Night Movie series from locals Ben Myron and Don Taylor. In a way, it was a festival unto itself, except that it lasted only one night and featured only one film—on a Saturday night. Fishkin was shrewd enough to realize that festivals were becoming important to our culture and there weren't many of them. He asked himself if there was a need for one, and viewed Mill Valley "as a perfect location to do a festival."
"It looked like nobody worked—writers, painters, filmmakers," he says. "I just [dove] into the local talent (for content). [Carroll] Ballard, [John] Korty, [Francis] Coppola, George Lucas, James Broughton, Larry Jordan—I was talking to a lot of different people—[George] Kuchar, Les Blank … and I was learning as I went along."
One of the first people he brought on board, Zoe Elton, MVFF's longtime director of programming, recalls thinking, "What's a film festival?"
From a modest beginning, a three-day festival with three tributes and a budget of $11,000, MVFF grew to what it is today—an 11-day international cinematic smorgasbord that includes workshops, panels, master classes, more than 200 films, a virtual reality exhibit, four tributes, a variety of spotlights and a centerpiece film.
Tributes honor the career of the recipient—and this year, Sean Penn, Kristin Scott Thomas, Holly Hunter and Todd Haynes will take a few bows for the work they have accomplished. Each of them is expected to engage the audience in a Q&A session following either the unspooling of career clips or a very recent work. Scott Thomas comes with an Opening Night film, The Darkest Hour, and director Haynes puts up Wonderstruck, based on Brian Selznick's novel about two children, a boy in 1977 and a girl in 1922, whose stories intersect in New York City.  Michelle Williams and Julianne Moore are in the cast.
With President Trump playing grade-school level war games with North Korea, war is suddenly breakfast table conversation. Thus, on Opening Night the festival offers the aforementioned World War II drama, Darkest Hour, about Winston Churchill's rise to power and as human counterpoint to the Nazis' planned invasion of Great Britain. Headlining director Joe Wright's cast are Gary Oldman, of all people, playing Churchill in a "you-gotta-see-this-performance" and Scott Thomas as his wife Clementine.
For those looking for something a dash more lighthearted than war on Opening Night, Wait for Your Laugh follows the 90+-year career of singer-actress Rose Marie (she's 94), who started as a singer at the age of 3 as Baby Rose Marie. Aided in her career by mobsters Al Capone and Bugsy Siegel, among others, she is best known for her role as a TV writer on The Dick Van Dyke Show. Documentary director Jason Wise held the reins on this one.
One of the most unusual films to come along in a while is Loving Vincent, first shot as a live-action film, then frame by frame, painted over in oils in a style resembling Van Gogh's — 65,000 painted frames by 125 artists. Drawn from meticulous research and inspired by Van Gogh's masterpieces, subjects and 800 personal letters, this animated film promises to bring viewers closer to the artist in a manner never before even attempted. " … Because he is so famous, everyone knows a few facts about him," says co-director Hugh Welchman, "but when you dig into it, it turns out there is so much more to him, he is a very inspiring individual, and frustrating too, because there are so many mysteries still swirling around him."
If we're going to celebrate the 40th in true bacchanalian style, the fest would do well to place films about wine, women and song on the table.
For fans of the sommeliers, Andre: The Voice of Wine (narrated by Ralph Fiennes) tells the tale of a Russian aristocrat and émigré who literally turned California wine from something resembling fermented grape juice to something even the French consider a fine gift. Despite being an experienced producer-director, Mark Tchelistcheff spent 10 years on this project about his great uncle because, he says, "his life story reads like a great novel." Dr. Zhivago in the wine cellar!
Perhaps no one personifies the strong, outspoken, liberated woman better than Wilma Mankiller, the first woman ever elected principal chief of the Cherokee Nation.
"I see Mankiller as so much more than a biography," says Sunnyvale producer-director Valerie Red-Horse Mohl. "I believe it actually is a wakeup call for positive social change. Wilma lived her life with the philosophy of 'Ga-Dugi,' which translated means 'in a good way.' I want people leaving the theater to not accept the current divisiveness of our country and to make efforts to demand our elected leaders return to servant leadership."
First-time filmmaker Michael Rubenstone spent 12 years trekking across the country to unearth the true story of Sly and the Family Stone, and to chronicle how a musical icon fell from grace and disappeared after his induction into the Rock & Roll Hall of Fame in 1993.   
Reflecting on the time he spent with On the Sly: In Search of the Family Stone, Rubenstone says, "I was drawn to the era, the people and the '60s dream that Woodstock represented." [A big hit at the first MVFF, the epic documentary Woodstock is reprised at this festival in all of its rock legends glory.] "And then at 3 in the morning, Sly and the Family Stone took the stage and it blew my mind. Sly was able to raise the level of consciousness—he truly took the audience higher.  That's where my fascination began."  
In Horn from the Heart: The Paul Butterfield Story, another underappreciated music star is brought to the present day by an adoring fan. Executive Producer Sandy Warren quotes Maria Muldaur, who, after hearing Butterfield's electric blues sound, said, "(He) blew our little folkie minds." San Rafael's John Anderson, another Butterfield superfan (and scholar), directed and produced this biopic, a portrait of a complex, enigmatic and brilliant musician, who spent several years living in Marin.
Spotlights honor up-and-coming entertainers, and we could surely make a case for moving Andrew Garfield to the Tribute category, except that he is young. In Breathe, he plays Robin Cavendish opposite Claire Foy's Diana in the true story of an adventurous couple whose lives are thrown into chaos after Robin is felled by polio. Directed by Andy Serkis, who plays Gollum in Lord of the Rings and Caesar in 2017's War for the Planet of the Apes, the story brings to mind The Theory of Everything.
Director Dee Rees brings Mudbound to her Spotlight. The film is about two families—one black, one white—bound together during the Jim Crow era by serving in the military and the hardships of farm life. Her previous film, Pariah, was nominated for seven NAACP Image Awards.
This year's Centerpiece entry, Last Flag Flying, directed by Richard Linklater, is presumably the sequel to The Last Detail. The cast includes Bryan Cranston, Laurence Fishburne and Steve Carell as a trio of once-inseparable pals; but something happened and they stopped speaking.  Now Carell's Doc needs a favor, as his only son has been killed in combat and he is moved to call on his old buddies.
The curtain comes down on the festival with the Closing Night feature Lady Bird, the story of a rebellious senior in Catholic school. It's directed by Greta Gerwig, who previously co-directed—so in a sense she's a first-time director. Saoirse Ronan, who snapped up the title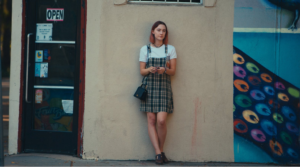 role, was born in the Bronx and was an Oscar nominee for Brooklyn. Following the screening of Lady Bird, Gerwig will take the stage for conversation and questions and, like all of the other honorees, will be presented with the MVFF Award.
The festival's campaign to bring women directors to the forefront certainly seems to have taken a foothold. "The goal for our 40th was to have at least 40 percent of this year's entries from female filmmakers," Elton says. We came in over 40 percent in every category (World Cinema, US Cinema, Valley of the Docs, filmHood and [email protected] Shorts) without compromising quality."
Veteran filmmaker Windy Borman's Mary Janes: The Women of Weed follows a collective of women focused on "making marijuana legal nationwide, reforming the criminal (in)justice system, empowering disenfranchised communities, and giving lifesaving medicine to children and veterans, all while building gender equality into a billion-dollar industry. We call this the Puffragette Movement."
Filmmaker Madeleine Gavin follows a Congolese woman named Jane who becomes a poster child for the City of Joy and victims of sexualized violence in a country perpetually torn apart by war and where laws are few and far between.
Jane Goodall's revolutionary encounters with chimpanzees in Tanzania's forest in the '60s is captured in never-before-seen footage in Brett Morgen's appropriately named documentary Jane.   
Ripping a story from her family history that could be splattered on today's front pages is Frances Causey's The Long Shadow, which tells a tale about her slave-owning ancestors. "My family's personal connection to slavery made me part of the story," she says. "(One of my uncles) was a 'founding father' and the revolutionary governor of Virginia and was responsible in large part for codifying slavery into American law."
"In some ways, (the festival's) influence and breadth surprise me," Elton says. "It's come from solid commitment, a vision of what film is, and what it can do."
While many festival directors would express astonishment that their brainchild has exploded into an event lasting four decades," Fishkin says, "I knew from inception that we would have a reach. Commercial films were held over at theaters and there was no place to go for independent film. I had a sense of something important. I knew if I could entertain someone, educate someone, or give a filmmaker a chance to make a buck, and benefit the community, we would be successful."
At the Outdoor Art Club in Mill Valley, you can experience what it is like to grow from a seed into a mature tree. The VR exhibit, entitled Tree, is like nothing you've seen before. Go see it.
Fairfax director James Redford returns with another conscience-raising environmental film, Happening: A Clean Energy Revolution. Redford tries to determine whether the movement toward clean energy will ultimately be squashed by corporations and utilities. "I embark on a colorful personal journey into the dawn of the clean energy era as it creates jobs, turns profits, and makes communities stronger and healthier," he says. "Today, most Americans understand and accept the reality of climate change. But as disturbing evidence and imagery continues to mount, many of us feel increasingly uncertain about what we, as individuals, can do."
San Francisco filmmakers Richard O'Connell and Annelise Wunderlich pooled their energies to open The Corridor to general audiences. Their film follows a San Francisco Sheriff's Department program to help inmates obtain their graduate equivalency degrees. Be warned: Not all students behave.
The notes in your program about Kim Swims state that open-water swimmer Kim Chambers was determined to become the first female to cover the 30 miles from the Farallon Islands to the Golden Gate Bridge, despite it being "known for frigid temperatures, swirling currents and the world's largest great white sharks," says co-producer and first-time director Kate Webber. The notes in our journal at home indicate that we'd prefer a nice warm bath. The San Francisco filmmaker perceives the open-water swimmers as "adventurers who are squeezing every bit out of life!"
That's what we're doing at the festival. See you there!
Mill Valley Film Festival, Oct. 5-15; mvff.com.