By John Flynn and David Templeton
Singing at weddings has not yet gone the way of paid funeral mourners, hospital leech collectors, and the people who shot peas at the windows of factory workers to wake them up in the morning.
But the profession definitely has been hurting of late. With the rise of iPods, smartphones and laptop technology that can turn anyone's kid sister into a passable DJ, some people find the use of actual human beings exercising their vocal chords to be too cumbersome and, in some cases, too expensive.
Here in the Bay Area, the art of wedding singing is hardly over and done.
Though gigs may be fewer than just a few years ago, today's professional wedding singers are nothing like Adam Sandler's crass burnout in The Wedding Singer. They vary from traditionalists, to award-winning singer-songwriters to gaudy '80s cover bands, but the very best perform a range that rivals any DJ—with more oomph than could ever be extracted from a canned set. They are finding ways to accommodate the hopes and dreams of brides and grooms in increasingly creative ways, and the industry has shifted from local to national in scale, taking performers from barns to skyscrapers, from Hawaii to Chicago.
We interviewed some of the finest wedding singers on the Bay Area nuptials circuit to see what they bring to the table while combatting the rise of the machines. With only one shot at crafting the perfect moment, these men and women persevere through noise ordinances, impromptu song requests outside of their set, windstorms that carry away song sheets and drunk uncles who keep calling for "Free Bird."
With Valentine's Day approaching, these artists stress that it's well worth any unforeseen technical difficulties to serenade a couple that's just finished pledging their eternal love for one another. So, meet the artists who eschew the spotlight for someone else's special day.
Juli Christi
"People often ask for wedding songs that are not really appropriate for a wedding," says singer Juli Christi. A Sonoma County-based pastry chef and private-hire hospice caregiver, Christi has built a steady side business singing for weddings and funerals. Remarkably, she does not advertise or have a Facebook page, getting bookings solely by word-of-mouth, or by making connections through gigs at places like Graffiti Restaurant on the river in Petaluma, where she performs on the last Saturday of every month.
She also works at Graffiti, baking desserts and pastries. In other words, Christi has a number of sweet gigs.
Over the years, she's noticed that people often want to be married to a song that contains elements that are silly, unexpected, creepy or jarring—anything but romantic.
"Still, I get it," Christi says. "Songs hold memories of special times in our lives. We fall in love while songs are playing, and they might not be the most appropriate songs, but it doesn't matter. We love who we love, we love when we love, and we like what we like."
Christi, who is waiting for butter to soften this afternoon, sipping a glass of water at the bar at Graffiti, admits that some songs just won't work for a wedding.
"Sometimes I do suggest changing a line or two to make it fit better," she says with a smile.
Among her favorites are Stevie Wonder's "Overjoyed," and John Legend's "All of You." The restaurant being lightly occupied this afternoon, Christi demonstrates, singing the chorus of the Legend song.
"'Cause all of me loves all of you," she sings, "love your curves and all your edges, all your perfect imperfections."
Christi stops and smiles again.
"I love that song, but it's a whole lot of words coming really fast," she says with a laugh.
Christi notes that her word-of-mouth policy might not bring as many potential clients as other approaches, but it works for her. And since people often approach her after a performance, she doesn't have to work as hard to prove she's got the chops.
"They'll come up to me after a wedding or a show at the restaurant, and they'll say, 'I know someone who needs a wedding singer,' Christi says. "I'll text them on the spot with my number. That's how I roll."
Her hospice clients sometime reap the benefits of her musicality as well. Christi does do funerals, after all, often at the request of her clients who she's helped through the final moments of their lives.
"I sing for my clients, sometimes," she says, "when it's just me and them. It's kind of neat."
Though situations vary, during weddings and funerals, Christi usually sings to a pre-recorded music track, rather than with a live band or accompanist. It's simple, and allows her to sing along with a very full, rich orchestration.
Ironically enough, she did not sing at her own wedding a few years ago. It was a nerve thing.
"My dad was really disappointed," she says. "But I couldn't have done it. Seriously. I was a blubbering baby all day."—D.T.
Anthony Martinez
"I don't know what's happened, but iPods and DJs have definitely been trending up, while live bands are trending down," says Anthony Martinez, keyboardist and back-up vocalist of the North Bay band The CORE. "Last year," he says, "we were performing a wedding a weekend. The next year, almost nothing. Fortunately, we do a lot of casino gigs and corporate events, so we're still pretty busy, but we love doing weddings, and it seems like a lot of brides are going to digital recordings of music."
The CORE began in 2010, originally with just three musicians, doing all acoustic music. Today, the band has five members, and a full repertoire of songs ranging through a number of musical genres.
"We do classic rock, Motown, pop songs, country songs, all kinds of dance tunes," he says. "Our job is to play the songs the bride wants to walk down the aisle to, then play the songs that make everyone want to get up and dance."
Martinez says the band's repertoire grows every time a particular song is requested.
"If we don't know it, we'll learn it," he says. "We'll do up to three new songs —and then we add those songs to our repertoire. We have to make adjustments, obviously. If you want us to sound like Lady Gaga, we can't do that. But we can take one of Lady Gaga's songs and still make it sound really good."
There are, not surprisingly, a number of songs they are asked to play fairly frequently.
"We get a lot of calls for 'Always and Forever,' by Luther Vandross," Martinez says. "We get asked to do 'Faithfully,' by Journey. And we have a pretty energetic dance set, where our big favorites seem to be 'Play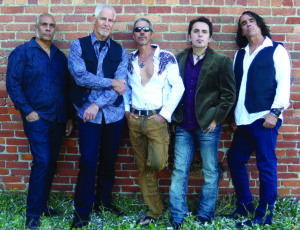 that Funky Music, White Boy,' and 'Sweet Home Alabama.' Something about those two songs always gets people up and dancing."
For Martinez, who is also an actor—and will be appearing this month in 1776 at Spreckels Performing Arts Center in Rohnert Park—there is a level of drama and performance in every wedding that he finds very appealing.
"We did a wedding in Olema," Martinez recalls. "They wanted a lot of country songs at the reception. So we were playing this one song—I can't even remember which one—and all of a sudden, the whole wedding party jumped up and started doing this really intricate line dance, all together. They were so coordinated and in sync, it almost looked like a professional dance group. It was obviously some sort of family tradition.
"It was awesome," he continues with a laugh. "Moments like that make doing weddings a lot of fun for us. We may sing the same songs over and over, but somehow, it never gets old." Thecore-music.com.—D.T.
Joe Sharino
Working since the mid-80s, Joe Sharino reckons that he and his band have probably played more weddings than any other band in Northern California. He clocks the tally at more than 620, and nobody plays that many without having a strategy.
"If you get the bride and groom and their family involved, you've won the ballgame," Sharino says. "It gets everybody going."
Sharino calls himself an "observer" of crowds, and he and his band don't form setlists. Rather, they quiz the bride and groom on the music they like, then read the room to determine how each cover track goes over. Since weddings bring all ages together, it can be tricky to find communal tastes. Well, sometimes.
"People getting married now love the '80s," he says. "Good lord, you play 'Don't Stop Believing' and the roof blows off the place."
Unable to find a satisfying answer for why that is, Sharino admits that the wedding circuit brings along its own brand of oddities. On his list of top 10 strangest gigs, there's the mother of the bride who cajoled the band to fire up the party while a guest laid on the ground, suffering from a heart attack. At another, police shut down a reception in Carmel because the band lacked a permit to play musical instruments. Sharino and company beatboxed, mimicked guitar riffs and bass lines and sang a capella—for TWO hours.
But the strangest story came in Sun Valley, Idaho, when the best man and groomsman disappeared. After 20 minutes, they descended a staircase, completely nude, except for orange condoms. Without any apparent plan, the two men bounced back onto the packed dance floor. The stunt did not go over well.
"They ended up getting arrested," Sharino says. "The bride did not think it was funny."
And though Sharino just celebrated his 35th wedding anniversary, he mostly lets the ceremony take care of the romance. He figures that by the time he comes on, everyone's gotten the mushiness out of their system. They just want to get down.
"Two weeks after your wedding is over, none of the people will remember the vows, the flowers, the dresses, the food," Sharino says. "They remember one thing: Did I have fun? And that's where we come in." Jsband.com.—J.F.
Ben Mallare
Viewed through the lens of modern cynicism, Ben Mallare admits that he might be a bit hokey. Clad in a white dinner jacket, Mallare continues the legacy of the old-school wedding singers by gently embarrassing himself as a gregarious master of ceremonies.
"I'm cheesy," he says. "I used to sing at weddings with more traditional band leaders. I was really attracted to the elegance they were able to create, everybody looking super sharp. I like adding on that, really laying it on thick with making sure the bride and groom and parents feel super special."
Though he and his band started out as a rustic group, playing mostly in barns on farms, Mallare broadened his band's repertoire to perform just about anything, so they can shape-shift to a guest's desires. He acknowledges that some parties may want to hear familiar music, but he prides himself on his eclectic players' ability to match the variety of a DJ while allowing him to respond to the crowd.
"Sometimes a dance circle will break out," Mallare says. "Then I'm going to have the band loop or continue the chorus or play softer or louder or make it funky. But the point being, I've got unlimited flexibility as to what I can do to match the moment.
"It's all very fly-by-the-seat-of-your-pants," Mallare continues. "But once you get used to that, you just trust your instincts and expertise and you know you'll make it great, regardless of the situation."
Mallare works the West Coast and can customize his band from three pieces to 10, depending upon a customer's desires and budget. He wants to ensure that anyone can afford the group that he started four years ago after a foray into writing and recording original songs left him unsatisfied.
"It was all about me," he says. "There was no fulfillment. Maybe somebody enjoys the music, but it didn't really mean anything to them. So doing this, and being the accompaniment for a bride's processional, or for a first dance, or a parent's dance, to create that special moment for somebody else, it's very rewarding." Benmallareacoustic.com.—J.F.
Bobby Jo Valentine
Bobby Jo Valentine didn't want his rising star to be clouded by assumptions spawned by Adam Sandler's mullet-coiffed character in The Wedding Singer. After positive reviews of his burgeoning career, the acoustic guitarist/singer-songwriter had done a few friends' weddings but shied away from the gigs, fearing that they might be a sell-out move.
"I resisted it for a long time" he says. "But I really love feeling like part of someone's really special moment, and I discovered the music that I already play naturally falls into that romantic, sincere style. It just was a perfect fit."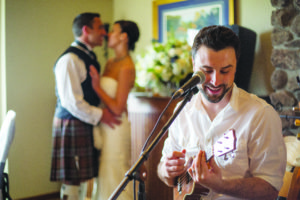 Now, Valentine travels nationally, doing about 45 weddings a year in addition to touring for his original music, which has been recognized by the West Coast Songwriters association. As opposed to shows where he's alone in a spotlight, Valentine enjoys the collaborative aspect of a wedding where he's on a team with the couple, the caterers, the florists and, after he's set the mood, the DJ.
"After everyone has had their wine, the DJ is great," he says. "But for the first couple hours, let's stay in the romantic mode. A live musician can bring people into the present moment. The DJ will just take you away to the last time you were at a club. And that's the key, celebrating what role either artist has to play."
Valentine usually plays the ceremony, dinner and cocktails, then the first couple dances, but not always. Last year, a couple had their officiant drop out and asked him to do the honors. On a windy day in Half Moon Bay, Valentine sang them down the aisle, set down his guitar and led them through their vows. After the kiss, he started singing the recessional, when his music stand toppled over. So he made up lyrics on the spot.
"No one blinked an eye," he says. "After that I was like, 'OK, most things won't be as bad as this, and this went fine.' Part of it is leaning into whatever chaotic thing happens. Like, 'This was meant to happen. This is OK.'" Bobbyjovalentine.com.—J.F.
Lori Carsillo
The wedding had already ended when the bride scrambled up to Lori Carsillo and asked her to play the father-daughter dance—a request she had neglected to mention during months of planning. Carsillo racked her head for a song and came up with one of her favorites: "Fly Me to the Moon." As she started to sing, Carsillo noticed a twinkle in the eye of the old man who held his daughter. Turned out, that was the song he'd danced to with his wife on their wedding night.
"That couldn't have gone any better," Carsillo says with a little laugh.
Known around the Bay Area for her jazz singing, Carsillo excels in smoky lounge stylings. She never over-affects her natural singing voice, opting for an unpretentious style that lets lyrics drip slow, steady and smooth, like warm caramel from a spoon. She's equally happy as the focal point of a room or a pleasing bit of ambience.
Carsillo mostly sticks to swing, ballads and bossa nova, throwback styles that compliment slow dancing and the tinkling of champagne flutes. But she prides herself on her adaptability—able to switch from Sinatra to, per one guest's request, Incubus.
"It was such a neat moment," she says. "They were so happy. A lot of bands are very versatile. Even if it's out of your style, sometimes, you can create a really unique moment that no one else will have."
Still, Carsillo recognizes that as the evening wears on, some guests prefer to bust moves that aren't necessarily conducive to her mellow melodies. After dinner and cocktails, she gladly hands the mic to the DJ who can spark the shift to party time.
"Then everybody can dance to the '80s music that they love. I'm not going to tackle 'Love Shack' or anything," she says, before adding that a slow-jazz rendition of the pop hit might just work. Loricarsillo.com.—J.F.
Josh Klipp
Josh Klipp's parents met while singing at a wedding. His father tickled the ivories of the church organ, while his mother sang for the bride, her best friend. They connected during the reception, got married, then played weddings for the next 26 years.
"It was perfectly normal for me to have couples sitting in the living room on weekends, talking about what they were going to be doing for their wedding," Klipp says.
After aiding the family business for a few years, Klipp struck out on his own, forming a six-piece band, The Klipptones, with a guitar, drums, upright bass and saxophone along with co-lead-singer, Mayra Swatt. They can handle everything from swing to rock to R&B to New Orleans jazz. Mostly clad in black, but with modern accents like skinny ties and tattoos, they give off the vibe of one of those hip, refurb barber shops.
The Klipptones play gigs around the Bay Area, but even after all of these years the frontman hasn't become jaded watching couples pledge their everlasting love to one another. After some weddings, Klipp will text his own wife, letting her know that he just renewed their vows in his head.
"I keep thinking I'll get tired of it," he says. "But then when I'm sitting there and I'm watching it—this is what it's about. This is what we want in life. To feel love and to give that love. It touches me everytime." Klipptones.com.—J.F.