Overflowing with dogs, local animal shelters and rescues have put out an urgent call for people to adopt or foster. Purebreds, designer breeds and mutts of all ages and sizes await new homes.
The situation is dire, not just in the Bay Area, but also across the country. As dogs languish for many months at shelters, some face euthanasia to create space for the seemingly never-ending influx of strays and pets being surrendered by their owners. It's an unsettling trend, especially since the practice of putting down adoptable dogs has declined in recent years.
"Shelters are desperate to get perfectly healthy, behaviorally sound animals out the door because there are more coming in than are exiting right now," said Anna Harrison, admissions manager at the Humane Society of Sonoma County.
While shelters in Sonoma and Marin counties say they're not forced to make the difficult decision of euthanizing dogs due to overcrowding, most are at capacity. When kennel space opens up, some of the North Bay facilities take in dogs from struggling shelters in Oakland, Contra Costa County and beyond.
Large adolescent dogs (LADS) make up the majority of canines needing homes. Sadly, they are staying in shelters for extended periods, even up to a year and longer. Siberian huskies and German shepherds are the two most common breeds filling the available kennels, which is a change from the Chihuahuas and pit bulls that inundated shelters prior to the pandemic.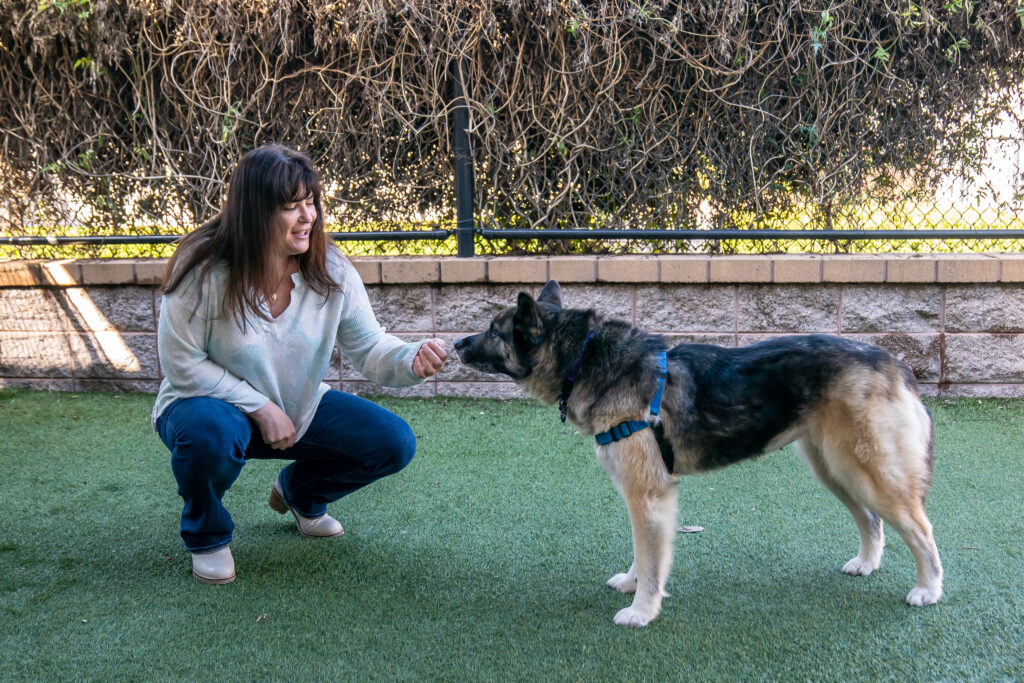 "Huskies, for instance, are super cute as puppies—and then they grow up," said Brian Whipple, operations manager at Sonoma County Animal Services. "It's a challenge for folks to keep up with the amount of work the breed requires. These are dogs that need a job or a lot of exercise."
Proper training can go a long way to help keep LADS with their owners, says Virginia Grainger, Marin Humane's shelter behavior manager. She spoke with the Pacific Sun while working with Billie, a boisterous two-year-old male husky picked up as a stray.
"When they show up at the shelter, we find that these owner surrenders and strays weren't trained when they were little," Grainger said.
As Billie entered the play area, he jumped up on people. However, Grainger quickly had him following commands, using treats as positive reinforcement. Within a few minutes, the beautiful boy calmed down, and then gently approached folks for a back scratch and affection.

Pop culture often plays a role in the proliferation of certain breeds. In the early 2000s, Paris Hilton was frequently seen carrying her Chihuahua in a handbag, starting a fashion wave that eventually landed the breed in shelters at record numbers. Some believe Game of Thrones, the hit HBO series featuring dogs that look like huskies, is responsible for the current husky craze.
The pandemic also contributed to the population explosion at shelters right now, says Nancy King, executive director of Pets Lifeline, a Sonoma Valley animal shelter.
"There was a phenomenon in dog adoptions during the pandemic," King said. "Shelters and rescues couldn't satisfy the number of people that wanted to adopt. We saw a lot more breeding at that time, including the large dog breeds."
Now, those untrained LADS are helping to drive an unprecedented increase in abandoned and surrendered dogs. That issue, combined with lower adoption rates, has caused what animal welfare experts deem as a national crisis.
They point to a number of other factors, with the economic downturn and housing topping the list. More than 14% of dogs are surrendered due to housing issues, according to Best Friends Society, a national animal welfare agency.
"In our area, it really comes down to affordable housing and the rental market," said Whipple, of Sonoma County Animal Services. "This is a tough place to find affordable housing that does allow pets."
Inflation is also wreaking havoc for pet owners. Pet food prices jumped more than 15% year-over-year, while the cost of veterinarian services went up 10.3%, according to the U.S. Bureau of Labor Statistics data for February 2023.
A nationwide shortage of veterinarians and technicians is another obstacle for dog owners. Some vets aren't taking new patients. Spay and neuter procedures are booked out months in advance. Even for people who have long-term relationships with their vet, it's often difficult to get routine appointments for their dogs.
The best way to curb the shelter overpopulation is to ensure that dogs and their people stay together. In Marin and Sonoma counties, many local shelters have programs to help defray costs for pet owners, including free pet food and supplies; low or no cost spay/neuter services; vouchers for vet care; and vaccination clinics.
The laundry list of pet ownership concerns certainly gives pause to anyone considering adopting a pooch. This leads to fewer adoptions, resulting in dogs staying in shelters longer. For some canines, living in a noisy, fast-paced shelter is extremely stressful.
That's where dog rescues enter the picture. A rescue is typically a nonprofit that pulls dogs from shelters and places them in foster homes.
Muttville, a Bay Area rescue that rehomes senior dogs, is strained under the current overpopulation crisis. Sherri Franklin, Muttville's executive director and founder, says the rescue is fortunate to have a physical shelter, its own veterinary staff and a large network of foster homes. Still, they can't keep up with requests coming in from shelters and individuals who are no longer able to care for their dogs.
Jen Coudron, the mutt manager at Muttville, is on the frontline, making the decisions about which senior dogs they can accept. People are frantic to get their dogs into Muttville.
"I'm staring at my intake box, and I know there are at least 50 requests," Coudron said. "All of them very, very urgent. When I have to turn away a dog, it's just heartbreaking because I know these people are out of options. But we're maxed out, and the resources that I normally send people to are maxed out."
Experts say more people stepping up to foster dogs will help alleviate the pressure on shelters and rescues. A pooch becomes a member of the family during the foster process, which can last from a few days to a few months. The foster parent gets to know the dog's personality and works with the animal on socialization and training. Sometimes, the foster nurses the dog back to health as they recover from medical conditions or procedures. Mostly, the foster family provides love and stability.
Keri Fennell, Marin Humane's vice president of shelter operations, says that in addition to needing fosters, they would love to have more volunteer dog walkers at the shelter. But her biggest wish is for people to provide a permanent home for a dog.
"Anyone who adopts helps the cause," Fennell said. "Adopt, adopt, adopt."
Correction, March 15, 2023: An earlier version of this program incorrectly stated that Game of Thrones is a Netflix program. In fact, it is a program from HBO.