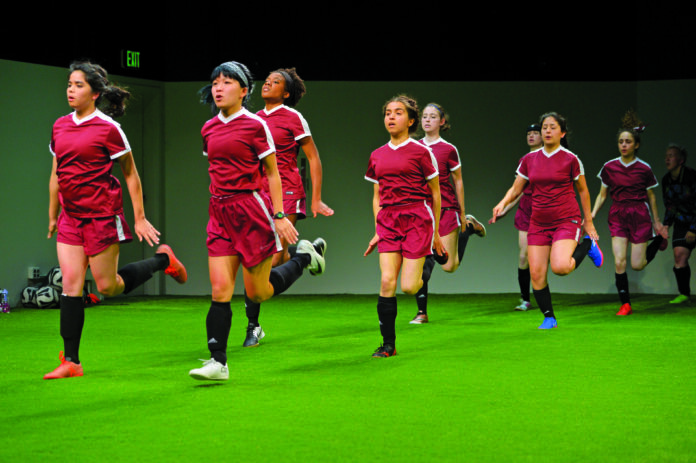 In case you haven't noticed, we're in the middle of a global feminist revolution. On every continent women are demanding equal social and economic treatment. They don't have the political power to make it happen immediately, but all of the signs say that it's coming.  
Nowhere is this more true than here in the United States. Barriers are being broken down faster than they can be restored by protectors of anachronistic patriarchy: In movies, TV, the media, corporations, local government, organized religion, competitive sports and elsewhere. That background makes the arrival of Sarah DeLappe's The Wolves, at Marin Theatre Company (MTC) for its first Bay Area production, at a time when young women are at the forefront of the gun control movement, particularly opportune.
The Wolves isn't a "play" in the traditional sense. During its roughly 90 intermission-less minutes, one barely gets to know the characters—who are identified only by numbers on the backs of their jerseys—and there is only the barest wisp of a plot. It's more a dramatized explosion of energy by a nine-member suburban high school soccer team that has joined forces for one purpose: To win the next match and the one after that. Their relentless intensity is what drives the show and transfers the message that a new day is dawning.
In the opening scene, the team sits in a circle on green astroturf inside a training facility (set design by Kristen Robinson). They're warming up for a match with carefully synchronized stretches under the loose direction of their captain (#25, Sango Tajima). It's a ritual repeated in one form or another before each match, supporting DeLappe's stated vision that the girls are the equivalent of a group of male warriors preparing for battle. Ball-control exercises follow, again with exact precision. The only exception to this rigor is an initial period of teenage chatter.  
Comments ranging from menstrual problems to the killing fields of Cambodia meet in overlapping waves that are all but indecipherable, even if you listen closely. As their bravado grows, the message comes through loud and clear that these girls will not allow themselves to be messed with. They are dedicated to winning, and they are tough.
This is 27-year-old DeLappe's first professionally produced script, written in 2014-15 when she was barely out of grad school at Yale. After several out-of-town tryouts, including a workshop at MTC that received the Sky Cooper New American Play Prize, it debuted at New York's off-Broadway Playwrights Realm in early 2016 and then moved on to Lincoln Center, where Ben Brantley's New York Times' review hailed its "atomic" girl power. Almost instantly, the show began winning awards and was a finalist for the 2016 Drama Pulitzer.
MTC's current production, tightly directed by Morgan Green, features a fine ensemble of nine young actors—Portland Thomas, Betsy Norton, Sango Tajima, Carolyn Faye Kramer, Nicole Apostol Bruno, Jannely Calmell, Neiry Rojo, Emma Roos and Isabel Langen, plus Liz Sklar as the group's Soccer Mom. (Note: Understudies who are actual girl soccer players at local high schools will substitute at the final performance on April 8.)
For all of its brief but glittering history and the strength of MTC's effort, I have some serious reservations about The Wolves. Strictly as theater, it suffers from placing all of the main action (i.e., the matches themselves) offstage. This can't be helped, of course, because a stage is not a soccer pitch, but it does mean that the exercises become uncomfortably repetitious. Also, in an effort to stress group dynamics, individual characters are not developed as well as they might be and the use of overlapping dialogue with constantly shifting subjects contributes to this lack of identity.
I also wonder about DeLappe's militaristic metaphor. Do we really want girls to emulate boys' testosterone-driven emphasis on winning at all costs?
Despite these qualms, I would recommend to the adult "boys" in Washington that you see a production of this play if you ever have an opportunity. "Wolves" are on the prowl throughout the nation, they're growing and I doubt that you can run fast enough to escape them.
NOW PLAYING: The Wolves runs through April 8 at Marin Theatre Company, 397 Miller Ave., Mill Valley; 415/388-5208; marintheatre.org.