One way to support your community this holiday season is to shop local. We present two designers who make sure that you'll find something special for your favorite people.
Renee Sheppard
Not to be confused with Chopard, the luxury powerhouse and celebrity darling, Renee Sheppard is a jewelry designer whose flagship store adorns not Rodeo Drive, but rather downtown Larkspur. Sheppard's designs, however, are not only red carpet-worthy visually, but actually have been worn by Hollywood's most stylish celebrities, from Elizabeth Olsen and Hilary Duff to Jessica Biel.
Sheppard, who lives in Ross and grew up predominantly in Mill Valley, was selling to stores all over the country and online before becoming a 'local' store in May of 2016. "Originally, I just built a following and sold my jewelry throughout the country, and it really became popular in the fashion industry," she says. The reason, according to Sheppard, that the jewelry was so well-received in the fashion community is because it's designed with a style angle in mind, rather than the traditional aesthetic. "It has an edgier feeling, especially since I started mixing pavé diamonds with precious stones to make it more everyday," Sheppard adds.
Since opening her flagship boutique on Magnolia Avenue, Sheppard has established it as a hub of wellness and relaxed luxury, mixing high-end jewelry with a freshly added selection of healing serums, relaxing soaks, supplement dusts by the Los Angeles-based health guru Moon Juice, fragrant candles and other pampering products made by small, independent brands from California and beyond.
"I've been wanting to go on a path of healing since running into some health issues, so everything I put in my body is natural and organic," she says, "so this inner-beauty-and-outer-glow-oriented line of products is a natural development for the store, a part of my personal journey."
The jewelry, first launched in 2010 online, shines the brightest; Sheppard's signature handwriting is all about the angular, minimalistic and geometry-inspired, with a wild, earthy side added to a number of pieces. While some designs are triangular, rectangular and clear-cut, others take cues from medieval and astrological symbols; earrings are shaped like stars, a trendy 'open' ring, hugging the finger, can feature a fleur-de-lis motif or trace the shape of a crown. Some designs—inspired by her travels to Sweden, Mexico and Hawaii—range from regal and elegant to beachy and nonchalant. All pieces, according to Sheppard, can fit any age group and occasion.
"I'm not a jeweler; I'm an interior designer initially and a branding expert," she says. "I translated those skills into designing jewelry, and it's produced in India, San Francisco and New York."
Playing with black and white pavé diamonds, oxidized sterling silver, gold and natural stone beads, Sheppard is balancing trends and classics; being a mother to a teenage daughter clearly plays out in some of the looks, which, in turn, are favored by young stars on the red carpet. Other items, like cascading rose gold necklaces and look-at-me statement earrings, are more than fitting for a night out or a benefit. There's also an option for custom-designed jewelry for special occasions and once-in-a-lifetime celebrations. Sheppard produces around three collections a year, emphasizing the timelessness of a piece.
In addition to her own designs, Sheppard's boutique often features other talented jewelry-makers, turning the spotlight to talented female makers like Larkspur-based Ashley Morgan and Tura Sugden; both designers share the brand's delicate, fresh aesthetic and fit in nicely with the boutique's selection and reserved decor, and Morgan also does the custom orders—bridal and repurposing stones from family heirlooms. Speaking of fitting in, the boutique is not only a jewelry shopping destination, but also a community gathering spot; friends and customers are often featured on Sheppard's Instagram account, and the store hosts champagne toasts, trunk shows, exhibitions by local artists and the occasional party, during which shopping, mingling and networking intertwine.
"It's new to me, being local," Sheppard says. "It allows me to be more connected to individual clients, and being in the store myself is very fulfilling. It's been a really wonderful transition."  
To make things even more wonderful, Sheppard is doing a number of exciting holiday promotions: 15 percent off for the eight days of Hanukkah, and 40 percent off three days before Christmas. Right in time to get your bling on.
Renee Sheppard, 270 Magnolia Ave., Larkspur; 415/578-2349; reneesheppard.com.
Lesley Evers
Textile and clothing designer Lesley Evers spent a good portion of her childhood in the Bay Area; she was born in Oakland to Berkeley-native parents, and, while the family moved to North Carolina before she could finish grade school, Evers came back after attending University of Pennsylvania, where she studied architecture and art history.
While she never went to fashion school, and started sewing as a hobby, Evers' penchant for the artistic shines through her designs, which are currently sold in two stores; the flagship location in Oakland and the newer addition—the bright and welcoming boutique in Corte Madera's Town Center. Previous to dedicating herself to style, Evers was a painter; her husband Curtis, who isn't a stranger to patterned pants and cool hats, is a maker, and a frequent collaborator on the brand's photoshoots. Evers often models her designs herself, equipped with a light attitude and a sense of humor.
"Since starting my business in 2008, I've sold to over 100 boutiques across the country and even had a department store account," she says. "Ultimately I decided I prefer to sell directly, opened my first store and stopped selling wholesale."
She never regretted it. Talking to women, receiving feedback and finding the right outfit for the right customer has been Evers' favorite thing ever since, aside from the creative process. "I like to do my own textiles, inspired by '50s and '60s prints," she says. "In my late 30s I couldn't find the pretty dresses I wanted to wear, so I just started a business, of comfortable printed cotton dresses."
At the relatively new boutique, which adds understated charm to Corte Madera's high-end appeal, customers find a range of easy-to-wear, casual pieces with a fun-loving, colorful twist; flattering embroidered pants ("I think you will treasure these and find your own favorite way to wear them," Evers advises on her website), cozy wrap dresses in grey and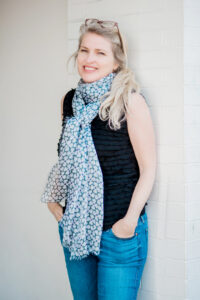 black, printed tunics and sweaters and a holiday-friendly selection of sparklier, more festive attire. The clothes may be designed and produced in Oakland, but the vibe is very much Marin County—elegant yet comfortable, and bursting with individuality.
"We're very pleased that Lesley Evers will open at Town Center as the location for her first Marin County store," Town Center Corte Madera General Manager Stan Hoffman was quoted when the boutique first opened in 2015. "Her casual styles and unique designs will be well received with our Town Center customers." He was on point; for the last two years, the boutique has been thriving among its chain store neighbors, building a loyal customer base.  
"My business partner Janine Rogers lives in Kentfield and really wanted to open in Marin, and I loved that it's driving distance, and I can visit the boutique a lot, so Janine is really managing it," Evers says. When Evers visits the area, she likes to go to the beach or visit a local friend, "but really, I'm so busy with my business," she adds.
Being a mother to two teenagers, as well as a pet mother to a large dog, Evers favors clothes that one can move freely in. To make a point, if it's not her showcasing the clothes on her website and Instagram, it's her friends; shopping, attending a wedding, working and having fun on the weekends. This is all a part of the #LErealwomenProject that Evers launched, aiming to showcase her designs on busy, active, interesting women she likes and admires. There's local plastic surgeon Dr. Karen Horton, real estate agent Caroline Nelson and even prominent Bay Area writer Ayelet Waldman and Oakland Mayor Libby Schaaf.
"At the risk of totally irritating my friends, sometimes I just ask my photographer to pop by for photos when we're going out," Evers writes on her blog. "Merging my personal life and work life is the only way to get everything done." The models, says Evers, weren't a representation of her customer base. So she did an open call, "and over 50 women came. We put everyone on our website."
Lesley Evers, 211 Corte Madera Town Center, Corte Madera; 415/924-2340; lesleyevers.com.