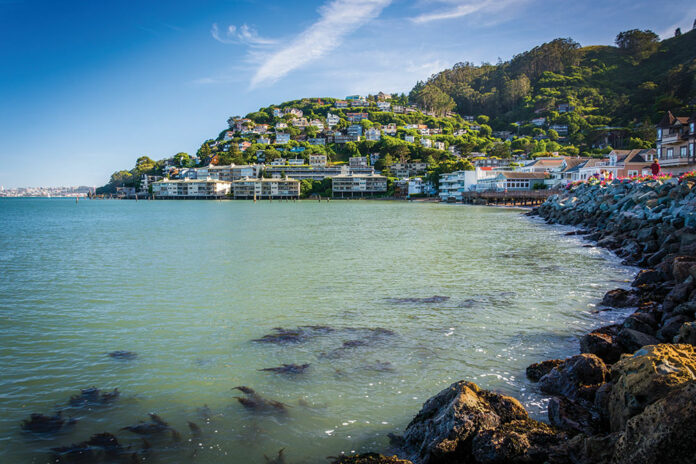 Sausalito possesses a rich and colorful history. It served as the summer home of well-heeled San Franciscans in the 19th century, a depot for Prohibition-era bootleggers (including Baby Face Nelson) and the site of a busy World War II shipbuilding operation.
Today, its stunning vistas attract tourists from around the world. But there's a side to Sausalito that most sightseers never experience: the places where the locals play, dine and shop. As a resident of this eclectic city for almost 30 years, I've dropped anchor at most of them.
I usually start off the day with a hike in the Marin Headlands, home to gun batteries dating back to the late 1800s and a Cold War Nike missile site. To access the hills of the Headlands, I begin at the north end of the trail system by driving up Donahue Street to the cul-de-sac, where there's plenty of parking. The Alta Trail begins there and, after just a few steps in, delivers the magnificent scenery of Richardson Bay, Sausalito and Tiburon. Farther out, it hooks up with trails that wind down to Tam Valley or Fort Cronkhite. If I'm lucky, I might catch a glimpse of a coyote, fox or bobcat crossing my path.
For a more strenuous workout, I ascend the hidden stairways of Sausalito. More than 20 sets of stairs lead up the hills from one charming residential street to another, and there's even a route that leads to the Headlands. The longest jaunt, the Excelsior staircase, starts on Bridgeway next to the Wells Fargo Bank in downtown Sausalito. The descent provides views of the bay and pristine Angel Island. With the internet, the stairways aren't so secret anymore: just search for them on Google maps and start climbing.
Another great way to greet the day is taking my dogs to the completely fenced in and well-manicured Sausalito Dog Park. There's always a friendly pack of pooches running and wrestling, and plenty of tennis balls around for a game of fetch. The people are genial, too. I've met some of my closest friends while sitting at the picnic tables bonding over our dog tales.
To refuel, I often head over to Divino, which is on Caledonia, the street that locals consider the main drag. The coffee is first-rate, and the healthful breakfasts boast organic ingredients. My favorite is the fiorentina omelette, made with sautéed spinach, tomatoes and ricotta. On a warm day, I sit outside and people watch. Live music entertains dinner guests Tuesday through Sunday evenings.
Or I could go to Fred's. Open since 1966, it serves up a hearty breakfast and lunch. When my mouth isn't full of deep-fried French toast, I chat with the other patrons seated with me at the large communal dining tables. (At the very least, I eavesdrop on their conversations.) Though I haven't tried it, folks swear by the sweet bacon.
A visit to the Bayside Cafe guarantees great service and another large menu filled with tasty breakfast and lunch options, as well as a fresh juice and smoothie bar. I spy the legendary comedian Mort Sahl there frequently on weekend mornings.
Belly sated, I typically take a lazy walk along the docks to admire the picturesque houseboats, situated mostly on the north end of Sausalito. The beautiful setting inspired Otis Redding to write the first verse and chorus of "(Sittin' on) the Dock of the Bay" while sitting on Bill Graham's houseboat at Waldo Point.
The noon hour represents decision time. Sausalito is chock-full of restaurants with delicious lunch menus. Kitty's Place, a family-owned restaurant, features freshly prepared California cuisine with a Thai influence. My friend Margie is addicted to their Asian chicken salad.
Avatar's, run by Ashok Kumar, serves healthful Cali-Indian fusion fare. I never order off the menu, because Ashok suggests special dishes based on vegetables that just came out of the garden. Everything I've tried is flavorful, unique and delicious. Sausalito adores the Kumar family, and they return the love by hosting a complimentary feast for the community on Thanksgiving eve. Hundreds of people partake each year.
A popular afternoon activity is paddling a kayak along Sausalito's waterfront. My passion for kayaking started when I took my first class at Sea Trek, located behind the Bay Model. This Sausalito institution rents kayaks, gives lessons to kids and adults, and organizes trips, including the full-moon kayak tour. I like the daytime tours, because I never tire of the Mount Tam views and the thrill of seeing a seal swim by. Sea Trek also gives stand up paddle board lessons. Anyone up for trying that out with me?
I can't believe I'm talking about food again, but kayaking works up an appetite and gets me thinking about Fish, fins down the top seafood restaurant in Marin County. On the water at the end of Harbor Drive, Fish knows the name of the boat that caught the seafood it dishes up and the manner in which it was caught. It's all about commitment to fresh and sustainable seafood, as well as locally sourced organic produce. Dog-friendly with a large outdoor seating area, this casual eatery's line goes out the door on a sunny Sausalito day. It's worth the wait.
I don't spend every moment eating out; sometimes I shop for food. Driver's Market carries items not found in ordinary grocery stores. The selection of artisan chocolates from around the globe will entice even the most discerning chocaholic. I sampled a dark chocolate bar with fermented cocoa beans from the Davao region in the Philippines, which tasted amazingly rich and creamy. Other interesting finds include a refrigerator case filled with probiotics, three kinds of kombucha on tap and organic vegetables with labels indicating where the produce was grown.
One way I de-stress is with a spa day pass at Cavallo Point in Fort Baker. For $65, I enjoy a morning yoga class, soaking in the heated meditation pool and entrée to the fitness suite and eucalyptus steam room. Cavallo Point also houses the Murray Circle Restaurant. The ambience, with the cozy fireplaces and Golden Gate Bridge view, is spectacular. It's the perfect setting for a special occasion dinner. Farley Bar, next door, is a lovely place to unwind and have a nightcap.
Also in Fort Baker is the delightful Bay Area Discovery Museum for children up to age 10. The exhibits change regularly and museum educators lead the daily programs. Right now, kids can cook up a mud pie in the mud kitchen, and it's hands-on at the Harley-Davidson exhibit. This is a must-see for folks with little tykes.
For adult programs, I stop by Studio 333. An art gallery, event venue and co-op work space, it also offers art and craft workshops, including shibori indigo dye techniques, book binding and paint pouring.
Studio 333 is the backdrop for Why There Are Words, an award-winning literary reading series that happens on the second Thursday of every month. Peg Alford Pursell, founder of the nonprofit series, selects six authors to read from their works. Well-known and not-so-known writers participate, but all meet strict standards of excellence. I almost behaved like a paparazzo when Amy Tan sat next to me in the audience, but I controlled myself. The $10 admission is the best bargain in the county.
After the readings, I like to step into the historic No Name Bar to have a glass of Cabernet and listen to jazz. Established in 1959, the No Name presents live music nightly. There's usually no cover charge; instead, the band passes around a hat for donations.
The art scene continues at Tivoli Decor, a vintage and modern home store focusing on local artists. Prices run the gamut from low to luxe, and owner Teri Lang curates a vast collection of furniture, art and knickknacks. I was enamored by a charmant French bureau and Debra Allen's driftwood creations made of materials she gathers from Muir Beach.
We've reached the end of our journey and I didn't even get to the Bay Model, Seahorse supper club, Poggio, Smitty's, Sausalito Gourmet Deli, Waterstreet Hardware, Rodeo Beach and the Marine Mammal Center. I know I'm biased, but Sausalito is unsurpassed in its beauty and places to visit. Come to this alluring city by the bay to experience its bountiful gifts, and let me know what you discover.
Email Nikki at [email protected]
Marin Headlands
End of Donahue Street
Sausalito Hidden Stairways
Various locations
Sausalito Dog Park
100 Ebbtide Ave.
Osteria Divino
37 Caledonia St., 415.331.9355
Fred's Coffee Shop
1917 Bridgeway, 415.332.4575
Bayside Cafe
1 Gate 6 Road, 415.331.2313
Houseboats
Start at 1 Gate 5, Road C
Kitty's Place
3001 Bridgeway, 415.331.0390
Sea Trek
2100 Bridgeway, 415.332.8494
Fish
350 Harbor Drive, 415.331.3474
Avatar's Restaurant
2656 Bridgeway, 415.332.8083
Driver's Market
200 Caledonia St., 415.729.9582
Cavallo Point
Murray Circle, 415.339.4700
Bay Area Discovery Museum
557 McReynolds Road, 415.339.3900
Studio 333
333 Caledonia St., 415.331.8272
Why There Are Words
333 Caledonia St.
No Name Bar
757 Bridgeway, 415.332.1392
Tivoli Decor
333B Caledonia St., 415.559.7149