by Stephanie Powell
Robin Williams, the former Redwood High School student, Juilliard-trained and Oscar-winning actor, was found dead Aug. 11 at his home in Tiburon.
At a press conference held Aug. 12 at the Marin County's Sheriff's Office, Lt. Keith Boyd, assistant chief deputy coroner, said that according to the Aug. 12 autopsy results, the preliminary cause of death suggests that Williams died of asphyxiation due to hanging. Williams was 63.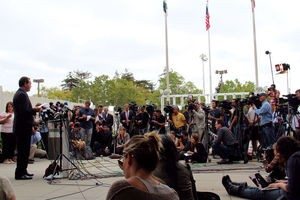 Authorities received a 911 call at around 11:55am on Aug. 11 from a "distraught" caller who reported a male adult unconscious and not breathing in Williams' residence in Tiburon.
The Sheriff's Office, Tiburon Fire Department and Southern Marin Fire Protection District responded to the incident and emergency personnel arrived on the scene at 12pm. Firefighters from the Tiburon Fire Department identified Williams and pronounced him dead at 12:02pm.
Preliminary information from the ongoing investigation revealed that Williams had been seeking treatment for depression.
According to Lt. Boyd's statement, Williams was last seen alive at 10:30pm on Aug. 10 by his wife, Susan Schneider, when she retired for the evening. It is unknown at what time Williams retired to a separate room from Schneider. On Aug. 11 Schneider left the house around 10:30am, assuming Williams to still be asleep. Williams' personal assistant became concerned at around 11:45am, when Williams failed to respond to knocks on his bedroom door.
The Marin County Sheriff's Office released Lt. Boyd's statement on their website. The statement reveals graphic details of Williams' death and discusses evidence at the residence that requires scientific testing to evaluate its "investigative value." When asked by the media if Williams had left behind a suicide note, Lt. Boyd said that the Sheriff's Office would not discuss a note.
The autopsy was conducted at the Napa County Sheriff's Office Morgue by the Coroner Division. Marin County Sheriff's Office has an independent contract with Monte's Chapel of the Hills to conduct autopsies in the county, but due to government regulations and for security reasons, the autopsy was conducted in Napa. The forensic examination was performed by Dr. Joseph Cohen, the Sheriff's Office chief forensic pathologist. According to Dr. Cohen, there were no findings indicating that Williams had been in a struggle or a physical altercation prior to him being located and identified as deceased.
Williams, a recovering alcoholic, had recently checked into rehab, according to news reports. He also had a heart valve operation in 2009. Information about his health and any chemical substances that may have been in his system prior to his death will be available after the toxicology report is completed within the next two to six weeks.
"Please note this is an active investigation into the cause, manner and circumstances of Mr. Williams' death," Lt. Boyd said. "The final cause and manner of death will not be certified until the conclusion of the investigation, which is several weeks away." A second press conference will be held in the following weeks pending results of the toxicology testing.
Williams was born in Chicago and spent his formative years in Michigan until the family moved to Woodacre in Marin County. He graduated from Redwood High School in 1969 and attended College of Marin. He is survived by his wife Susan Schneider and his three children, Zachary Pym Williams, Zelda Rae Williams and Cody Allan Williams.
Mara Buxbaum, Williams' publicist told the Hollywood Reporter in a statement on Aug. 11 that Williams had recently been battling depression. "This is a tragic and sudden loss. The family respectfully asks for their privacy as they grieve during this very difficult time."