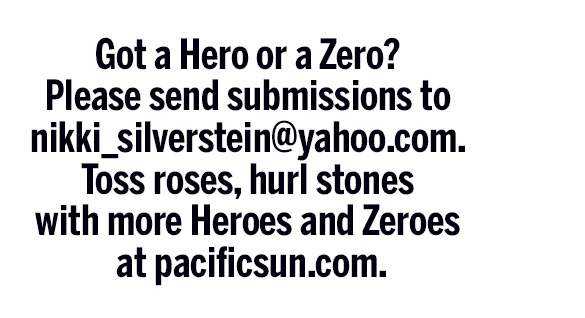 Hero
Ellen Seh stood in the Costco checkout line and reached into her pocket for her driver's license. When she found only her Costco card, she figured she'd probably lost the license somewhere in the busy store or parking lot. A needle in a haystack. To complicate matters further, Ellen's dominant arm is in a sling, which is why she was carrying her ID in her pocket, rather than in her purse. After checking everywhere, she resigned herself to the fact that she'd be spending many merry moments at the DMV to replace her license.
She drove to her San Anselmo home, pulled into her driveway and sat in the car on her phone for a few minutes. When she heard a noise, she looked up and saw a woman holding her driver's license. The woman explained that she initially planned on mailing it back, but realized that Ellen might go through the hassle of replacing it before the mail arrived. Considerate lady, you deserve the huge thank you that Ellen asked us to give you.
Zero
A family living in the lovely Dominican neighborhood of San Rafael received an unwelcome surprise on the day following Thanksgiving. A pair of thieves broke into their home, not once, but twice in one morning. Fortunately, the homeowners were on vacation in Florida and didn't have to face the hoodlums, although they caught Act 1 and Act 2 on their phone through their nifty surveillance system, which notified them of the break-ins.
The two intruders, likely men, covered their faces with bandanas and gained entry to the home in the early a.m. The residents phoned police, but the culprits fled before San Rafael's finest arrived. A little over an hour later, the homeowners were again alerted by their security system that the brazen burglars had returned for a second go-round. Police responded to the call and once more the men were already gone. Too bad the two-time criminals made off with electronics and jewelry.