Hero: Calling all heroes. Volunteers are needed to advocate for assisted living and nursing home residents. By giving your time to the Marin County Long-Term Care Ombudsman Program, you'll help ensure quality of life and quality of care for vulnerable members of our community. It's an important job, and volunteers will receive training on resident rights, complaint investigation and resolution and other topics related to the elderly. An informational presentation takes place on Tuesday, November 14, 10am to noon, at the Marin County Department of Health and Human Services in San Rafael. It's an opportunity to learn more about the role of an ombudsman and the difference you'll make in the lives of our elderly citizens. To RSVP, call 415/473-7446. Go on. Do a mitzvah.
Zero: Bad driver or jerk? We try to give the benefit of the doubt when a car takes up two spaces in the mall parking lot. Sometimes, however, there's no uncertainty. Sam Arnold, a Tiburon resident, spotted this offender at the Town Center in Corte Madera. With several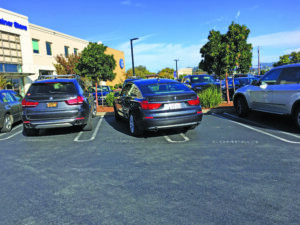 full-size spaces just steps away, the BMW driver deliberately straddled two spots, rather than walk the extra 20 feet. "Never ceases to amaze when I see this unthinking privilege exercised," Arnold said. Yep. This Zero really missed the spot.