By Nikki Silverstein
Hero: A Very Important Kitten received a police escort from the Golden Gate Bridge last Saturday afternoon. After a concerned citizen called the California Highway Patrol (CHP) around 2:50pm to report that a kitten was in the middle of the bridge, officers hustled to the scene. No kitty spotted on the first pass across the bridge, but the CHP was determined to find the little one and they turned around to take a second look.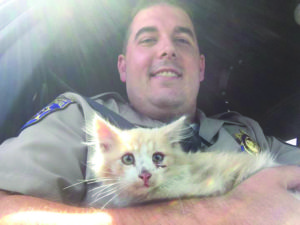 That's when they noticed a furry head peeking out from inside the median barrier. They blocked a lane of traffic, exited their vehicle and rescued the baby cat. Officer Matt Smith then transported the kitten, who is now named Bridges, to VCA Madera Pet Hospital in Corte Madera for a complimentary exam, bath and medications. Because the approximately eight-week-old Bridges had no ID tag or microchip, Officer Smith took him home for the weekend and then delivered him to the Marin Humane Society, where he'll be available for adoption. Thanks Officer Smith and VCA Madera Pet Hospital for being the cat's meow.