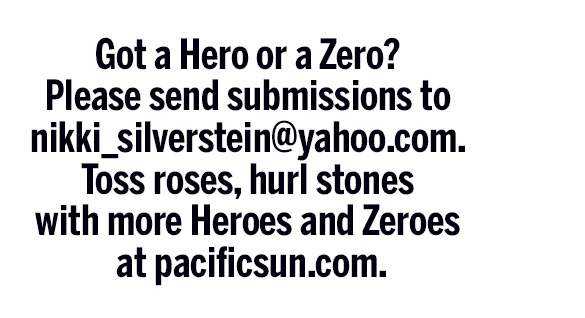 This week, we present a courageous hero and a frightening zero in the same item.
Last Saturday evening, according to the San Rafael Police Department, Thomas Louis Pratt Jr., of San Rafael, went into Walgreen's on Third Street in San Rafael. He attempted to buy items with a credit card that was declined.
OK, that's embarrassing, but just hold your head high and go on home.
Pratt, 42, had something different in mind.
Indeed, he left, but he allegedly returned right away with a loaded revolver, which he pointed it at the clerk as he pulled back the hammer, police said. Police said he then demanded the items that he had tried to buy. Pretty extreme behavior for some merch from the five and dime.
The clerk told the gunman that he couldn't help him and requested that he leave. Pratt put the gun in his pocket and proceeded to walk around the store, allegedly stealing stuff, police said. That's when the clerk, our humble hero who doesn't want his name used, made his move. He called the police, gave a description of the situation and quickly ushered customers and employees out of the store to safety.
San Rafael police responded within a minute, as they were about a block away, and caught Pratt as he exited the store. They reportedly verified the clerk's report with the store's video surveillance.
Pratt was booked into the Marin County lockup and faces a host of charges, including armed robbery, assault with a deadly weapon/firearm, convicted felon in possession of a firearm, convicted felon in possession of ammunition, possession of a stolen firearm and felony violation of probation.
Our clerk remained cool with a loaded gun aimed at him and helped the other folks in the store stay out of harm's way. That's the kind of guy you want with you in an emergency. Well done, sir.
email: [email protected]