By Flora Tsapovsky
Getting fit is a New Year's resolution cliché—the stuff health magazines, health clubs and online listicles thrive on. But how often do commitments to get in shape stick? All the Fitbits and CSA veggie deliveries in the world won't make it any easier to actually get off your butt and start making exercise a regular and enjoyable part of your life. Too often fitness devolves into a boring gym chore, something you should do but don't want to do. But fear not. We've compiled a list of 10 fun and novel ways to get your body moving. No treadmills required.
Be a Trail Maven
Bay Area–based Trail Mavens is a hiking and adventuring website for women, offering overnight camping trips in Marin County and farther destinations like Tahoe and Big Sur. The Mavens team supplies the gear and food, and serves as guides for participants. In addition to learning essential off-the-grid skills, such as how to pitch a tent, the trips (priced around $400) promise bonding, memories and good old girl power, i.e., climbing that mountain without complaining. Upcoming trips include Point Reyes and Angel Island. Trailmavens.com.
Pound Away
If a workout consisting of rocking drum sticks to infectious music sounds too good to be true, you probably haven't heard of Pound. The patented technique involves energetic, dynamic moves planned with "strategic distractions" from the cardio effort. Fierce Fitness, the longstanding Santa Rosa destination for all things movement, just added a new Pound class for 2016, and it can be tried for a mere $8 a visit. It's an excellent way to tone arms and curb work and personal frustrations. Facebook.com/srfiercefitness.
Join the Circus
Ever imagined being a part of Cirque du Soleil? Sonoma's TrapezePro caters to that fantasy while training body muscles in all sorts of ways. The small studio offers a bunch of classes you've probably never tried before: Aerial silk, flying trapeze, trampoline and circus skills. Judging by the way acrobats and trapeze artists usually look, you might want to take all of the classes. They're $40—not cheap—but the thrills (and bragging rights) are worth it. Trapezepro.com.
Train for the Vineman
We all have that friend, once a normal person, now a marathon junkie, who posts running images on Instagram and gushes over every race they run. Somehow, the triathlon seems the cooler way to go, especially when it's called Vineman. The Sonoma County twist on the swim, bike, run combo? A scenic path from Guerneville to Windsor, river views, riding through vineyards and wine tasting after the big day. Three races await in March and July, so there's plenty of time to start a training group. Vineman.com.
Join a New Fitness Studio
There's something about a new, slick studio that makes jumping into workout mode easier. This year, there are plenty of new places to check out, with everything from Pilates to brutal TRX and beyond. SweatMood (sweatmoodfitness.com) in Santa Rosa specializes in boot camp–like workouts, in a nightclub atmosphere, low lights and bouncy music and all. The minimalist Body by X in Corte Madera (getfitmarin.com) offers indoor cycling and rowing. And in Napa, there's a brand-new In Shape gym, complete with a photogenic pool and a wide variety of classes (inshape.com/health-clubs/california/napa).
Hop on a Bike
Cycling often doesn't feel like exercise; pedaling while surrounded by beautiful scenery sounds more like the perfect daytrip. Sonoma County's Grasshopper Adventure Series capitalizes on this with scenic and moderate-to-grueling rides that range from 27 to 100 miles long. Ride locations include Lake Sonoma, Kings Ridge, Chileno Valley and many others. Grasshopperadventureseries.com.
Put a Mask On
They say wearing layers while working out makes you shed even more pounds. This is pretty much a guarantee with fencing. The Marin Fencing Academy takes the practice very seriously and offers beginner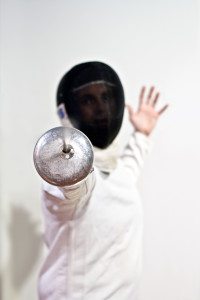 adult classes and tournaments. Monthly memberships begin at $130. Have a competitive streak? Like sword fighting? Look no further. Marinfencing.com.
Paddle Away
Paddleboarding looks free-spirited and stylish, but it's also a strenuous workout. Petaluma's Clavey Paddlesports offers $70 beginner and advanced stand-up paddle classes in Tomales Bay or on the Petaluma River. It's fun, but you might be surprised by how hard it is, too. Clavey.com.
Try Piloxing
No, not boozing with pillows. Piloxing combines Pilates and kickboxing. The workout combines interval work and the importance of supplementing muscle strength with outbursts of cardio. Throw weighted gloves and dance moves into the mix, and you've got a crazy-effective, slightly terrifying fitness smorgasbord that you simply must try. Pilates Napa Valley (pilatesnapavalley.com) and Bridgeway Gym & Fitness (bridgewaygym.com) in Sausalito are on it, with weekly Piloxing classes for the masses.
Join an Adventurous Meetup
Working out is always better in a supportive group, especially if it's not really called a workout. Santa Rosa's Spirit of Adventure Meetup group has more than 1,000 active members and fun, sporty activities to boot, from whitewater rafting to rock climbing. In Marin, the Marin Running Club is perfect for aspirational runners, and Napa-based North Bay Hikers and Backpackers awaits folks who like to burn their calories while looking at nature and chatting with new friends. And the best part? It's free. Meetup.com/Spirit-of-Adventure; meetup.com/Marin-Running-Club; meetup.com/North-Bay-Hikers-and-Backpackers.