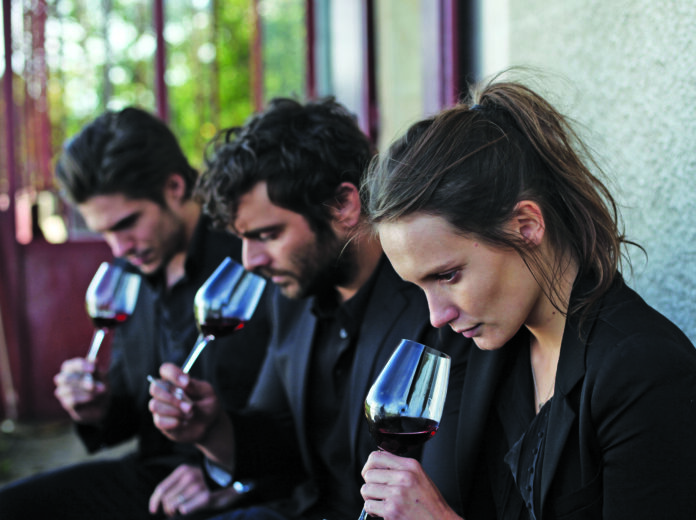 When it comes to wine, there are plenty of Francophiles who believe (strongly) that the only really good wine worth drinking comes from France. And many contend that wines from the Burgundy region are the best in the world. Fortunately, Back to Burgundy, opening at the Christopher B. Smith Rafael Film Center this week, steers clear of this age-old argument, and instead points its lens on a family drama that plays out in the lush vineyards of one of France's most famous winemaking regions.
French filmmaker Cédric Klapisch's latest movie unfolds on a family-owned vineyard. The oldest sibling, Jean (Po Marmaï) shows up after a 10-year absence when he is notified that his father (Éric Caravaca) is ill and dying. His younger sister Juliette (Ana Giradot) has taken over winemaking duties since her father has been hospitalized, and the youngest sibling Jéremié (Francois Civil) lives nearby and has married into one of the region's well-known winemaking families.
While the main plot revolves around 30-something Jean and his conflicted feelings about returning home from Australia, the siblings are also thrust into making decisions about the future of the winery. Just enough authentic exchanges between harvest workers, siblings and partners give it a fresh, modern tone. Refreshingly, the film captures the hard work entailed in running a winery—and doesn't attempt to over-romanticize the process.
In all, the film offers what feels like an authentic glimpse into the lives of a Burgundian winemaking family. They come with all of the messy, complicated trappings of any family—this one just happens to have a breathtaking, world-class winegrowing region as its backdrop.
'Back to Burgundy' plays on Friday, March 23, with a wine tasting and panel discussion on Saturday, March 24; Christopher B. Smith Rafael Film Center, 1118 Fourth St., San Rafael; rafaelfilm.cafilm.org.