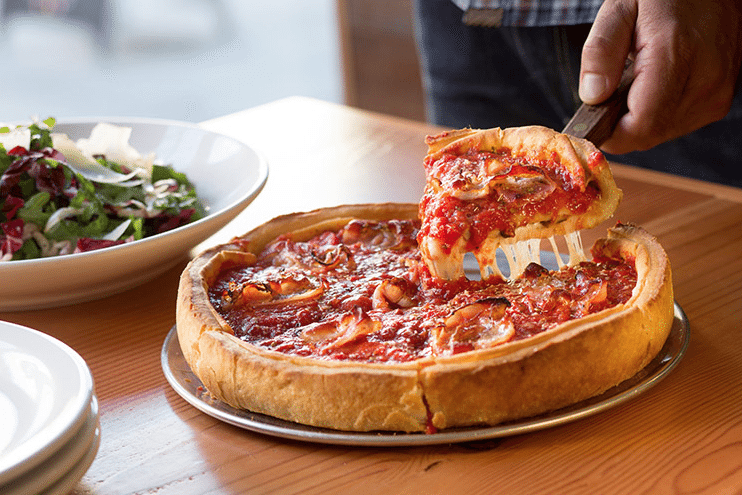 by Tanya Henry
One of my first trips to Marin in 1988 entailed a visit to Calico Corners, an East Coast-based fabric and furniture franchise in the Bon Air Shopping Center. With its closing, a different kind of franchise moved in. Bolts of top-quality silks and exquisitely upholstered sofas were replaced with imported Italian ovens, five flat-screen televisions and enough tables and chairs to seat 200 people.
The 16th outpost of Patxi's Pizza made its Marin debut in early August, and in many ways seems a perfect fit for South Marin's well-heeled young families and executive types. Patxi's (pronounced 'pah-cheese') comes from one of the two owners, Francisco "Patxi" Azpiroz, who founded the popular pizza chain in 2004. Together, Azpiroz and Bill Freeman have been treating Bay Area folks to their deep-dish, Italian-style thin-crust, and gluten-free pies for more than 10 years.
Completely reimagined by the architect firm DMHA out of Santa Barbara, the stunning space begins with massive front doors featuring foot-long wooden pizza paddles for door handles that open into a dizzying amount of muted beige wood, stone and a decidedly brown color palette. There are plenty of brushed metal chairs, high- and low-top tables and a wrap-around full bar that looks out onto Sir Francis Drake. It's a lot to take in—the transformation is so utterly extreme and even extends outside to a patio, complete with a fire pit and a handful of umbrellas.
With only a few weeks under their belts, the very earnest and friendly wait staff is doing their best to keep up. Already the large space frequently has a waitlist. The menu features a manageable variety of appetizers, salads and of course various styles of pizza. A 10" deep-dish brimming with BBQ chicken, smoked bacon and jalapenos is a winner. I have previously sampled several of the thin-crust options in San Francisco, including the spinacini topped with spinach, tomatoes and mozzarella and a prosciutto and arugula—none have disappointed. No formal dessert options are offered; however, every table includes a honey bear and diners are encouraged to drizzle honey on any remaining crust for a sweet finish.
Cocktails, beer and wine round out the restaurant's offerings. As with the food, many are sourced locally with an emphasis on artisan producers and organic when possible.
I have always been impressed with the Bon Air Shopping Center. Unlike other malls it seems to have just the right mix of restaurants, retailers and grocery—and it's always busy. Patxi's has landed in a good North Bay location. They seem happy to be here and by the looks of the crowds eager to get in, it's safe to say that the feeling is mutual.
Patxi's Pizza, 340 Bon Air Center, Greenbrae; patxispizza.com; 415/526-3889.