by David Templeton
"This, ladies and gentlemen, is what the courthouse used to look like."
An assemblage of nine people—some local, a few from "out of town"—all lean together toward an aged photograph of a big stone building, the former Marin County courthouse, which once towered over downtown San Rafael. On a slowly warming Wednesday in May, as a fog-filtered light squeezes in through the windows of the Marin County Civic Center (MCCC) cafeteria, this small group of tour-takers directs its collective attention toward the photo to which Ted Kreines is pointing.  
Bespectacled, baseball-capped and clutching a wooden yardstick, Kreines is standing at one end of the cafeteria, just inside the MCCC's tiny "bookstore"—think of a walk-in closet with books, postcards and a few archival photos behind a glass case—and in his official capacity as one of the MCCC's small army of trained docents, he tells the story behind the photograph.
"The courthouse represented a form of architectural presence that was once associated with courthouses and civic centers all over the country," Kreines says. "The building is 'exalted!' It says, 'Look at me! I am up here! You are down there! Acknowledge my superiority!' That was not the same kind of thing Frank Lloyd Wright had in mind when he was asked to consider designing the new Marin County Civic Center. He was more interested in horizontal architecture, where the people and their public servants were on a level playing field."
In less than seven minutes, Kreines spins the colorful tale of how a small group of Marin County leaders enticed the world-renowned Wright, at the end of his life and legendary career, to take on the task of designing a brand new civic center in Marin, a building that would serve as a symbol of democracy, while also standing as one of the most striking and inventive buildings in the world.
Then, his story completed, the official tour begins.
Over the next fast 75 minutes, Kreines leads the group on a fact-filled romp through the sprawling building that Wright envisioned, up and down escalators, in and out of the supervisors' chambers, all through the insides and part of the outsides of the MCCC. Pausing frequently to point out one detail or another, Kreines is a fountain of tidbits and factoids, dropping names from local history—the "Cracker Barrel Gang," Vera Schultz, William Fusselman—as deftly as he answers questions about the purpose of the tower jutting up over the center, the materials used to construct the roof and the specific color of paint that adorns the golden orbs decorating various structures throughout the facility.
Kreines, who describes himself as "mostly retired," is one of many trained docents who lead tours at the MCCC. In a gradually expanding program under the supervision of Libby Garrison, the county's Department of Cultural Services Marketing and Communications Director, volunteer docents have become the backbone of a program that, depending on the season, can serve hundreds of visitors a month.
According to Garrison, the interest in the MCCC as a unique historical landmark is growing, partly for its connection to Frank Lloyd Wright, and partly for its connection to the futuristic cult movie Gattaca, in which the building was on prominent display—inside, outside and on the sleek, sloping roof where a climactic chase scene took place. A good docent, then, is not just someone willing to devote a day or two every so often to talk to strangers, but someone willing to become slightly obsessed about the building, museum, mountain, coastline, woods, animals, birds, bugs or strange collection of memorabilia they are entrusted with telling visitors about in one way or another.
The word 'docent' is borrowed from the Latin word 'docere,' which means 'to teach.' In parts of Europe, a docent is a member of the teaching staff ranked just below a professor, but in America, the term has widely come to describe any person who acts as a guide or interpreter, usually in a museum, art gallery, zoo or other educational environment. With so many such organizations in the North Bay, there are thousands of opportunities close-at-hand for people like Kreines to serve as docents. These opportunities fit an array of skill sets and comfort levels. Some are purely informational, along the lines of what happens during a tour of the MCCC, the Petaluma Public Wetlands or the Space Station Museum in Novato, while others are more hands-on.
Some docents primarily focus on adult visitors, particularly with historical and art-themed institutions like the Hamilton Field History Museum and the Marin History Museum in Novato, Art Works Downtown in San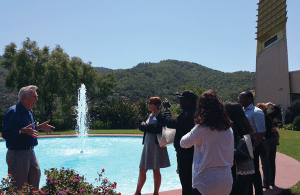 Rafael and Marin Society of Artists at the Marin Art and Garden Center in Ross. Many times, docent programs in the area put a particular focus on working with schools and children. Novato's Marin Museum of the American Indian, Santa Rosa's Laguna de Santa Rosa nature preserve and the (very hands-on) Bay Area Children's Museum, in Sausalito, are just three of hundreds of institutions offering such docent opportunities in the area.
Whether a potential volunteer is more comfortable indoors or outdoors, or prefers leading tours to getting messy with hands-on activities that include contact with animals, Indian crafts, ocean waves and mechanical gizmos, there is an amazing assortment of volunteer docent programs in the North Bay, from the Golden Gate up to the wilds of Sonoma and beyond.
And the good thing is, most programs are always looking for new docent volunteers eager to learn the ropes.
"Many of our volunteers are retired, many of them were scientists or teachers, but we have all kinds of professional people, many still working," explains John Petersen, executive director of Audubon Canyon Ranch, a nonprofit that manages and cares for a number of protected nature preserves in the North Bay, and has a thriving program of nearly 800 volunteers—many of them docents. "All of our docents," Petersen says, "are people who are interested in, and care about conservation and the environment, are curious about nature and the world and want to spend some spare time sharing their knowledge and experience. They are largely responsible for our many school programs, which bring about 3,000 students out to our Marin locations, and if we include our Sonoma programs, out at the Bouverie Preserve, we work with a total of about 6,500 school kids every year."
Some of the docents first meet students in the classroom, but there's nothing like getting the kids out into the woods for some face-to-face nature time, and Audubon's corps of trained docents are the guides who make the experience informative, safe and sometimes, life-changing.
This morning, at the annual meeting of the Martin Griffin Preserve Docent Council, (held at the Martin Griffin Preserve in West Marin), about 50 experienced guides have gathered to make decisions, hear plans for the upcoming year and to spend a little time swapping stories about how being a docent has changed their own lives.
"This group of people is famous for their potlucks," Gwen Heistand, a resident biologist with the Audubon Canyon Ranch (ACR), and the one who trains the docents, says with a laugh. Sure enough, the table at the back of the room—in an impressive old farmhouse that came with the property when it was acquired by ACR—is quickly filling up with casserole dishes and cheese plates.
"In terms of this particular preserve, in terms of active hiking docents, we have about 80 docents right now," says Heistand, "but it sometimes can grow up to 140 or so. But the thing that's really cool is, yes, we have docents who go hiking with the kids, but we also have docents who work with our whole natural history library, or administer the school programs. Those are things that are done by docents who no longer go out hiking with the students."
The specific training required to become a docent varies wildly from program to program. At ACR, docents must complete 23 weeks of natural history training before being qualified to lead students out on the trail. The training is heavily weighted toward science and the specific ecology, history, flora and fauna of the preserve the docent will be working at.
"During those 23 weeks," Heistand continues, "people naturally gravitate toward those things that spark their interest and enthusiasm the most. We don't have a prescribed curriculum when they go out on the trail. The program is designed to work with the strengths of the people that are in the program, and allows them to pass on the things they are most passionate about."
The next training program begins this September, at the Bouverie Preserve near the town of Sonoma. The next Marin County training begins a year from now.
"A good docent program," adds Dr. Martin Griffin, "is about teaching education to adults, who, in this case, then pass on what they've learned to children. And if the docent is especially good, the kids don't know they're learning anything. They just think they're having a good time!"
Griffin, who founded the Audubon Canyon Ranch in the '60s as part of a movement to protect the Marin and Sonoma coasts from developers, is a lifelong conservationist and public health activist. Where he stands now is part of a vast heron habitat, which would have been destroyed had the area not been saved and turned into a nature preserve. It's a story that Martin tells in his book Saving the Marin-Sonoma Coast. Many of the docents in the room today have shared that same story with busloads of children from around the Bay Area.
"These are some of the best docents we've ever had," says Martin, nodding to folks filling up the room. "Some of them have been with us a long time—and every year, they learn more, and then, of course, they have more to share with the children. A good docent isn't just a good teacher. A good docent is always learning."
A key requirement for being a docent, it seems, is that willingness to always be learning, and a genuine sense of enthusiasm for whatever nature preserve, historical collection or landmark building they choose to share with visitors.
Which brings us back, full circle, to Ted Kreines, who is pointing out a circle or two at Frank Lloyd Wright's famous building in San Rafael.
"A lot of people think circles is what this place is all about," he says, "and if you look around, you're going to see a lot of circles and globes, and the use of round returns to everything, and that this was part of Frank Lloyd Wright's intention because circles stand for democracy. I'm not sure that holds, but I do believe Frank Lloyd Wright was very interested in exploring different types of geometric shapes. I'm still doing my own research on that, and maybe I'll have a stronger opinion at some point in the future."
The sense of affection Kreines shows for the MCCC is palpable, calling attention to a certain side effect of being a docent that many volunteers don't expect when they initially decide to donate a day or two a month showing people around their local museum or park. That side effect?
Love.
"Oh, I have been in love with the Civic Center for a while now," Kreines says with a laugh, as he concludes the tour and takes final questions. "It's just such a pleasure to be here, and to learn about this place and share what I learn with others."
Which reminds him of one more important fact.
"A lot of people don't know this, but the United Nations has named 1,007 places in the world as UNESCO World Heritage sites," he says with a broad, proud smile, "and only 22 of them are in the United States. So we are very excited to have just learned that we—the Marin County Civic Center—have been nominated to become a World Heritage site, which is a pretty exciting prospect.
"If this happens," he adds, quickly correcting himself—"when this happens, I should say, we expect to have even more visitors, from all over the world—so we will need more docents, because we plan to be prepared for all those people."