Revitalizing via vegetables
Rain & Water
Whenever there's a drought in Northern California, local DJs play "Box of Rain," "Right as Rain," "Have You Ever Seen the Rain," plus Van Morrison, who wails "Oh, the water" in his rock hymn, "And It Stoned Me." The lyrics haven't worked better than rain dances. Longtime Marin farmers, Moira and Jesse Kuhn, at Marin Roots Farm, haven't planted this season. There's no water to irrigate leafy greens. At Marin's Shao Shan Farm, Scott Chang-Fleeman—a third-generation Chinese-American who studied farming and ecology at UC Santa Cruz—is cultivating two crops—squash and tomatoes—not his customary 40.
"We get the rain we deserve," ag maven Bob Cannard tells me, which isn't the same as the rain we need. With the drought on my mind, I drove to Bolinas, the legendary Marin coastal town, known for billionaires, bohemians, celebrities like Joel Coen and Frances McDormand, and extraordinary farmers who don't badmouth their wealthy neighbors. Like ordinary folks, the wealthy buy veggies, too. Zip code 94924, once considered funky, is now fashionable.
It rained the day before I drove to Bolinas. Enough to freshen the face of the earth, but not enough to help parched farmers. My guide, Ilka Hartmann—an internationally renowned photographer and a Bolinas notable—had water on her mind. Signs everywhere, courtesy of the Bolinas Community Public Utility District, read "Water Supply Shortage, Reduce Usage Now!"
Hartmann introduced me to three farmers: Dennis Dierks at Paradise Valley Produce; Annabelle Lenderink at Star Route; and Mickey Murch at Gospel Flat. They know one another and they have all the water they need. So does Peter Martinelli at Fresh Run Farms. Years ago, Martinelli, Dierks and Warren Weber had the foresight to build ponds on their property. They had help from conservation organizations that wanted to protect endangered species like Coho salmon, aid farmers and keep water flowing in Pine Gulch Creek, once an important waterway for the Miwok that runs year round, even in droughts.
The three Bolinas farms made it clear to me that change in ag starts on the edge and gradually moves to the mainstream. During the pandemic, when corporate food systems were undependable, small local farms provided produce reliably.
Star Route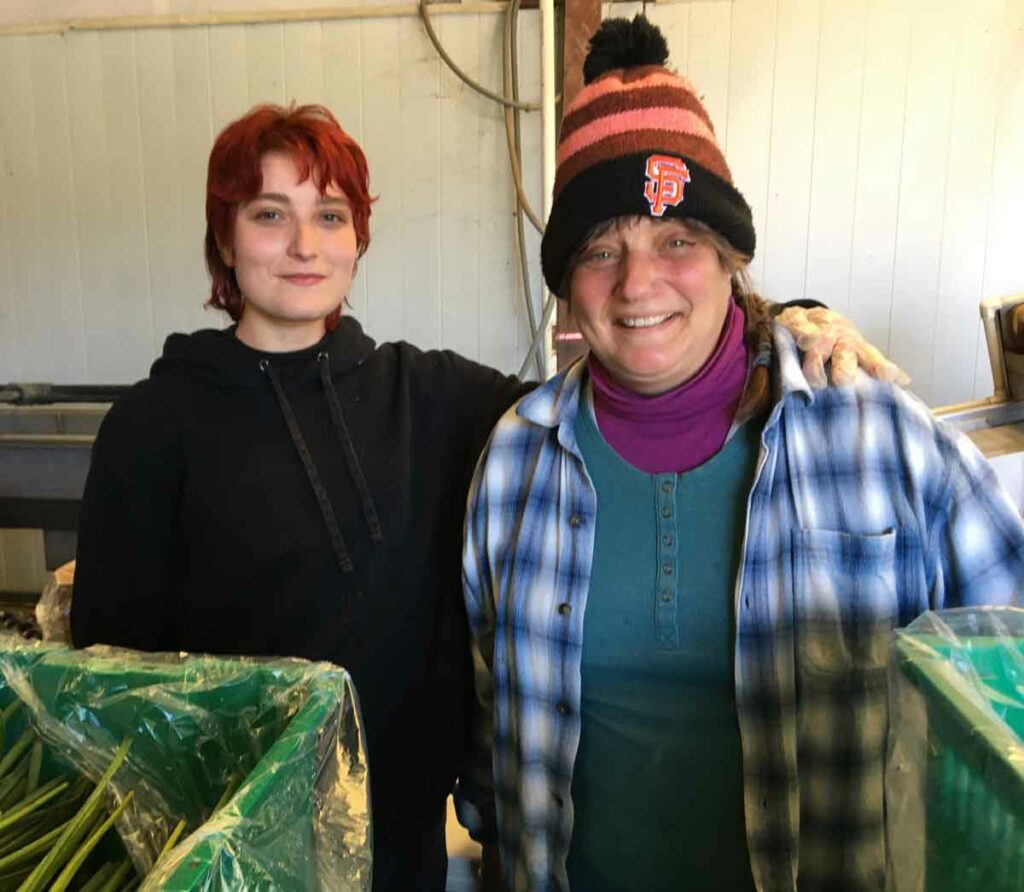 Star Route, in Bolinas, is the oldest certified organic vegetable farm in California. Annabelle Lenderink is the manager. She has help from Nick Civetz, who belongs to a Central Valley farming family, has a degree in ag, and more importantly can take apart a tractor and put it back together again.
Annabelle grew up on Curacao, an island off the coast of Venezuela, where scrappy Portuguese farmers from the island of Madeira used their secret skills to grow vegetables with few resources. They were self-sufficient or they went hungry.
Warren Weber, once a Shakespearean scholar, founded Star Route in 1974 and turned it into a profitable enterprise, in part by selling produce to high-end city restaurants. In 2017, he sold to the University of San Francisco. USF improved housing and added fencing, but it's essentially the same place Weber ran for 33 years. Annabelle says, "USF saved Star Route. Without their purchase, we would now have a mansion, or two, with swimming pools and Arabians."
She showed me two treasured volumes, California Fruits (1889) and California Vegetables (1898), both by horticulturist Edward Wickson. The books reminded me that there's a long history of writing about Golden State fruits and vegetables and that California, from its earliest days, mass-produced crops to feed the nation.
Of the 100 total acres at Star Route, 40 are in production, with ordinary, garden-variety crops like carrots, cabbage, beets and kale and specialty items like fenugreek, craved by Indian chefs, and Puntaralle, a favorite with Italians. Star Route sells produce to restaurants like Zuni as well as at the Ferry Building in San Francisco. Also at the thriving San Rafael Farmers Market on Civic Center Drive, which Annabelle calls "a behemoth." She's been there for decades—she knows her loyal customers, and they know her.
The Star Route farm stand, on the side of the Olema Bolinas Road, is open Fridays. Customers also subscribe to a CSA. "There's a big demand for fresh, local produce," Annabelle tells me. "Our numbers are way up." She has kept the books for decades and has the figures at her fingertips. "Warren, with his keen business sense, taught me what to worry about and what to look for," she says.
To keep up with demand, Star Route has increased production and hired more employees, including Geena Tognini and Patricia Buzzotta—both with Italian ancestors, who work in the packing shed filling boxes with veggies. When Annabelle isn't in the fields or the office, she's at home cultivating an acre of tomatoes which she'll use to make her famed tomato sauce and put in salads.
Back to the Future
In the early 1970s, Marin County newspaper editors and reporters had a field day with the starry-eyed urbanites who descended on Bolinas to farm, create counter-cultural communities and build their own homes. The make-shift structures landed hippies in trouble with officials at the Civic Center, designed by Frank Lloyd Wright, and known to locals as "Big Pink."
Orville Schell, who became the Dean of the UC Berkeley Graduate School of Journalism, explained in the early 1970s that the back-to-the landers were not "ignoring the problem areas of power, sewage and owner-built shelters," but rather "seeking to solve them in new ways." The Pacific Sun ran an article in 1973, by Judith Weston, titled "There's Trouble in Paradise." The Independent Journal published a piece by veteran reporter, Paul Liberatore, that same year titled, "Marin Pioneers—Rough Row to Hoe."
In 1976, Hartmann and Schell wrote and published a book about Bolinas, with words and photos, titled The Town That Fought to Save Itself. To help protect Bolinas, the authors gave the town a fictional name: "Briones." Decades later, it's still fighting to save itself. No signs point travelers and tourists to the town that doesn't want to be found.
The '70s pioneers who came to Bolinas, many of them college graduates, realized it would not be easy to create utopia on the edge of the continent. They knew, too, that the rich bottom land was near perfect for growing crops, and that "Paradise Valley" was protected from the chilly winds that blew on higher grounds. Original settlers created a non-profit to protect "open space" and promote agriculture. Now, the Bolinas Land Trust caps development.
Paradise Valley Produce
These days no one mocks Dennis Dierks, who moved to Bolinas in 1973 from San Francisco, where he worked as a commercial artist. In Paradise Valley, he built a home with salvaged lumber and his own two hands. "I believe in recycling," he tells me on a morning that feels like paradise. "I also believe in feeding the soil. That was my goal from day one. The soil is my medium."
Dennis' farm, Paradise Valley Produce, has ample water. It was certified organic in 1976, soon after the term "certified organic" was created. Every year, Dennis makes compost. He has grown leeks, squashes, chard, kale, spinach and more, turned cucumbers into pickles and other vegetables into kimchi. Once, his produce went to Alice Waters' Chez Panisse, where the chef introduced foodies to the health benefits, the tastes and the beauty of fresh local vegetables that weren't buried in sauces.
At times, Dennis finds it difficult to find laborers who care about the land, and who are willing to learn to farm organically. "It's been hard work, but it has also been a pleasure to do it," he says. "I came to Paradise Valley when I was 30, and I've stayed with it. You can make a good living as a farmer."
Dennis would like local, organic vegetables to be more widely available than they are now. "You can't just grow for the elite," he says. He also wants consumers to know that while big farms use the term "organic," they have lost sight of its original meaning. "They grow hydroponically and not in real soil," he says. "Their operations are all plastic."
Though he has plenty of water, good soil and lots of sun, he won't grow acres of vegetables this year. Rather, he'll have a small garden, and focus on cover crops to replenish the soil. Call him a regenerative farmer.
Gospel Flat Farm
Like Dennis, Mickey Murch at Gospel Flat Farm thinks of himself as an artist whose medium is the soil. The son of a farmer, Mickey vowed not to grow up and become a farmer like his father, Don. For years, he observed Don's frustrations, his long hours and his commutes to deliver produce to distant markets.
Born in 1984 in Bolinas and raised there, Mickey went to Reed College in Portland to study science and become a scientist, like his mother, who experimented with corn. At Reed, he realized the beauty of farming. "The color of a red tomato was more beautiful than any pigments you could mix," Mickey tells me. He went home and began to farm as an "experiment in self-sufficiency," he says.
He built things without buying anything, applied his skills as a plumber and electrician, cultivated corn, harvested it, ground it and made tortillas. As a boy, he toiled on a small plot in a corner of a large field, courtesy of his father. Mickey grew pumpkins, sold them on the side of the road and made enough money to buy a skateboard. "I was a farmhand, but there was no pride in that," he says. Then he heard the gospel, and realized he didn't have to follow in his father's footsteps. He could do it his own way. "I've always wanted to think outside the box," he tells me. "I've always wanted to have something different from everyone else."
In 2007, he opened a farm stand on the Bolinas Olema Road, just minutes from Star Route. Almost overnight the Gospel Flat Farm Stand created a sensation. At first it was a tent. Now it's a real building with an art gallery. It's open 24 hours a day, seven days a week. The produce is so alive it practically sings. The whole operation works on the honor system. Nobody stands at a cash register, collects money and gives change. "The experiment in self-sufficiency became a total living thing, with the community and with interactions," Mickey says. "Sometimes raccoons have gotten in and I have had to hide produce, but that was as bad as it got."
This season, Mickey is growing vegetables on 10 different parcels in Bolinas, some on hillsides and some in the floodplain where the soil is especially rich. He's planning to grow on the land where Scott Chang-Fleeman has decided to scale way down. "I'm an optimist," Mickey says. He'll grow anywhere, most anytime, make money and enjoy making art, too.
Build Reservoirs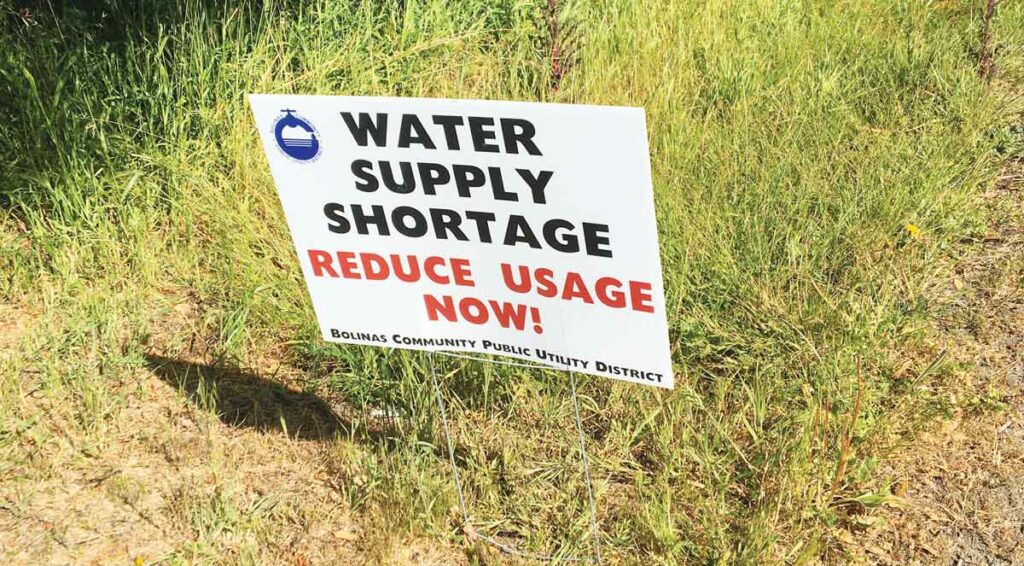 At 80 years young, Warren Weber—one of California's preeminent organic-farming pioneers—also sounds like an optimist. He's not currently planting and harvesting vegetables, but he owns and operates an 80-acre vegetable farm in Coachella Valley, near the edge of a desert. What's needed, Weber says, are reservoirs—like those in Bolinas—on dairy ranches all across Marin and also in some urban areas.
"If we caught just 10% of the rain that falls, it would make a huge difference and provide for food security and protection against fires," he tells me. "We need the political will, the backing of county supervisors like Steve Kinsey—who aided us for years—plus support from local, state and federal agencies. We need to streamline the process and we need to act now."
Jonah Raskin is the author of "Field Days: A Year of Farming, Eating and Drinking Wine in California."