By Charles Brousse
For local playwrights, working theater artists who place a high value on creativity and audiences with a taste for adventure, this is a golden age. During my 26 years of Bay Area reviewing, I've never seen so many productions of brand new plays and musicals as we're having right now. Companies large and small, professional and community-based, have script development programs that lead to public showings.
Last week brought an interesting pair of new arrivals.
Arches, Balance and Light, by Mary Spletter (Ross Valley Players): The most important thing that you should know going into this is that although Spletter's subject is the astoundingly prolific Bay Area-based architect, Julia Morgan, most of the details about her personal life are based on speculation for dramatic purposes rather than verified historical fact. When declining to be interviewed she liked to say, "My buildings speak for me."
And, indeed they do—more than 700 of them, most located in San Francisco and adjacent counties (including Marin), others further away—all distinguished by their emphasis on "arches, balance and light." These include the famous Hearst Castle at San Simeon, Asilomar Conference Grounds, Berkeley City Club, Sausalito Woman's Club, various structures on the UC Berkeley and Mills College campuses, a number of YWCAs and private dwellings of all kinds.
Morgan delighted feminists with her prodigious collection of "firsts:" The first woman to be admitted to and graduate from the UC Berkeley School of Civil Engineering; first to be admitted to and graduate from the architectural design program at the École nationale supérieure des Beaux-Arts in Paris; first to be granted a California license to practice architecture; first to establish a clientele that matched or exceeded male colleagues; first to be honored by them for her lifetime achievement.
That's an impressive list, but it's pretty sterile dramatic material. Confronted with a carefully maintained blank personal record, Spletter fills in the gaps with an invented story of what might have happened, complete with spicy sexual intrigue and a suspenseful ending. It's a technique that many playwrights—Tom Stoppard and Caryl Churchill, among the moderns—have used to their advantage, and it mostly works here.
The splendid cast of RVP includes Ellen Brooks as Julia in her later years; Zoe Swenson-Graham, a last-minute replacement, is young Julia; Anastasia Bonaccorso is Marguerite, who may (or may not) be Julia's daughter; Robin Schild is Victor, her mentor/lover during the Beaux-Arts days; and John Simpson appears in a variety of supporting roles. Jay Manley, well-known locally for his work with the Mountain Play, directs with a sure hand.
It remains to be said that RVP has its own "first" to celebrate with this inclusion of a company-developed play in the regular season. Even if the run is only three weeks instead of the usual four or five, Arches, Balance and Light is a promising beginning.
*     *        *
The Unfortunates, a cooperative theater project jointly created by Jon Beavers, Kristoffer Diaz, Casey Lee Hurt, Ian Merrigan and Ramiz Monsef; directed by Shana Cooper (A.C.T.): You probably don't have to be under 40 to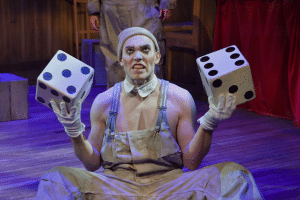 fully appreciate this confusing mashup of musical, literary and philosophical strands in contemporary Western culture, but I guarantee that it will be a big help.
Structurally, A.C.T.'s latest offering at its gleaming new Strand Theater on Market Street is a play with music along the lines of Bertolt Brecht's Threepenny Opera. From program notes that I regrettably read after the performance, the youthful creative group explains that the narrative closely follows the 12-stage "monomyth" of Joseph Campbell's "hero's journey" as their protagonist, Big Joe (Ian Merrigan), evolves from a clueless gung-ho patriot to a committed anti-war crusader with a social conscience. That was certainly important to know, but I doubt that many in the equally youthful audience were aware, either. Or cared.
It's the music that counts—driving rock, blues and gospel rhythms played by an onstage band—that for those of the right age combines with rap-inspired dialogue, dancing and song to draw The Unfortunates' disparate elements together. They "get it" instinctively. We non-qualifiers just have to work a little harder.
NOW PLAYING: Arches, Balance and Light runs through March 6 at the Ross Valley Players' Barn Theater, Marin Art and Garden Center, Ross; 415/456-9555; rossvalleyplayers.com. The Unfortunates runs through April 10 at A.C.T.'s Strand Theater, 1127 Market St., San Francisco; 415/749-2228; act-sf.org.