by Lily O'Brien
Fingerstyle guitar fans fret no more—an evening of masterful, world-class music awaits. Teja Gerken, Matthew Montfort and Tim Sparks will come together on Thursday, May 7 at the Throckmorton Theatre to blend world-fusion, jazz, blues, classical, celtic and more at the Acoustic Guitar Summit.
Gerken, who organized the event, has been bringing different players together to perform a variety of styles for more than 20 years.
"Tim and Matthew have never met but they have a ton in common," says Gerken, who has played with both of them before. "I just really can't wait to kind of see what happens with the two of them together. They both have this strong world music background with those odd rythms and meters—they really know that music and I just know they're going to hit it off, but I haven't seen it yet, so I am pretty excited about it."
Gerken says that the three of them will get together just a few days before the event and craft an evening that will include solo sets, duets and trios. "We all play steel string acoustic guitars but we all sound completely different," he says.
Gerken, who writes a lot of his own music, describes his style as a mix of many different things, including classical, jazz and celtic. He says his biggest influences were John Renborn and Burt Jansch (from the '60s folk/jazz band Pentangle), along with other well-known Windham Hill fingerstyle guitarists Michael Hedges and Alex de Grassi. Gerken utilizes a very distinctive guitar technique that he says is sometimes called "harmonic slaps," along with two-handed fretting or tapping, where "you are actually fretting a note which then allows you to free up the left hand to do other stuff." These techniques create special "sound effects" that are unique to acoustic fingerstyle guitar playing. He also likes to use alternate tunings, because he feels that they "extend the instrument."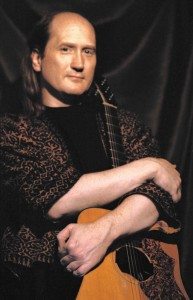 San Rafael resident Matthew Montfort is a world music pioneer, best known for his work with the world-fusion group Ancient Future, which recently had its 35-year original member reunion concert at the Throckmorton. Unlike the other two guitarists, Montfort plays mostly with a pick. "He really is a world music pioneer so his whole thing is to bring music from Bali and India to the guitar," Gerken says. "His guitar has a scalloped fingerboard so he can bend the notes like he could on a sitar. The spaces between the frets are kind of hollowed out so you can push down the strings and bend the notes. He basically plays a modified guitar but his understanding of the music is so deep that he can really transfer all those scales and musical ideas to the instrument as it is—pretty remarkable."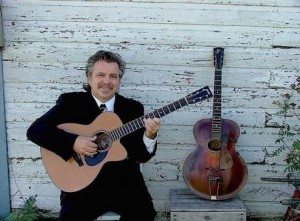 Tim Sparks, who is coming from Minnesota for the summit, has a completely different style. "Tim is really an interesting guy because his range of influences is so big," Gerken says. Sparks grew up in South Carolina surrounded by bluegrass and country blues, and then studied classical guitar for a long time. His first breaktrough album was a complete guitar transcription of the Nutcracker Suite, and is very highly regarded.
His other influences include Balkan and Klezmer. "He is difficult to put into a genre but at the same time, once you hear him and you are familar with his work, there is a common thread that goes through everything," Gerken says, "and I think that's the mark of a really unique musician—to be able to put that stamp on everything."
Gerken's guitar summits are unique events, since they always include different players—and this one promises to be noteworthy.