The 9th annual Peace Fest is just around the corner, and the entire Marin County community is invited to gather to celebrate the global and local movements of all things peace. Music, food and general festivities await anyone who attends this year's Peace Fest.
The Peace in the Valley Festival is set to take place in San Geronimo on Sept. 23. This all-day event promises a plethora of peaceful, positive energies and experiences and a much-needed reminder that there are still people, here and across the world, who are committed to a planet for peace rather than power.
"A community is a group that shares a common unity, even if it's just where they live," explained Ted Wright, a Marin local and founder of the Peace Fest. "And peace is something that we have inside all of us."
The first Peace Fest took place nine years ago when Wright decided it was high time he gave his local community a taste of tranquility. He came up with the idea for a Marin-based peace festival while watching the Peace Channel, a television station with a mission to counteract the disproportionately wide distribution of non-peaceful news by showcasing the various ongoing movements of peace worldwide.
Said Wright, "I saw there is a global peace movement, even though it isn't promoted by media so much, and I thought it was such a wellspring of hope and thought that our community needed a wellspring of their own."
Wright took his idea to the San Geronimo Valley Community Center, and they accepted his proposal for peace (a peace festival, that is). And so, the Marin County community's very own celebration of unity, harmony and tranquility was born.
"Over the years, I've come to think of [the San Geronimo Valley Community Center] as a world-class community center," said Wright. "They have such a variety of assistance, instruction and entertainment available, as well as a fantastic volunteer base and dedicated staff—they do a lot on a very little budget, and I lucked out that I found a group."
This year's Peace Fest promises a series of ongoing experiences throughout the day. It includes the "Peace through Art" exhibits from Teamworks Art Mentoring Program and inmates at San Quentin State Prison; the "Peace through Vision" VR exploration of "Sanctuaries of Silence" and Ram Dass' talk, "On Love and Death"; the "Peace through Teaching" program that introduces Peace Education Programs (PEP) through the Prem Rawat Foundation; and the "Peace through Film" screening on themes of peace, change and social justice. The Peace Fest also offers a wide array of workshops and performances.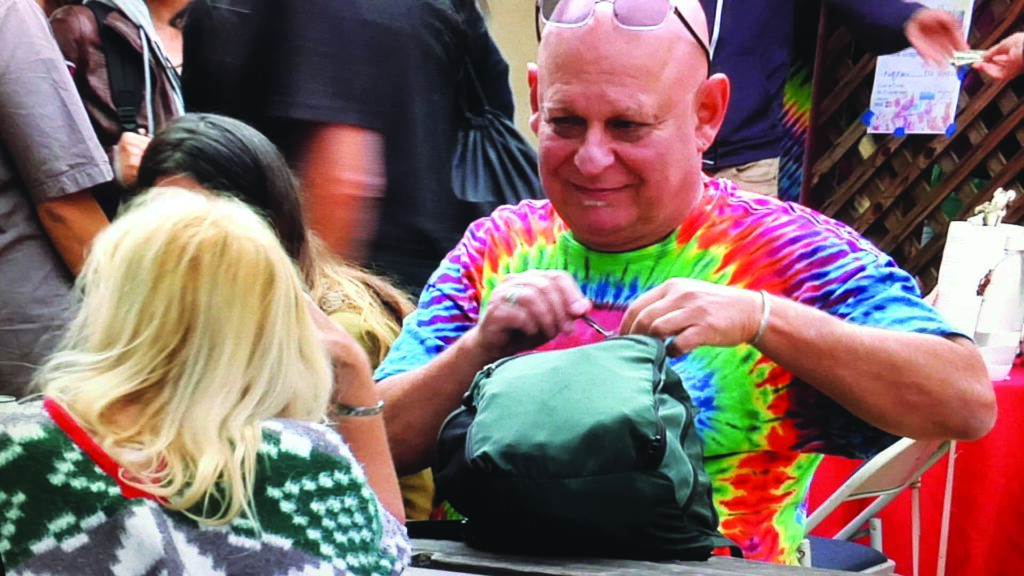 These events begin at 9am with a guided yoga and meditation peace offering workshop, "Peace through Meditation," by Patty Brockley. At 10am, Peace Fest attendees can experience Nicole Reyes' sound bath experience, "Peace through Sound." This exercise in audible tranquility is set to be followed at 11am by a nonviolent communication workshop called "Making Peace through Conflict," which will be hosted by Martine Algier, a certified trainer on the topic.
At noon, Peace Fest guests will be offered "Peace through Sustenance," a lunch from the Reviver Las Culturas Program, accompanied by a "Peace through Song" performance from none other than Ted Wright and Friends.
After lunch, the entertainment and possible enlightenment continue with a 1pm "Peace through Laughter" performance by Swami Beyondananda. As the pièce de résistance of this year's Peace Fest, the musical festivities will continue at 2pm with a "Peace through Music" performance from performers including Vernon Black Ice and Fantuzzi.
Apart from offering a place to celebrate peace in peace, the San Geronimo Valley Community Center and Peace Fest organizers also partner with the Lagunitas School District to help spread the early education of self-love and worth to the community's children. The mission of Wright and his associates is to help the youngest and most vulnerable members of the community to feel more intrinsic worth and, in doing so, grow to have a healthy and developed sense of inner peace.
"One of the burns I really was feeling in the early days of our festival, and more intensely in recent years, is the need to fill the missing link in our public education and probably private schools as well," explained Wright. "Our education is so in the model of the post-war industrial education, and I think about all the thousands of hours I spent in a school and how none of them were spent teaching me about me."
Wright continued to explain that the current system of schooling can, unfortunately, lead children to base their worth on external values and their ability to achieve rather generic goals, such as good grades, acceptable clothing, the friends they make, the extracurriculars they participate in, college acceptance (or lack thereof) and so on.
"Students find value through things that are happening externally, but receive no education about their innate value, and that is a gigantic missing link," added Wright.
This missing link can be as simple as early lessons in mindfulness, meditation and affirmations or simply explaining to the next generation that their worth in this world is not based on the grades they get or the clothes they wear.
"We didn't have this rate of teen suicide when I was in high school, and it really represents an erosion of hope in our kids," said Wright. "By teaching peace, it can help [the children] to feel empowered and alive, just because they're human and they exist—and teaching peaceful practices, well, it's not a stretch now for schools to do anymore, especially when they see that places all over the country and world are already doing them."
The annual Peace Fest is held, in part, to participate in and honor the United Nations International Day of Peace. The festival will take place from 9am to 3pm on Sept. 23 at the San Geronimo Valley Community Presbyterian Church, 6001 Sir Francis Drake Blvd.
The Peace Fest is held through the San Geronimo Valley Community Center, which Wright called "the bastion of peace in the valley" for their hard work supporting the local citizens and community before, during and after the COVID-19 pandemic.
Admission to the festival is free for all and includes many peaceful people, workshops, experiences and activities to engage with. For more information about the Peace Fest or to contact its organizers, visit SGVCC.org or call 415.488.8888.