By Lily O'Brien
"The first time I saw the [Marin County] Civic Center, I thought it looked like something from outer space," says longtime San Rafael resident and Frank Lloyd Wright-trained architect Bill Schwarz. That was back in the early '60s, and little did he know that this iconic building, and the renowned architect Frank Lloyd Wright, would become the focus of his architectural career—and his lifelong passion. We chatted about all things Frank Lloyd Wright recently while we toured the center's administration building and hall of justice.
Schwarz was doing graduate work for an advanced degree in architecture at Stanford University when he became interested in Frank Lloyd Wright and decided to take a year off in 1965 to study at Taliesin, Wright's home-turned-architecture school in Wisconsin. The experience there turned out to be life-changing.
When he returned to the Bay Area in 1969, Schwarz was invited to work in the offices of architect Aaron Green, a senior student of Frank Lloyd Wright who had directed the completion of the Marin County Civic Center after Wright's death in 1959. In 1972, Schwarz established his own architectural practice in San Rafael, and was hired by the Civic Center as an associate architect for Taliesin Architects and representative of the Frank Lloyd Wright Foundation to work on various projects.
Fast-forward to 2016, and Schwarz is co-chairing the Frank Lloyd Wright Conservancy's annual conference, taking place on November 2-6 in San Francisco. In addition to attending dinners and lectures over the course of the five days, the more than 200 attendees will be touring selected Frank Lloyd Wright buildings in the Bay Area, including his largest, the Marin County Civic Center.
Schwarz, who calls Wright a "genius," is passionate about the way Wright designed the Civic Center. He said that when Wright came to look at the site in the 1950s, "after about 15 minutes he said, 'Aaron [Green], I know what I'm going to do here. I'm going to bridge one of these hills with the others and build a series of graceful arches and build the buildings on those arches,' and this was a very profound concept."
Schwarz explained that Wright's structures are not necessarily defined by a style, but rather by "a philosophical principle underpinning his work." These principles include the unification of interior and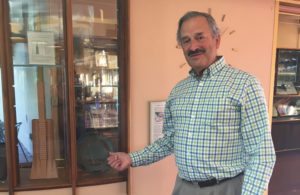 exterior space, and designing flexible spaces that can adapt to the needs of its occupants. And of course, there is the artistic component.
"He had an uncannily poetic gift," Schwarz says. "I think that's why people warm up to it and relate to it—it reaches them. It reaches all of us because we are all human beings. And frankly, this gift resides in all of us. He just developed it very skillfully as an architect."
And the Civic Center is a showcase for Wright's "gifts." Over the years, Schwarz has spearheaded and designed numerous projects, and advocated against many that he thought would compromise the beauty and integrity of the design—and won.
Last year, the Civic Center was nominated to become inscribed as a UNESCO World Heritage site, along with a group of other Frank Lloyd Wright buildings. At a recent meeting of the UNESCO World Heritage Committee in Istanbul, committee members expressed the sentiment that Frank Lloyd Wright's architecture had global importance, and should be recognized for its "outstanding universal value." Needless to say, receiving this designation would be quite a coup for Marin County.
The conservancy provided the extensive documentation and paperwork required for the application. The nonprofit was founded in 1989 in Chicago by a group of "extremely impassioned" people who are dedicated to preserving and maintaining, "the remaining structures designed by Frank Lloyd Wright through education, advocacy, preservation easements and technical services." With thousands of members and supporters worldwide, it has been quite successful.
With only a three-person full-time staff, a board of directors and volunteers, the conservancy, Schwarz says, has initiated design easements on numerous Frank Lloyd Wright buildings to preserve their design integrity, and has saved many Wright buildings from being demolished.
Other accomplishments include expert technical conservation and restoration advice, and introducing Wright's work to new audiences.
Along with co-chairing the upcoming conference, Schwarz will be receiving a prestigious Wright Spirit Award (the only Marin resident among five recipients), at a banquet dinner during the event. He was nominated for the award by his wife of 50 years, Patricia. In her introductory letter, she wrote, "Bill has been the Unsung Hero of Frank Lloyd Wright's Marin County Civic Center," and that since 1969 he has provided "unparalleled professional expertise, coupled with a staggering degree of persistent, heartfelt vigor" to advocate for and ensure that the buildings are preserved "in manners consistent and in harmony with Frank Lloyd Wright's philosophy and sensibilities."
Apparently, the conservancy agreed, and chose the "Special" award category for him. "Bill has done so many things, you can't just point to one," says Joel Hoglund, events manager for the conservancy. "The award is a culmination of decades and decades of service to Frank Lloyd Wright."
Schwarz's motivation has always stemmed purely from his passion. "It has been the core of my professional activity for more than 40 years," he says, "and the center of my heart."