by Greg Cahill
Time for a Stax soul serenade.
There's a great scene in the critically acclaimed 2014 film documentary Take Me to the River, produced by Talking Heads' keyboardist and Marin resident Jerry Harrison, in which guitarist Charles "Skip" Pitts, Wilson Pickett's former bandleader and the creator of that staccato wah-wah sound heard on Isaac Hayes' hit single "Theme from Shaft," instructs a promising Memphis teenager on the secret of his snaking slide-guitar lines.
Call it the passing of the torch, in this case red-hot soul music being handed down from 1960s blues and soul heavyweights to today's hip-hop generation.
The feature film, expected to be released on DVD this year, celebrates the intergenerational and interracial musical influence of Memphis in the face of pervasive discrimination and segregation. It includes footage shot at the legendary Royal Studios, home to Hi Records, and also recounts the history of the Memphis-based Stax Records.
Actor and singer Terrence Howard serves as a sort of soulful Virgil, as the film brings multiple generations of award-winning Memphis and Mississippi Delta musicians together, following them through the creative process of recording a new album while capturing the gritty heart of that Southern soul capital.
Joining the students from the Stax Music Academy were such blues, soul and rap artists as Howard, William Bell, Snoop Dogg, Mavis Staples, Otis Clay, Lil P-Nut, Charlie Musselwhite, Bobby "Blue" Bland, Yo Gotti, Bobby Rush, Frayser Boy, and the North Mississippi Allstars, among others.
Harrison's connection to Memphis is musical as well as sociological: The Talking Heads recorded the namesake of the film, Junior Parker's "Take Me to the River," which was popularized in 1974 by soul singer Al Green.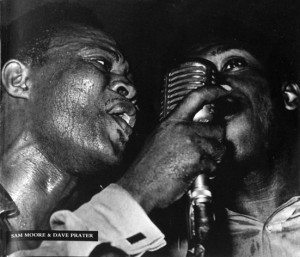 Marin's connection to the Stax sound runs deep: longtime Marin resident Booker T. Jones, the leader of Booker T. & the M.G.'s, and his bandmates, guitarist Steve Cropper and bassist Donald "Duck" Dunn, were the house band for many legendary Stax sessions. And the Marin-based pop act Huey Lewis & the News leaned heavily on the Stax sound for its chart-topping, blue-eyed soul.
Last month, the Concord Music Group started reissuing two-thirds of its catalog of Stax singles with the release of a pair of box sets: The Complete Stax/Volt Soul Singles, 1968-1971, Vol. 2 and The Complete Stax/Volt Soul Singles, 1972-1975, Vol. 3, both on CD and for the time as digital downloads.
Vol. 2 arrived on Dec. 16; Vol. 3 is due in the spring.
No plans have been announced to release the hit-heavy Vol. 1, 1959-1968, which included key sides by Otis Redding, Booker T. & the M.G.'s, Rufus and Carla Thomas, Johnnie Taylor, Albert King and Eddie Floyd, among others.
Originally released in 1993, the nine-disc Vol. 2 includes a 148-page booklet with an exhaustive essay by Stax historian and compilation co-producer Rob Bowman. The material ranges from Booker T. & the M.G.'s groove-heavy hit instrumental "Green Onions" and the Staple Singers' gospel-inflected "Respect Yourself" to John Lee Hooker's "Grinder Man" and Isaac Hayes' "Walk On By."
The set also features tracks by William Bell, the Bar-Kays and bluesman Little Milton, as well as the country-soul duo Delaney & Bonnie. There also are lesser-known Stax artists like The Mad Lads, Jean Knight, Little Sonny and Roz Ryan.
The Stax/Volt label (known as Soulsville U.S.A.) served as a gritty, blue-collar adjunct to the squeaky-clean sounds of Detroit's Motown label, which billed itself as Hitsville USA. While Motown artists like Marvin Gaye—with his dapper demeanor and tailored Italian silk suits—were coolly churning out catchy pop-soul hits without so much as breaking a sweat, Stax/Volt acts like Sam & Dave were tearing up stages with a far more visceral brand of soul.
Only Stax could bring together Johnnie Taylor, Eddie Floyd, William Bell, Carla Thomas and members of The Staple Singers for the celebratory "Soul-a-lujah," a track that was resurrected by Boy Meets Girl, the '80s pop duo of Shannon Rubicam and George Merrill (Merrill, who penned some of Whitney Houston's biggest hits, is a part-time West Marin resident).
How did Stax do it?
The label owner and often maligned-producer Al Bell, says engineer Terry Manning in the liner notes. "Al just had that amazing ability, more than I had ever seen, to know the required emotion, to be able to impart that to people, and for it to come across. … These albums just reek of emotion [and] Al Bell, to me, was the director of emotion."
Ask Greg to bare his soul at [email protected].