by Lily O'Brien
"I love music too much to stop," writes Mac Rebennack (aka Dr. John), via email. "It feeds my soul and I hope it feeds the spirit of other people too." He and his band, the Nite Trippers, are on the list of stellar musicians set to perform this Saturday at Sound Summit, a daylong rock festival and benefit for Mt. Tamalpais State Park.
Six-time Grammy Award-winner Dr. John was an icon in the '70s, known for his distinctive gravelly-growly voice, and Southern-style, bluesy rock music. He grew up in New Orleans, where his father owned an appliance/record store, and got exposed to a multitude of musical styles—jazz, blues, New Orleans R&B and Creole, which could only evolve in such a cultural melting pot of a city, and would come to influence and shape his immediately recognizable sound.
Known for his colorful style, Dr. John graces the stage with a long, braided ponytail, draped in beads and feathers, and frequently decorates his piano with skulls—part of his signature voodoo-mixed-with-mysticism, signature N' Orleans style.
The "Doctor" came to California in the '60s, and became a busy session player in L.A. with the now-famous "Wrecking Crew," playing anonymously on recordings that became hits for anyone from Van Morrison to the Rolling Stones. "I do have a history of music in California—that's where I recorded my first two Dr. John albums as a solo artist," he writes.
It was then that he decided to launch a solo career and developed his iconic persona of Dr. John the Nite Tripper—inspired by a mysterious spiritual healer named Dr. John who came to New Orleans from Haiti.
Since that time, over a span of more than 40 years, Dr. John hasn't slowed down, and has no intention of doing so anytime soon. His current tour will take him to more than 25 cities across the U.S. and Europe.
Sound Summit, produced by Michael Nash, will also feature local bands that include Southern rock country blues band, The Mother Truckers, fronted by singer/guitar player Teal Collins and her husband, singer/guitarist Josh Zee, who met at an open mic night and blues jam in San Rafael in 2000.
The band is known for its high-energy, good-time, rockin', honky-tonk performances, and what Collins calls the "chick and dude" dynamic between herself and Zee. They share the singing and songwriting, and try to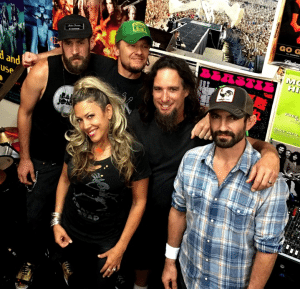 write songs that are "fun, interesting and never hit all the clichés." Their unconventional style is reflected in many of their song and album titles, like "Break-Up Sex," and "Let's All Go to Bed."
"One time we were joking around," Collins says over the phone, "and we said, 'We should call this album … Totally Unmarketable Music!'"
Collins, who has recorded sessions for Grammy Award-winning producer Narada Michael Walden and has received Gold and Platinum albums for her work on albums by Shanice and Third Eye Blind, credits Zee as being a major draw for their band, calling him a "guitar player extraordinaire." Zee has been featured in numerous publications, including Guitar Player Magazine.
After several years playing locally, in 2005 Collins and Zee decided to move to Austin, Texas, "the live music capitol of the world," and stayed there for 10 years. They also did a lot of touring and played with many different musicians, including Willie Nelson.
Collins and Zee returned to the Bay Area this past December, joining up with the original members of the band—Pete Franco on bass, Dana Miller on drums, and new "Trucker," John Varn on keyboards. They are currently in the process of writing songs for a new album, and plan to travel less and play more locally.
"It's just been so great to be back … especially if you've been in Texas for 10 years," Collins says. "I loved Austin too, but the Bay Area is such a feast for the senses and it is so beautiful—I love it here."
Dr. John shares the same sentiment. "It's a double blessing to be back in Cali to help," he writes of Sound Summit.
Sound Summit, Saturday, September 19, 11am to 7pm (doors open at 10am) at the Mountain Theater, Ridgecrest Blvd. in Mt. Tam State Park; SoundSummit.net.