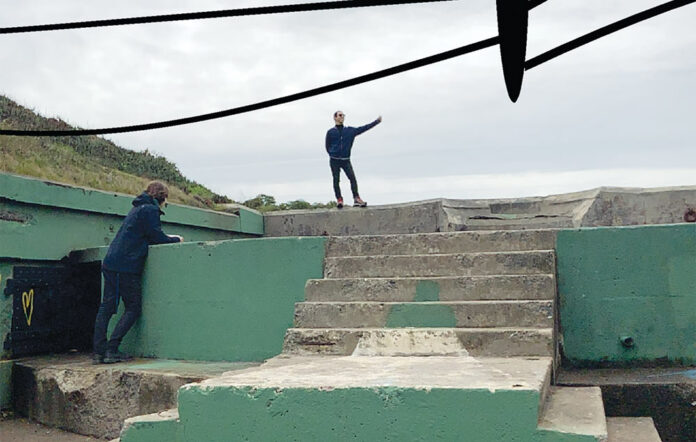 There's a fascinating new art show coming to the acclaimed Headlands Center for the Arts this week, though if visitors don't come properly prepared when they venture to the center's Project Space galleries and three decommissioned military sites along the Marin Headlands, they won't see anything at all.
That's because the new exhibit, "Edge of See: Twilight Engines," created by India-born digital artist Vishal K Dar, will only be viewable on smartphones and tablets that will display moving-light sculptures which exist in an augmented reality seen through the screen of the devices.
In fact, visitors to the exhibition must download the exhibit's app from the iOS App Store in advance of heading out to the coastal terrain to view the light sculptures overlaid on the sites of former military bunkers.
Dar calls these abstract sculptures "engines" for their state of constant motion, as the augmented light beams spin, turn, tumble and oscillate in response to the real-world environment.
Visitors can also view wooden architectural scale models of the bunkers back at Headlands Center for the Arts' Project Space, and, through the app, view the light sculptures as overlays on the models. The presentation will also include maps, drawings of the sculptures, and related video work.
What Is Real?
After studying architecture, Dar moved to a career in fine arts, taking a masters program at UCLA in the early 2000s when digital art was coming into its own. In 2010, he began creating large-scale art installations with digital facets.
"My interests largely rest in the idea of sculpture, and that led me to an interest in objects and spaces," Dar says. "Very quickly, it became important for me to create larger installations, and to make it more logistically possible, I started looking at light as a medium of sculpture."
Dar began to work with a team of engineers at San Francisco–based creative studio Okaynokay (OKNK) to create the proprietary software that powers the exhibit's augmented beams of light, whose movements are set to metronomic or algorithmic patterns.
"The biggest challenge," Dar says, "and the biggest fear I had in this project, especially when I thought of viewing the world through augmented reality, is the way our devices have become a part of our world and a tool through which we now look at our world," he says.
Dar is fascinated with how augmented reality is affecting our real world experience through the prevalence of social media, technology like Google Maps and the ubiquitous digital camera that comes on every smartphone.
"Memory-making in history was a function that either we brought about through storytelling or paintings, which then became photographs," he says. "Now the problem is that the photograph has been destroyed, or the idea of the photograph has been destroyed as a memory object. We can, through our phone, take a thousand pictures on low-resolution in one day. How many of them will survive, we do not know."
With this exhibit, visitors are invited to interact with these augmented sculptures through their phones for an experience that challenges the normal ways in which we view the world. Dar also capitalizes on the disconnect between the Headlands past and present in a way that changes how viewers relate to the location.
On the Headlands
Dar's site works have largely been held in abandoned or marginalized architectural spaces. "Edge of See: Twilight Engines" is part of a series of works that investigate the border between land and seascapes, an idea that Dar came up with while working as a resident artist at the Headlands Center for the Arts in 2017.
The first site-specific work in the "Edge of See" series took place in Lulea, Sweden; Dar chose to return to Marin to continue the series where he first developed the concept.
"Most of my sites, if I were to list them out, are sites where two major things have happened," Dar says. "One is that it's a site of trauma. What that trauma is I don't immediately know, but there is trauma embedded in the site. The second is [that the site is defined by] ownership."
Dar is attracted to the Marin Headlands' historical links to WWII and its former military ownership. "The Headlands interested me because it's not public land; it's land for the public," he says.
"Edge of See: Twilight Engines" is free and open to the public, and the constantly moving virtual light installations at the three former bunkers are active 24 hours a day. The "engines" morph between pigment black and particle light as day changes to night.
"I ask the audience to try to submit to the work and not be impatient with it," says Dar. "Because at the end of the day, [the sculptures] don't promise anything.
"Be with these sculptures for some time, because they have a rhythm, and once you start rhythmically aligning with them, they might open up a new way of looking at things."
'Edge of See: Twilight Engines' opens with a reception on Sunday, Jan. 20, at Headlands Center for the Arts, 944 Simmonds Road, Sausalito. Reception, 4:30pm; artist talk, 5:30pm. Free. 415.331.2787.