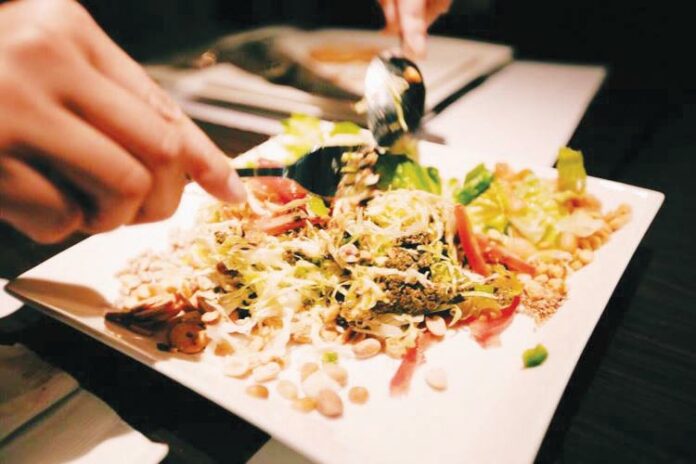 There are only a few restaurants in Marin that have a perpetual line out the door, and Burmatown in Corte Madera is one of them. The small space has housed many restaurants over the years, including the lovely Sea Thai Bistro, but none have found success like this Burmese and Asian-fusion themed eatery.
Locals know the drill—come early, put your name on the waitlist (there's a tablet affixed to the side of the building) and walk down to the nearby wine bar for a glass while you wait. It's rare to get in in under 30 minutes, but the smaller the party, the more likely you'll have a shorter wait. With combined seating for less than 50 indoors and outdoors, it's no surprise it fills up. But even if the space were bigger, the crowds would still come. The food is the draw here, and it's exceptional.
I've never been to Myanmar (aka Burma), but from what I know of the nation's geography—it borders India, China, Bangladesh, Laos and Thailand—it seems outside influences would be inevitable. Burmatown's signature tea-leaf salad—a multitude of flavors, textures and colors—exemplifies this melting pot ethos with its medley of fermented tea leaves, romaine lettuce, cabbage, tomatoes, peanuts, dried soybeans, fried garlic and jalapenos. Somehow this entire dish results in a delicious umami-packed salad.
Steamed bun "tacos" ("Burmatown baos") are another highlight. Filling options include ginger chicken, garlic shrimp, Korean-style beef or a veggie. You can't go wrong with any version—the buns are light, and a tangy slaw with cilantro makes these tasty morsels addictive. Likewise, the toothsome noodles—especially the BBQ pork garlic option—is arguably the most satisfying bowl of noodles you'll find in Marin County.
The family -run restaurant also offers an impressive selection of wine, beer and cider. A list of mostly California wines is joined by some French and Spanish options (many offered by the glass).
This place is worth every penny and minute of the inevitable wait. Just beware—it's quite possible that you'll be one of the many who routinely (as in, weekly) eagerly await their next order of kimchi potstickers and tea leaf salad.
Burmatown, 60 Corte Madera Ave, Corte Madera; 415-945-9096