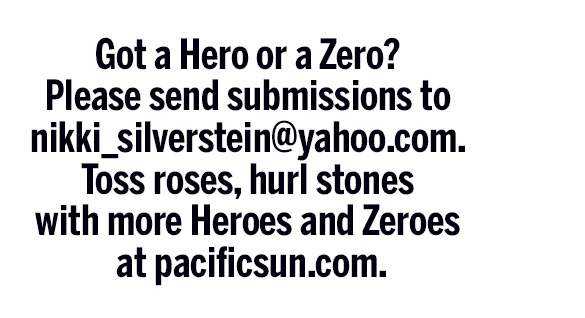 Hero
The Center for Volunteer and Nonprofit Leadership annually honors local leaders with the Heart of Marin Awards. Last week, two Marin County Search and Rescue (SAR) members received tributes: Unit leader Michael St. John won the Lifetime Achievement Award and Emma Lauter secured the Youth Volunteer of the Year Award.
St. John joined the team in 1979 at age 16. By 1988, it had 12 members. St. John restructured the organization, recruited more adults and developed specialized training. Today, under his leadership, Marin SAR has 100 volunteers and participates in more than 50 missions a year, including missing-person and evidence searches and emergency evacuations. Thanks to St. John's efforts, the team has saved dozens of lives.
Lauter joined the team three years ago at age 14. With nearly 700 hours of service, Lauter has responded to 90 percent of the missions during her tenure. SAR says Lauter is a team leader who is respected for her work ethic and dedication.
Congratulations to Michael St. John and Emma Lauter on their outstanding achievements.
Zero
Karri is a senior citizen who is confined to a wheelchair. Despite her limitations, her joy in life comes from puttering in her Terra Linda community-garden plot. Moving with difficulty through the narrow garden paths, she tends to her plants on a cane and a crutch. Consequently, the plot has become overgrown.
Rather than working with Karri to find a solution to the overgrowth, the Terra Linda Community Center sent her an eviction notice giving her until the end of January to meet their demands or lose the plot she's enjoyed for many years.
Marin resident Roger King started a GoFundMe campaign to pay for wheelchair-accessible pathways to allow Karri to maintain her garden. To donate, visit www.gofundme.com and search "Stop an eviction from a community garden plot."