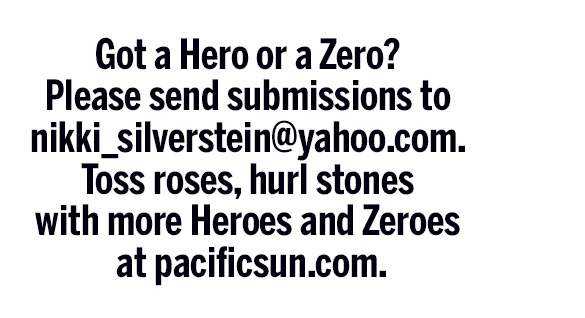 Hero
We love our firefighters, but we also hold adoration for our neighbors who jump into action and put out a fire before the fire truck arrives. A group of neighbors in the San Geronimo Valley worked together to douse a stubborn compost-pile fire. Larry saw the smoke coming from behind his neighbor's house and determined no one was home. After recruiting James and David, the three men hosed the fire and performed other tasks to quash the danger of the fire spreading.
A passerby called the local fire department, which responded pronto. However, thanks to the heroic efforts of Larry, James and David, the Woodacre Fire Department had no fire to put out. The firefighters mopped up the mess and ensured there was no further risk. "I feel better about humanity in general and the special spirit of the people of San Geronimo Valley," said James. Bravo to the team who saved the day.
Zero
How many times do experts have to tell us not to feed the wildlife? Some of us need to hear it more often, especially the person feeding the pigeons in the vacant lot across from the Good Earth in Mill Valley. Neighbors complain the birds create a nuisance by excreting all over the area. Cars, houses, patio furniture and anything left outside now drips with pigeon poop.
The waste causes property damage and produces unsanitary conditions. Oh, person feeding the flock, if we can't appeal to your sense of cleanliness, how about the fact that you're actually hurting the pigeons and quite possibly people?
Keeping the birds fat and happy attracts more birds, which leads to overbreeding and overcrowding. Feeding the wrong food causes nutritional deficiencies in the pigeons and brings disease to other birds.
According to a New York Times article, "People with cancer, HIV or AIDS … are more susceptible to diseases associated with pigeons."
Just quit feeding the pigeons. Your neighbors and fellow bird lovers will thank you.