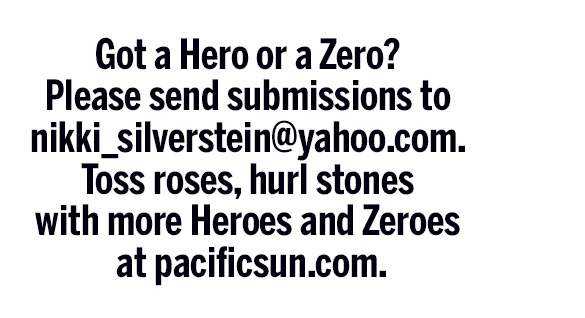 Hero
It's heartening that the community pulled together during the power outage and we want to give a shout out to some that stood out from the crowd. John Wick of Nicasio came to the rescue at Halleck Creek Ranch by rigging the water system with a generator and keeping the horses hydrated at the nonprofit ranch, which provides therapeutic horseback riding for folks with disabilities.
The B Street Center in San Rafael welcomed neighbors to charge their phones. The Sausalito Library offered phone charging, wifi and free coffee. BJ's Restaurant and Brewhouse in Terra Linda stayed open, and although short-staffed due to evacuations, managed to crank out hot meals for hungry customers. Mill Valley Market and Mollie Stone's in Sausalito provided free coffee. The community charged their devices at Driver's Market in Sausalito. Strawberry Safeway offered free wifi. You could take a hot shower at the Mill Valley Community Center. AT&T waived overage charges during the blackout. The Apple Store in Corte Madera invited customers to charge their electronics. Grilly's in Mill Valley delivered food to firefighters. Book Passage in Corte Madera set up charging stations and wifi for its community. Target in Marin City had a free charging station and if you could find an outlet in the store, it was yours to use. Equator Coffee in downtown Mill Valley offered free coffee. Bravo to all.
Zero
The lines grew long at Mollie Stone's in Sausalito during the power outage, full of people jonesing for their free morning coffee fix. The crowd was generally mellow and ordered quickly when they reached the barista. Except for our Zero. He held up the line with his fancy soy latte demand, containing half of this, half of that and a twist of another. Mister, couldn't you get a regular cup of joe? What about the people waiting patiently behind you and the overworked barista? Your behavior was obnoxious and entitled. Oh, and we saw your picture next to the word chutzpah in the dictionary.