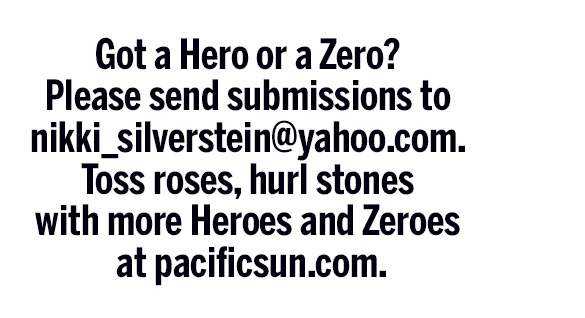 Hero
A herd of grazing goats will help reduce wildfire risk outside of Fairfax this week, on the site of the former Sunnyside Nursery. If you've never watched these bearded beasts devour all vegetation in sight, grab your kids and get over to 3000 Sir Francis Drake Boulevard to take a gander. You'll also observe herding dogs working to protect the goats against predators and keep them moving in the right direction.
While the animals are fun to watch, their labors are essential to removing high-risk fire fuel, including shrubs, weeds, tall grasses and invasive plants from the undeveloped 7.7 acre area. Efficient and cost-effective, goat grazing has many other benefits, too. It's gentle on the land and pollution-free.
Three cheers for the three agencies, Marin County Flood Control and Water Conservation District, Marin County Parks and FireSafe Marin, that chose this natural solution to creating defensible space.
Zero
Talk about bad timing. Two women allegedly shoplifted from Sephora in the Vintage Oaks Shopping Center while a Novato police detective was in the store investigating a previous burglary. Oops. The pair reportedly filled bags with cosmetics and left the store without paying.
The detective, who had been in the business office when the theft occurred, was a few steps behind the suspects. Fortunately, an observant shopper saw the women flee and provided the detective with the license plate number of the getaway car.
Novato police dispatchers broadcasted the info to law enforcement across the county. The Central Marin Police took up the chase when they saw the suspect vehicle on 101 and stopped them at the Spencer Avenue exit in Sausalito. Destiny Shree Gates, 18, of Richmond and a juvenile, 17, of Vallejo, were arrested for alleged burglary, grand theft and conspiracy, said police.
Sephora employees report that the two alleged thieves stole almost $2,500 worth of merchandise.
email: [email protected]