By Tanya Henry
With a new cookbook and thriving restaurant, chef/restaurateur and educator John Ash—aka the "Father of Wine Country Cuisine"—shows no sign of retiring his chef jacket anytime soon.
I first had the opportunity to meet the celebrated chef in the mid-'90s when he was the culinary director at Fetzer Vineyards. He took a group of us out into the winery's large organic garden. It was the first time I had ever met a chef so intimately connected to the source of his ingredients. He quite literally picked items from the garden and included them in our lunch that he prepared later that day. I was blown away. Of course, this is commonplace today, but at the time it seemed revolutionary.
In 1995, long before the phrase 'farm to table' became a household term, Ash wrote From the Earth to the Table: John Ash's Wine Country Cuisine. The book celebrates Northern California and offers more than 400 pages of seasonally focused recipes, along with suggested wine pairings that also come from the nearby famous wine regions.
Even before his first cookbook was published (he has now authored five), the celebrated chef opened his eponymously named restaurant John Ash & Co. in Santa Rosa. Though Ash isn't behind the stoves so much anymore, the restaurant continues to showcase the bounty of the region—which, for more than 25 years, has never steered off course.
Unsurprisingly, the James Beard Award-winning chef continues to evolve with the times and has just released his latest cookbook, entitled Cooking Wild: More than 150 Recipes for Eating Close to Nature that he co-wrote with James O. Fraioli. Once again, Ash takes a visionary approach to the notion of foraging and wild foods and explains how "eating close to nature" can be attained by shopping at nearby supermarkets. The book helps readers navigate important issues including how food is packaged, produced and marketed.
Here is just a sampling of what's in the cookbook: Warm Dandelion Salad, Grilled Trout with Herbs and Pancetta, Fried Wild Rice, Spatchcooked Pine Chicken and Rhubarb Galette. If you would like to taste some of the recipes for yourself, you're in luck! Ash will be at Left Bank in Larkspur for Book Passage's Cooks with Books series on Thursday, January 19 at 6:30pm. The cost for dinner and a signed book is $115. Learn more or register at bookpassage.com/cooks-with-books.
ARUGULA, ASIAN PEAR AND PROSCIUTTO SALAD (Serves 4)
The Asian pear has been in America since the late 1800s, but it's only in the last decade or two that enough trees were planted to provide for commercial production. These pears, sometimes referred to as oriental pears, Chinese pears or Japanese pears, are considerably different from the better-known regular pear varieties like Bartlett, Bosc and Anjou.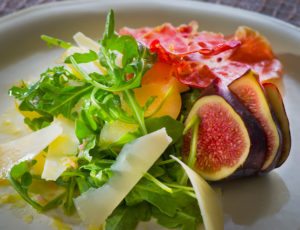 Asian pears have a distinct but pear-like taste and a crisp texture, much like a good apple. Many Asian pear varieties also have an apple-like shape, and this combination of taste, texture and shape causes many people to refer to them as "apple pears." They are sometimes also called "salad pears" or "sand pears." Their flesh is crisp, sometimes pleasantly gritty and always sweet. They do not have the buttery flesh of ripe European pears.
I love them in salads, and here is one of my favorite recipes. If Asian pears aren't available, use tart-sweet apples, regular pears, mangoes or whatever else is best in the market.
—John Ash
1 tablespoon freshly squeezed lemon juice
3 tablespoons extra virgin olive oil
1 teaspoon finely chopped shallots
Drops of honey to taste
Kosher salt and freshly ground black pepper to taste
4 cups gently packed baby arugula
1 medium ripe Asian pear, cored, peeled and thinly sliced
4 ripe figs cut into fans
2 ounces shaved Parmigiano Reggiano
4 slices thin (2 ounces) prosciutto "bacon" (method follows)
In a large salad bowl, whisk the lemon juice, olive oil, shallots, honey and salt and pepper together. Gently toss the arugula to coat it with the dressing. Add the pears and toss them with the arugula once or twice.
Arrange attractively on plates with the figs and top with the cheese and the prosciutto.
For the prosciutto bacon:
Heat the oven to 375 degrees.  Set a rack on a rimmed baking sheet.  Lay prosciutto on rack and bake until crisp, about 8 minutes.  Let cool then break into shards and chips.