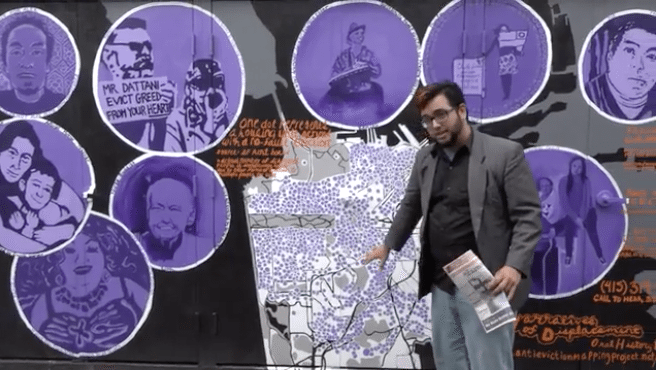 By Richard von Busack
San Francisco is in danger of becoming a bleached coral reef, with all the delicate and unusual fauna it once sheltered being pushed out to sea. Documentary filmmakers Deborah Kaufman and Alan Snitow (Secrets of Silicon Valley) study the imperiled city in Company Town. It's a hopeful but necessarily bleak account of the 2015 District 3 supervisor's race between Aaron Peskin and the incumbent Julie Christensen.
Company Town's main focus isn't the techies in their ominous busses—perhaps overpaid, definitely overworked—or the 16,000 to 17,000 Uber drivers flooding a market that once had 2,000 cabbies. The race is about different views of what to do with hundreds of Ellis Act evictions, turning apartment buildings into semi-legal tourist hotels via Airbnb. Peskin points out the semantic difference between the verbs "to share" and "to sell," sometimes overlooked by proponents of the share economy. He opposes the kicking-out of long-term residents to make room for tourists. Christensen, by contrast, is seen literally at the right hand of Mayor Ed Lee, a bosom friend to developers.
Peskin and the exuberant San Francisco Examiner reporter Joe Fitzgerald Rodriguez observe different parts of the city where gentrification is hitting hardest. Rodriguez tours the Mission District, to see multimillion-dollar condos towering over what's left of the old neighborhood. Peskin attends community meetings in Chinatown, which is being sized up for renovation. When Airbnb faces a ballot proposition that will regulate its business, the company pushes back with slimy hit advertisements and millions in campaign donations.
Company Town is even-handed—it doesn't make a villain out of Christensen, and it gives a hearing to Airbnb's argument that their goal is to create thousands of "micro-entrepreneurs." The tense soundtrack and the rich visuals emphasize what's at stake—the city, even going through its ugly stage, certainly looks stunning. Kaufman and Snitow walk a line here—they report their story with sensitivity and intelligence, giving a prime example of the importance of local politics.
'Company Town' plays one night only—November 6, at the Christopher B. Smith Rafael Film Center, and includes an appearance by Kaufman and Snitow.